Phallix- Phalse Advertising, Yet AGAIN (Pic Heavy)
I have always had good experiences with glass, but I must say that I am continuously disappointed with the Phallix toys I have received in regards to aesthetics. They are never, NEVER the same as the pictures. I drool over them on the site and then I receive something completely different? Plus they come in the cheapest packaging ever. The price is far too steep for such horrible quality. For this I give 2 stars.
Published:
Pros:
Texture is great.
Cons:
Quality of actual toys are always inconsistent from on site product pages, pouch is horrible.
*Summary*
I think the majority of us will agree that glass is a beautiful thing, no? In the sex toy world, glass is among the top materials (next to silicone and steel) due to its sanitary nature and its ability to be used for temp play. Throw some texture onto a glass wand and it's enhanced even more.
This toy is intended for vaginal use and I feel that beginners to glass and/or texture would very much enjoy it. I'm not so sure about anal use (especially novice anal users) due to its (somewhat) lack of a flared base.
*Design/Texture*
One of my favorite qualities of glass is the texture. Glass is very solid and unforgiving, therefore any texture added to it is greatly enhanced. The Scribble Swirl has a very different texture to it -- a giant swirl along the middle of the shaft. This swirl feels similar to ribs, except it is swirled over one spot vs. being wrapped around it.
The measurements on the product page are actually almost correct- my toy measures 8" long with a circumference of 3" and a diameter of 1 1/2" at the phallic head, almost 2" at the bulbous head. The shaft itself measures a diam. of 1".
*Care and Maintenance*
Glass is one of the easiest materials to care for. It can be stored anywhere due to its hygienic nature (non porous and fully sterilizable). This can be shared (condoms still recommended) if cleaned off well in between uses, and it can be sanitized by boiling. I like to use toy wipes to clean my glass off after use since I don't generally feel like getting up when I am done with it, but soap and warm water work just as well.
*Idealism vs. Reality* (warning- this section is brutally honest)
I'd like to start by saying that I still enjoy this toy, and I do give it credit for having an awesome different texture. As far as my experience goes I am pretty satisfied, but I am ultimately pissed at the consistency of misrepresentation of Phallix toys.
Now for the ranting and raving (Disclaimer: I have had one hell of a week as it is, and I really wasn't planning on topping it off with such disappointment. I would really like to just call Phallix up and ask them how they could possibly misrepresent so many toys).
-The phallic head on my Scribble Swirl is very small and un-pronounced as opposed to the picture. In the picture, the phallic head looks insatiably full and appears to provide that nice popping feeling on insertion. This is not the case, in fact I am very sad that the head on mine is so small. I almost can't tell the difference between it and the shaft.
-My toy has absolutely no curve to it whatsoever. It is almost completely straight.
-The bulbous end of mine is also much smaller and less pronounced, with a small blue flower inside the tip (as opposed to the "gold" infused flower, and the "gold infused" anything for that reason).
Here is the much, much different toy that I received as opposed to the product page. There is almost no curve, the heads are both much smaller, and the swirl doesn't cover nearly the same amount of the shaft (not to mention the swirl on the product page is much thicker and more pronounced).

My swirl doesn't cover the whole shaft, it only covers a 3" area of the shaft. There is also absolutely no gold infused anywhere.
Demonstrating the difference in swirl!

Anyone see the "gold infusion" anywhere in any of my pictures? I sure as hell don't, I must be color blind...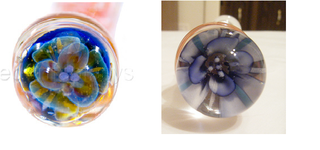 For some reason my toy also has color bleeding. I have found various spots of pink around my sheets after using this. I am thinking it might be coming from the pouch? There are also pink spots on the shaft of my toy, I think those simply got there from whoever hand crafted this particular one.
You may have to look closely, but I have circled the pink blotch on my toy.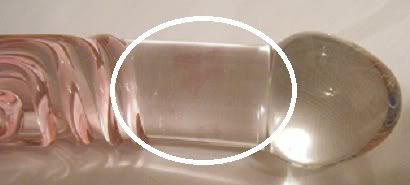 *Storage*
Phallix likes to send these cheap satin pouches with their toys. I personally feel like they can do better than that, seeing as the majority of their toys are 70$ and up. When you pay that much for a toy, the least they can do is give you something nice to put it in.
These satin pouches are quite cheap and don't work too well for storage, especially if they really are bleeding color like I suspect.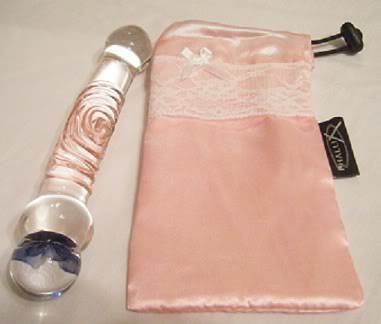 Experience
I was a little disappointed when I first opened this product as it is. Like the other toys I have received from Phallix, this is not the same as the product page. It is smaller and the pouch is cheap (I suspect color actually rubbed off on my sheets). Luckily the texture is awesome and I can angle this just right to satisfy me. I still knock it down to 2 stars due to the consistent quality issues from Phallix. For as much as these are, there definitely needs to be better quality control, and please upgrade the damn pouches!
This product was provided free of charge to the reviewer. This review is in compliance with the FTC guidelines.

Thank you for viewing
Scribble swirl G-spot wonder
– glass g-spot shaft review page!