Royal G-spot Jewels
The Jeweled G-spot dildo royal is a curved shaft made of a safe material aligned with Cubic Zirconia. These jewels have a scratchy texture that some might not like, but others will love. The Stainless steel material allows for temperature play. This is a beautiful dildo that comes at a high cost.
Published:
Pros:
Safe material, temperature play, beautiful design, and curved shaft.
Cons:
Scratchy texture, expensive, and questioning about body safety for Cubic Zirconia.
Use:
The Jewel dildo is a curved dildo that is ergonomic to the G-spot. The flared base allows it to inserted anally, so the curve will also work for P-spot stimulation. This means male and female anatomies can safely enjoy this toy. Labelled as a Royal dildo, this is referring to its size. If you are interested in this dildo, but think the size is too thick, check out the
Jeweled G-spot dildo
. The shaft is aligned with jewels that give a scratchy texture to the anal or the vaginal walls. While the design of the dildo appears to be O ring compatible, it is not because of the weight and the unforgiving material. Unforgiving materials are not ideal for harness dildos because they can bruise the cervix or be too weighty. However, the flared base acts as a handle. This will give you or your partner a good grip on it to use solo or on your partner.
Material
Made of a ferrous alloy that has a minimum of 10.5% chromium. This is known as
Chrome Alloy
or Stainless steel. Stainless steel is smooth and hard with a beautiful shine that is usually reflective. This is a material that should last you a life time with the proper care. The most wonderful quality is the ability to transmit heat and the ability to be cooled off; making it great fro temperature play. A tasteless and odorless material that is latex free, phthalates free, hypo-allergenic, food grade material, and non porous. All these wonderful properties give you a body safe material that rates in at a 9 out of 10 on the safety scale. Compatible with any type of lube, but remember it will become slippery with lube usage. Should you want to share your dildo be sure to wash it properly with 10% bleach solution.
The jewels are
Cubic Zirconia
. Cubic Zirconia is widely used on jewelry because of its low cost, durability, and the close appearance of diamonds. It is a cubic crystalline form of zirconium dioxide (ZrO2). Which is a synthetic hard material that can be in a variety of colors and is optically flawless. In order to get your color metal oxide dopants are added to the feed powder to result in your color choice. According to Wikipedia and jewelinfo4u the metal oxides are:
Cerium
- red
Neodymium
- purple
Erbium
- pink
Aluminium
- blue
Cubic Zirconia is a thermal insulator. They have an extremely high temperature for melting. They are extremely durable because of the film coat that is used. But the metal oxide layer is easily removed by abrasion.
Design and Size
Available in four color choices: red, blue, pink, and purple. I had a hard time deciding at first, but decided to go with the purple. Your color choice effects the color of Jewels you get along your shaft. I have counted 13 total jewels on my dildo. There are 12 along the shaft and one at the very tip of the head. These jewels are not flat against the shaft, but instead normal texture of jewels. Each jewel gives off a scratchy texture that will not be appealing to those who are not a fan of texture. These jewels are inside of dildo, but stick out enough to give the texture. They appear to be secure on the shaft, but falling out is a possibility. Other than the jewels the shaft is completely smooth. The total length is 7.25" with an insertable length up to 6.75". The shaft of this dildo has a head shaped top with a thinner shaft. The dildo is the thickest at the fullest part of the head, which is 5.25" in circumference or 1.75" diameter. The head is tapered, so you can easily insert the dildo. The full head will give a nice pop when removed. The shaft thins down to 4.25" in circumference or 1.25" diameter. This shaft has a slight curve to it from the middle, but this is a very slight curve. The curve is effect is shallow G-spot stimulation, but might not be for deeper G-spots. The shaft is attached to a flared base that allows the dildo to stand by itself, but also to act as a stopper for anal use. The base is 6.75" in circumference or 2.25" in diameter. This is a large enough difference to be effective as a stopper for anal usage. The bottom of the flared base has the "Phallix" sticker for you to peel up, but under it is a small hole. The hole appears to have swirls inside like you could put a screw in it.
Laid on side: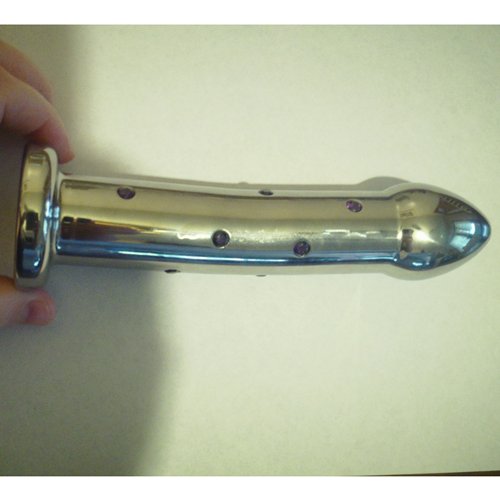 Jewels: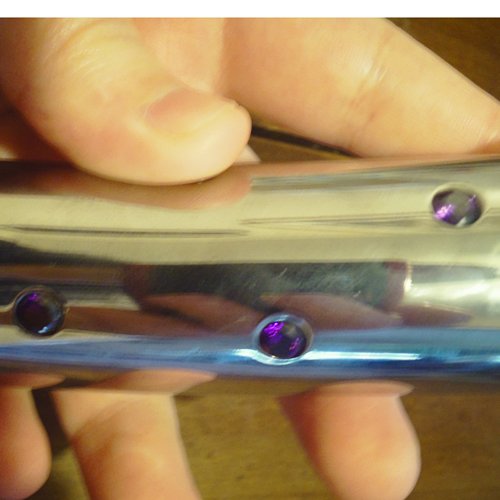 Bottom of base: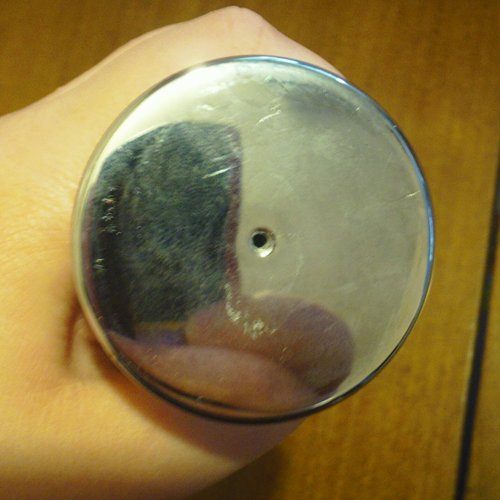 Compared to
Blue Swirl G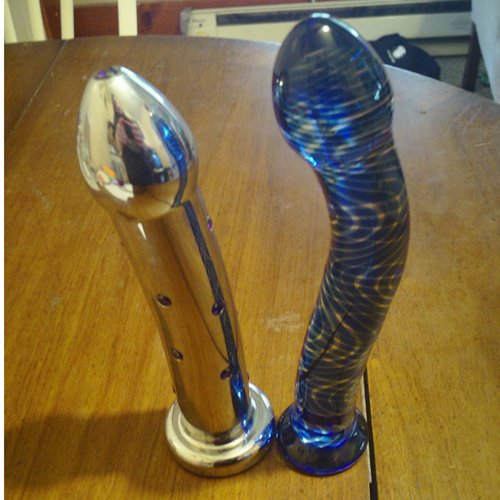 Experience
Performance
Before ordering this I was not sure what to expect from the jeweled texture. I thought they would be flat with a clear layer of glass over top, so you would have a completely smooth dildo. However, that was not the case. The jewels stick out and have a diamond cut to them. So, they are full of rough texture. When you insert this dildo you can feel each jewel. I am typically one that doesn't feel texture unless there is a lot of it. To me this texture is very scratchy on the vaginal wall. I don't find it painful, but those who don't like texture will. The weight of the dildo has got to be the best part. I don't have a scale to weight it, but this has got to be the heaviest dildo I own. I love weighty toys because the weight alone is enough to get me off, since it creates an extremely full feeling. I can insert the dildo and focus on using a clitoral vibe along with kegels. This beings me to orgasm fast. I can also reach orgasm with thrusting this dildo, but this is not an intense orgasm. The popping sensation from the head is very nice. Usually, I love anal, but I have a feeling that this is not my type of dildo for anal. The scratchy texture could be too much for my anal walls. So, I decided against using it anally.
Care and Storage
Usually, Stainless steel can be boiled or put into the dishwasher, but since there are jewels on this dildo, I recommend against it. Not because the jewels couldn't handle the high heat, but because the jewels could be glued on. If they are boiling could remove them. I recommend soaking in a 10% bleach solution and thoroughly rinsing before and after every use. Because of the space in between the jewels and the dildo. There is a possibility that bacteria could harbor in there. The material does tend to collect finger prints, so you may want to buffer with a microfiber towel.
This dildo comes in a light purple, silk pouch that is not padded. It has some white lace and a white ribbon on it for decor. The pouch is closed by a black draw string that can be sealed with a plastic adjustor. There is a tag for Phallix on the pouch too.
Note: Pouches vary for Phallix toys.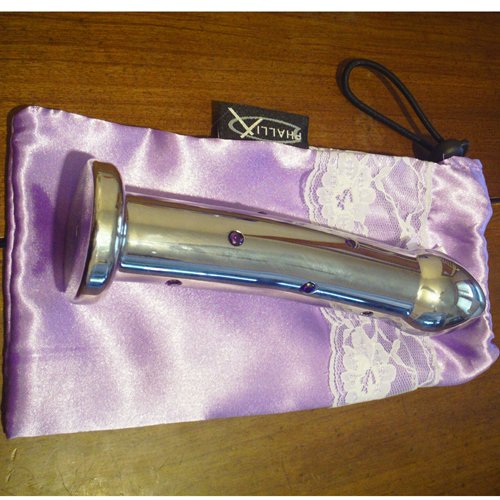 Follow-up commentary
8 months after original review
Scratchy really isn't something many desire. I know I certainly don't. This dildo literally got lost. I went to sell it to another contributor and it was lost in the mailing process. I even had to file paper work on my lost Dildo. I doubt I will ever get it back. I don't mind though. It wasn't a favorite of mine.
This content is the opinion of the submitting contributor and is not endorsed by EdenFantasys.com

Thank you for viewing
Jeweled G-spot dildo royal
– steel dildo review page!