Sexy, Slippery, Sultry
The Reflections Sultry is a glass dildo that looks and feels like a metal one. It's got a lovely filling shape and works excellently as a kegel exerciser. The only real downside to this toy is the cord that loops through one end, rendering that end unusable for penetration. Without the cord, this would have got 5 full stars from me.
Published:
Pros:
glass, good for temperature play, lovely looking
Cons:
a little heavy, minor scratches, cord ruins double-ended potential
The Reflections Sultry is a glass dildo from the Reflections line by Doc Johnson. True to the name, the Reflections Sultry does have a mirror finish. However, it's not nearly as bright white-silver as the product picture shows, it's really much more metallic and dark. Despite looking for all the world like a metal dildo, the Reflections Sultry is made of e-glass, which is alumino-borosilicate glass and has all of the hardy glass characteristics glass lovers have come to know in their toys. It's shatter-resistant and won't break if you drop it (although it may crack or chip, so do examine your toys carefully if there are any falling accidents). A glass toy that's broken in even a minor way should not be used, for obvious reasons. Glass is a very safe material choice overall, being non-porous, easy to clean (soap and water will do, or you can even throw it in the dishwasher), and completely sterilizible. It's also compatible with all lube types.
The Sultry that I received has a couple of lighting-pattern scratches in the finish, which is disappointing. They don't rub or wash off and the glass is still perfectly smooth to the touch, but it's aesthetically a little sad.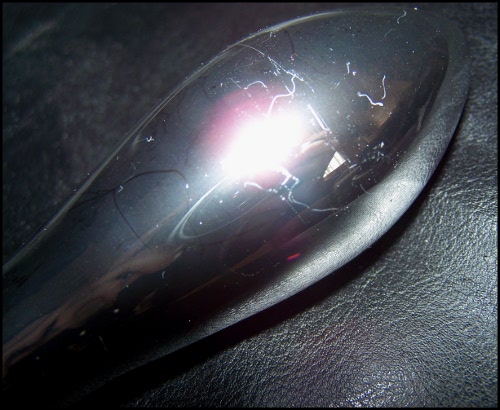 Right from the start I felt that this looks and feels more like metal than glass, what with the weight and metallic-looking finish of it. I'm much more inclined to compare it to my Alumina Motion than any of my glass toys. Shape-wise as well, there is a lot of similarity between the Sultry and the Motion.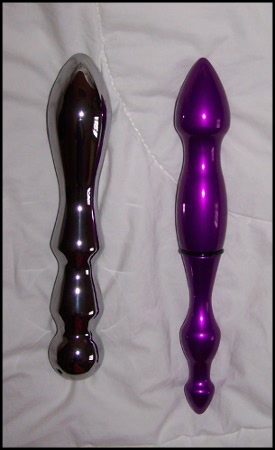 Sultry pictured post cord removal
Despite that the Alumina Motion weighs 1lb and the Reflections Sultry apparently weighs 0.75lb, the Sultry manages to feel heavier in the hand. I don't have any way of double checking the weight of this toy, so I can't say whether it's just me or if the numbers are off. Either way, this isn't a light and slight toy. With a circumference of 5" (by my measurements, the product page says it's 4¾") at its widest point, it's not a tiny toy in girth either. I didn't find this particularly stretching, but it certainly makes its presence known. This probably isn't the best beginner's toy - the hardness of the material makes it feel larger than toys of other materials with a 5" circumference might feel. At the toy's thinnest point, the circumference dips to 3" before widening up again to about 4" at the peaks of the ridges.
The product page lists the Sultry as being 7¾" long, which is true. However, it also lists the insertable length as the same. So, either the people at Doc Johnson really go for gold with their toys and insert the whole damn thing during play, or it's safe to say their numbers might be off (which is another hint that this could be heavier than its listed weight).
From the tip of the toy to the peak o f the first ridge is about 4½", and from the tip to the second peak is 6¼". Realistically, I'd say that's probably the maximum length for insertion. I personally hang out comfortably around the 5½" mark.
I can't figure out why Doc Johnson decided to put a cord through one end of this dildo. The back of the box reads, "A secure pull cord adds extra convenience," which doesn't really clear things up. If anything, I found it incredibly inconvenient. I assume that the cord is an attempt to make the toy anal-safe. It is a decent sized cord and should fit easily around most wrists. When you hold the cord out straight, from the toy to the bottom of the end plastic bit it measures 3¾".
The cord really makes the Sultry lose classiness points, in my opinion. It's got a silver inner string covered by a plasticity outer tube, which makes for easy washing and less worries about bacteria trapping, at least. It's just that the toy itself is so sleek and nice, and then the cord reminds me of a dollar store item. The plastic bit at the end is extra lame – what is this, a window blind?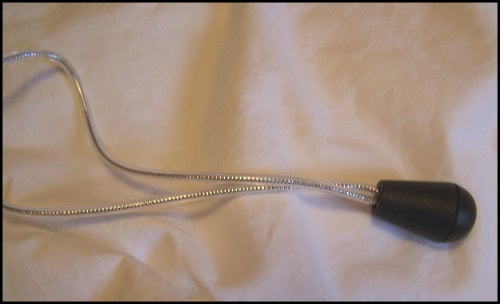 Experience
I cut the cord off my toy because I hated how it looked, but there's a hole through the toy that makes me wary of insertion because it looks really hard to clean. It's true that a condom could be used, but latex on glass doesn't appeal to me at all. The whole thing is unfortunate, since the smaller end of the Motion is slim for my tastes vaginally, and this similar end of the Sultry looks promising as a larger version. I feel pretty strongly that the Sultry would've been more awesome as a double-ended toy sans cord and hole.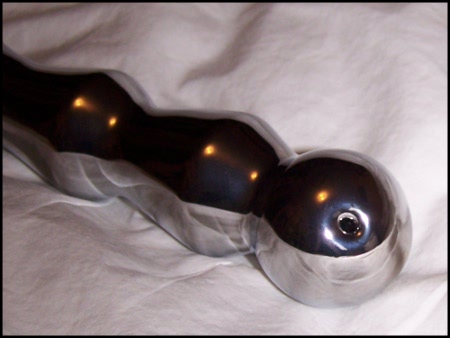 In use, the Reflections Sultry feels luxurious and wonderful. Pretty, well,
sultry
. The wide shape is nicely filling and g-spot friendly. Slow thrusting feels great because of the firm, smooth curves. I really enjoyed teasing myself by thrusting this slowly in and out right at the entrance of my vagina for a continued "first penetration" feeling. In some ways I like the Sultry better than the large end of the Alumina Motion because it's a little bit less pokey, and a bit more noticeable in feeling. Sometimes the Motion just feels so comfortable in my vagina that it's like it's barely there. The wider shape of the Sultry does away with that problem. When inserted more deeply, the wider crests stimulate the entrance of the vagina as well, though it is a bit of a subtle feeling.
The Sultry can be used anally, though I supposed it'd be best to keep the cord intact if you plan to use it this way. If you do go cordless, use a fair amount of caution and keep a firm grip on the ball end. While this doesn't have a proper flared base, the crests of the shaft will let you know how deep you've gone and as long as you don't go past the 2nd one, all should be well.
This toy is a great choice to take in the bath. Being silicone lube compatible, it stays nice and slick under water. Glass takes temperature well, so bathwater heats it up immediately to the perfect comfortable temperature. Further, because it's a little heavy, underwater use makes the weight a non-issue. I also just really enjoyed how sexy it feels to play with a gorgeous toy like this in a bubble bath. Very hot.
This is also a great toy for doing kegel exercises with because the firm material is lovely to clench around. As long as the size isn't too large for you, it's really a very comfortable shape.
One thing I will be watching for is whether the Sultry changes colour at all over time. I'm hoping that there won't be any issues, but I have heard that others have had problems with this so I'll keep an eye on it. At any rate, this is one of the most unique glass toys in my collection and I do feel quite positively about it.
This product was provided free of charge to the reviewer. This review is in compliance with the FTC guidelines.

Thank you for viewing
Reflections sultry
– dildo review page!