Slender Black Fingers
I think for a beginner this is a great toy. If you are looking to explore either solo or with a partner then this isn't a bad option but as a sex toy for solo use by anyone with a bit of experience then you might find it a bit of a letdown.
Published:
Pros:
Beginner friendly, Good material
Cons:
Bit pricey, Can slip if you have slender fingers
My partner had first fallen in love with this toy after noticing how much the black version reminds her of a finger in a black latex glove (a big fetish of hers).When the Wet For Her Toy Two arrived I have to say we certainly were not disappointed. In person it had a lovely matte black appearance that fans of black latex or rubber are likely to appreciate.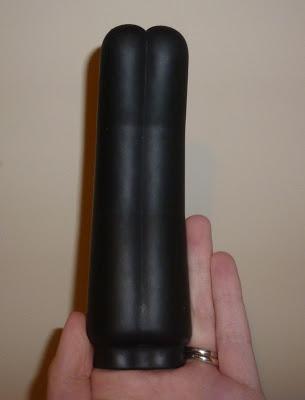 -Packaging-
The Wet For Her Toy Two arrived in pleasant purple and white packaging. The front of the box has a clear plastic panel so straight away you can see the toy within. The back of the box features a black and white image of a the upper right portion of a woman with two fingers covering her nipple. The words "Wet For Her" are written on her in tattoo style. The side of the box describes the company as one which defies the normal social conventions and seeks to actually empower women with regards to sexuality and sex toys. I really like that idea as all too often a company claims to be empowering of women only to portray them (poorly) as sex objects on the front of packaging. Having gotten toys from "Wet For Her" previously I have to say I am a fan of the company.
Inside the packaging the toy is held in place with a cardboard sleeve and foam insert.
-Material/Specifications-
The toy is available in three colour options; pink, purple and black. We opted for the black which has a matte finish to it in person. Holding it in my hands for the first time the finger analogues seemed to be about the size of a small dildo. It has a three part curve loosely based on the structure of fingers. The finish of the silicone doesn't have as much drag as some silicone toys do, so it struck us that it shouldn't be as heavy on lube as most silicone toys. Being made of the highest quality medical grade silicone, the Toy Two is extremely body safe and can even be boiled in water to sterilize. It is Hypo-allergenic, non porous and both Latex and Phthalates free. (Basically it won't take in bacteria during play).
The toy is comparatively small. Its measurements are as follows.
Total length = 6 Inches
Insertable length = 6 ½ Inches
Circumference = 4 ¼ Inches
Finger insert circumference = 3 ¼ Inches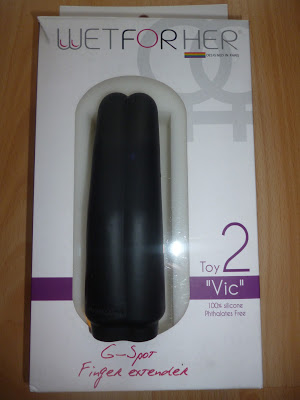 -Use-
I will start by saying that while I like the toy well enough it is not all that aesthetically pleasing. The black finish looks nice enough and the toy is a passable analogue for two fingers side by side. If you are naturally very well lubricated then the relatively slender form of this toy might be ok to use without lube. If however you find yourself wanting some then I recommend either water or oil based lubes as silicone lubricant can damage the finish of silicone toys.
The finger holes can stretch to accommodate slightly larger fingers but if you have very slim fingers you might find that the toy two will slip off during use, particularly if you are really going for it with thrusting.
Having that said there is enough firmness to use the toy as a dildo without fingers inserted if you want to. The curve of the toy will hit the g-spot nicely and provide some stimulation. If you are a more experienced player then you might find it too smooth. My partner said she would have like some texture to add stimulation.
People who might benefit most from this toy are those who don't like or feel comfortable fingering themselves bare handed. It is also ideal for those who are new to toys and insertion and who want to explore their bodies or navigate their G-spot while still being forgiving.
-Care/Storage-
Once you have finished using the toy two I recommend using some warm water and soap or toy cleaner to clean the toy. The words "Wet For Her" are engraved in small letters towards the base so make sure to give them extra attention when cleaning. The join/channel in the middle is also a refuge for residue so you might want to use a cotton bud for extra cleaning here.
Make sure the toy is dry before storing it. While the box is suitable for storage what we find works best is a zip seal sandwich bag. This keeps the toy dust and lint free without taking up much extra room. And more importantly it keeps the toy safe from other materials reacting with it.
Experience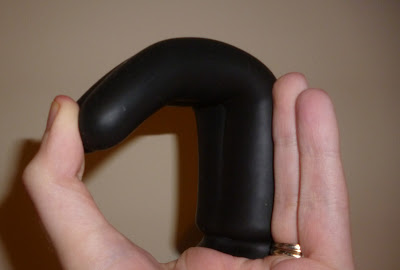 -Summary-
Overall this toy was a bit of a letdown. The material is great and I did like the packaging but the performance was lacklustre. It is very smooth and fairly slim so it didn't provide a lot of stimulation. The holes for the fingers were a little too big so the toy slipped a little during use.
I think for a beginner this is a great toy. If you are looking to explore either solo or with a partner then this isn't a bad option but as a sex toy for solo use by anyone with a bit of experience then you might find it a bit of a letdown. There is no one thing I can point to and say this is why the toy was a disappointment, it is a combination of a high price tag and basic design.
This product was provided free of charge to the reviewer. This review is in compliance with the FTC guidelines.

Forum
| Discussion | Posts | Last Update |
| --- | --- | --- |
| Box | 5 | |
Thank you for viewing
Toy Two
– g-spot dildo review page!