Swing Batter, Batter!
Although I was scared when I first saw this dildo, it added quite a twist to our playtime. I am impressed with the craftsmanship and the idea behind it. We will continue to pull this toy out when we want to get a little "game" on.
Published:
Pros:
Unique, Large, Great for role playing.
Cons:
May be too large for some.
Belladonna's Batter Up from Doc Johnson is a massive dildo, not for the faint of heart, for people that want to take play up a notch. We were chatting in The Naked Reader Book Club last month about bat dildos, so when I saw this up for review I had to jump on it. When I opened the package my only response was "Holy Crap!". It comes in a plastic snap shut container that can be reused to store it. Yes this is a standard size dinner place mat that its sitting on.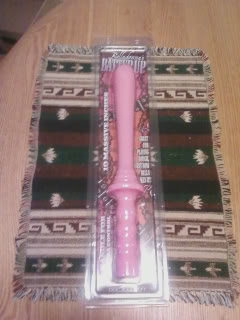 Holding it in your hands you are amazed at the sheer size and weight of this thing. It lists that the weight is 1 lb, but if I had to guess I would say it weighs more than that. It is filled with a liquid of some sort that actually gives it a slight wave-like quality. I have no idea what this is as there is no way to open it and check. I must admit that I was slightly terrified to even show this to the Mister.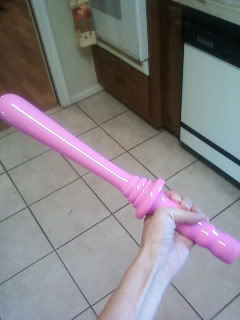 It is a whopping 15 1/2" in length and the diameter varies from 1 3/4" at the top. (Circumference 5 1/2") to 1" where the base of the bat meets the handle. There is an insertable length of 9".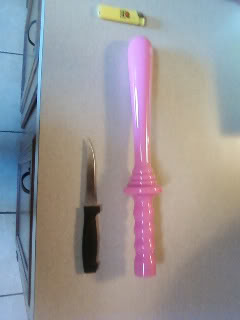 It is made of food-grade, hypo-allergenic, latex-free and phthalates-free plastic. It is non-porous but I would still suggest using a condom if you are sharing between cleanings. There is a seam where the two halves were molded and pressed, however you cannot feel it, even with your finger running directly over it. It is very smooth. This is compatible with all lubes and can be cleaned with soap and water or a toy wipe.
The smoothness of the shaft makes insertion a little easier, just make sure you have lube and patience. The 9" of insertable shaft starts out larger and tapers down to where it meets the handle.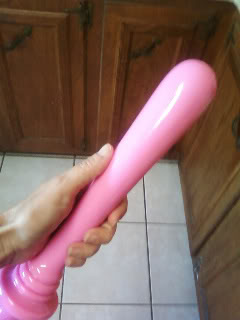 Where it meets the handle it stair-steps larger until it hits a "hilt" where the actual handle "grips" start. The handle is made so that you can very easily grip it no matter what size your hands are. I have tiny hands and he has hands that would make a linebacker proud, both of us are able to get a good comfortable grip on it. There is 1 1/2" where it steps to the "grip" on the handle, which is 5" long.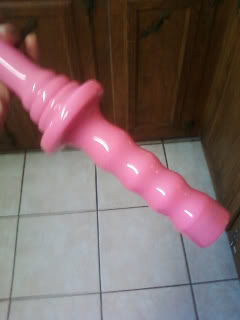 I have had some issues before with Doc Johnson products, this however is not one of those times.
On to the experience...sigh. My husband has this gleam in his eyes when something truly intrigues him. That gleam popped up instantly and I must say that my heart was beating a little faster than normal. I didn't want to jump into this quite so quickly so we warmed up with another, smaller vibe. Grabbing extra lube, he just laughed. (Asshole!) As long as you take your time insertion is great. I would suggest being gentle until you are used to it as it is hard plastic and will bruise you if you get carried away. It most definately added a different aspect to our night. After 3 strokes, I was not out!
This bat is hard and heavy so even if it doesn't work for you as a dildo, you can beat the crap out of an intruder in your house.
Follow-up commentary
1 day after original review
Okay I was wondering what the liquid inside of the bat was for. Duh! Dwtim suggested that it could be for temperature play, so I figured I would give it a shot. I took another plastic toy and did a comparison by letting both items sit in hot water, then in cold. It does seem to hold the temperature for about 10-15 minutes with both hot and cold. Be careful not to get things too hot or too cold as to avoid causing yourself any discomfort....batter up!
This product was provided free of charge to the reviewer. This review is in compliance with the FTC guidelines.

Thank you for viewing
Belladonna's batter up
– dildo sex toy review page!