Terrific Tremendous Textures!
The Pink Passion Wand by SSA Glass is my go-to non-vibrating toy right now. This double-ended dildo is great for temperature play and has a few different textures to add to the experience. Before trying the Pink Passion Wand, I didn't think I was one for much texture. Now that I've had the pleasure of trying it, I don't think I could do without. Seriously, I'm in love.
Published:
Pros:
price, appearance, safe material, texture, great for temperature play, double ended.
Cons:
storage pouch is flimsy, texture may be too much for some.
I purchased the Pink Passion Wand by SSA Glass quite a while ago. Here at EdenFantasys, there was a sale on numerous glass toys. At the time, I had never tried a glass piece before but had heard good things about glass insertables. I purchased the Pink Passion Wand for around $10, along with a few other glass pieces. I was a bit nervous since I had never used glass toys before, but I could not resist the sale price.
I purchased the wand quite a while ago, but only in the past month have I started using it. I'll admit, I was a bit intimidated by the crazy texture to the piece. My first glass toy that I used was the Gold Laced G, which has very little to no texture. I didn't start with the Pink Passion Wand because I was new to glass, and wasn't sure how I'd like all the bumps, ridges, and bulbs that make up the texture to the piece. Since first trying the Pink Passion Wand a month ago, it's been my go-to non-vibrating toy. I wish I had used it sooner!
The toy comes in a red storage pouch. The dildo is inside of the pouch, wrapped with bubble wrap. The pouch is rather flimsy with no padding. I suggest using another storage pouch for the toy, or to keep the bubble wrap that it ships with. I keep my toy in the red storage pouch with the bubble wrap around the toy.
Pink Passion Wand is made of pyrex glass. Unlike regular glass, if you were to drop the wand, it would not shatter into tiny pieces. Instead, the glass would break into larger chunks. I've been using glass for a while now and have yet to experience any breaking. Just be careful not to drop the glass to avoid ruining the toy.
You can use oil, water, or silicone based lubricants with the Pink Passion Wand. What's great about glass is that you do not need to use much lubricant compared to other materials. The glass does not absorb any of the lubricant so a small amount can last an entire session.
I've taken measurements of the Pink Passion Wand. Below you will see a photo that helps illustrate the measurements I've listed. I've broken (figuratively not literally) the toy into three sections: A, B, and C. The length of the entire toy is 8 inches.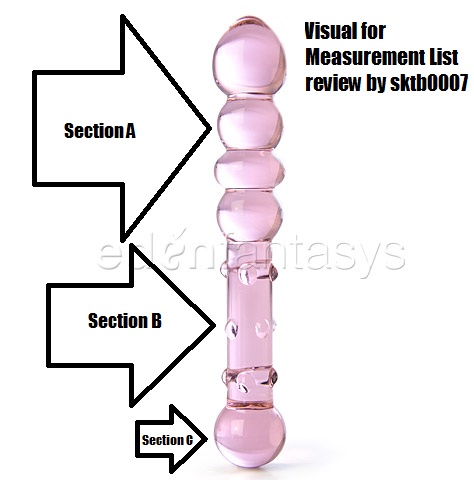 Section A
Entire length: 4 inches
First bulge length: 1 ½ inches
First bulge circumference: 3 ¾ inches
Second bulge length: 1 inch
Second bulge circumference: 4 inches
Third bulge length: ½ inches
Third bulge circumference: 4 ½ inches
Fourth bulge length: 1 inch
Fourth bulge circumference:3 ¾ inches
Section B
Length: 2 ¾ inches
Circumference: 3 inches
Raised bumps: 1/8 of an inch
Section C
Length: 1 ¼ inches
Circumference: 4 inches
The Pink Passion Wand is a double-ended dildo. What this means is that you can insert the toy from either end. The texture to the toy is different on each end so it's almost like you get 2 insertables for the price of one! Personally, I like to use the ridged end for insertion (section A) but I've tried it both ways and they both feel good. Below you can see a photo of each end, as well as the entire toy. My photos make the toy appear to be a darker purple, but the colour is a very soft, light pink.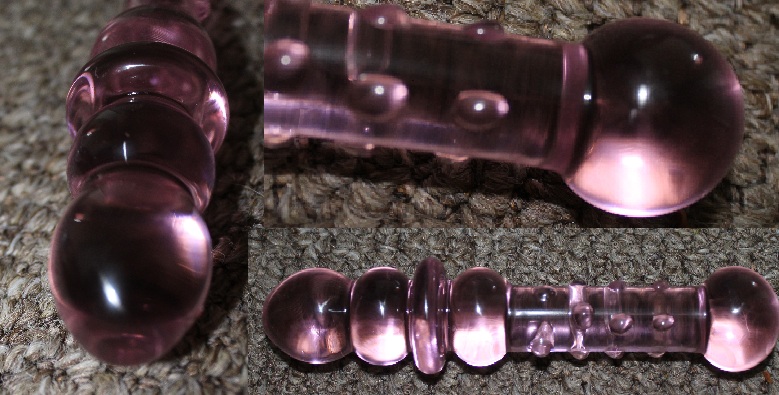 I have only used the toy vaginally but I assume that the toy would be safe for anal play since there is a ball at the end of the dildo (assuming you insert it with this as your base). When using the toy, regardless of where you are using it, be sure to be a bit gentler compared to other toy use. Being glass, the toy has absolutely no flexibility. The toy should not be used for hard thrusting as you could hurt yourself.
The biggest reason for why I love glass is because I enjoy temperature play. The wand can be put into a bowl of warm or cold water before play and it will hold the temperature. Most people enjoy the warmer feeling of the glass. While I like the warmth, I prefer it to be a bit below body temperature. The cool sensation is amazing!
Experience
...continued


Being made of glass, the toy is very easy to care for. The texture to the toy does make cleaning time a bit longer (to get between the ridges, etc). You can clean the toy using soap and water, toy wipes, or a toy cleaner. You can also sterilize the toy in boiling water or using a bleach-water solution. If the toy is being shared between people or being used anally to vaginally, a condom should be used or the toy should be sterilized every time.

Overall, this toy gets a 5 out of 5 from me. If you know you like texture, you're sure to love the Pink Passion Wand. I'm usually less inclined to write reviews for insertable products unless they are assignments. I had to write this review because it's absolutely amazing. I probably wouldn't recommend this toy to beginners of glass or beginners of insertables. There is a lot of texture to the toy, which I know not everyone will appreciate.

I can't comment on g-spot stimulation with this toy since I have yet to orgasm this way. I assume there is little to no g-spot stimulation because there is no curve to the toy at either end. I can say though that the texture to the toy really makes up for it being non-vibrating. I have not enjoyed a non-vibrating toy as much as I have enjoyed the Passion Wand. I mentioned at the beginning of this review that I purchased this toy on sale. If anything were to ever happen to my Pink Passion, I'd definitely have to purchase another one, regardless of if it were on sale.
Follow-up commentary
2 months after original review
I still love my Pink Passion Wand! It's a great glass piece with fabulous textures. I'd still recommend it to those who enjoy textures to their glass insertables.
This content is the opinion of the submitting contributor and is not endorsed by EdenFantasys.com

Forum
| Discussion | Posts | Last Update |
| --- | --- | --- |
| glass | 3 | |
Thank you for viewing
Purple passion wand
– glass wand review page!