This thing is a monster!
This is a great toy for those looking for something big! It has tons of girth and length, strong vibrations, and the large base makes it easy to hold. This would also make it safe for anal play, if you think you can take something this size. I wouldn't recommend this toy to a beginner, this is for someone who knows they want something of such a size.
Published:
Pros:
Strong vibrations
Solid material
Large size
Easy to hold base
Cons:
Batteries fit tight
Large size
Strong PVC smell
Packaging:
This toy came to me in a simple, fairly flat plastic clamshell container, with a paper insert advertising the various features of the toy. Inside the case, the cord was curled up underneath the base of the vibrator and the remote was tucked away next to it.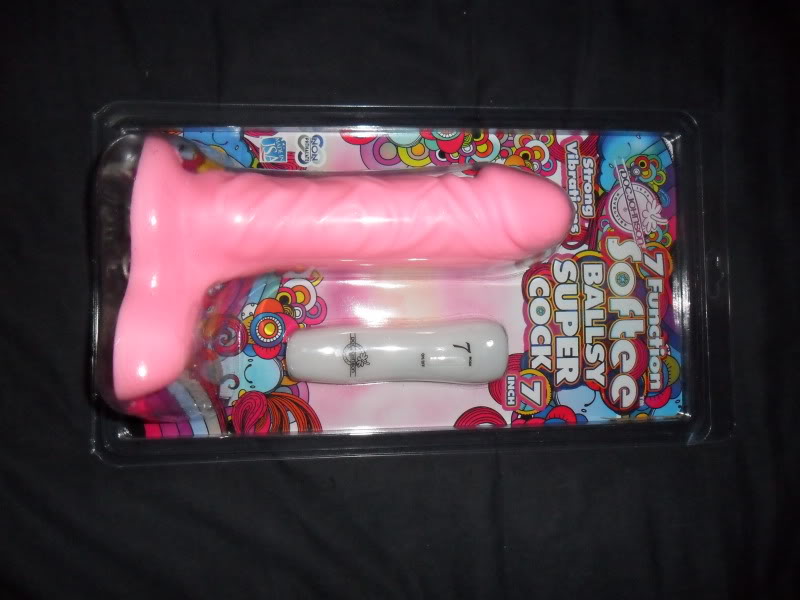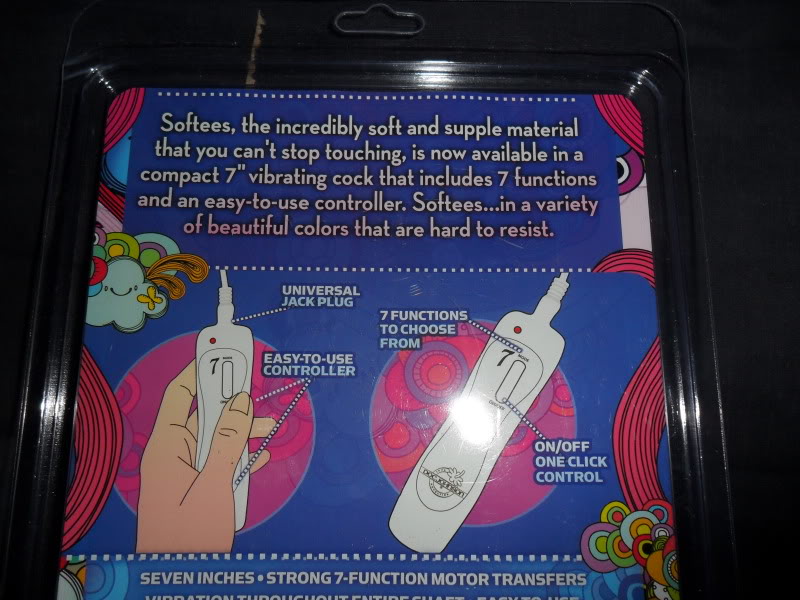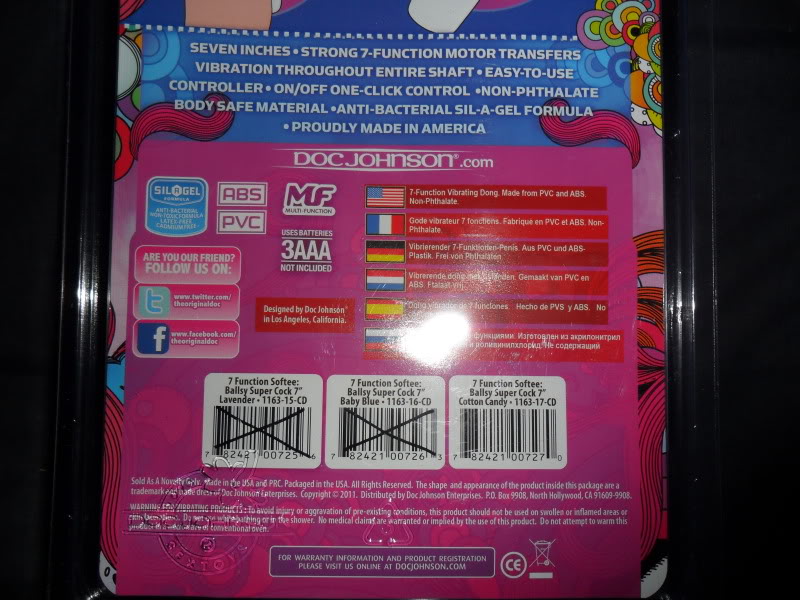 Material:
The remote is a hard, velvety-feeling plastic. The toy is made of
"Sil-a-Gel"
which rates at a 5 on the material safety chart. Sil-a-Gel is PVC, with anti-bacterial qualities which limit the risk of bacteria being harbored in this toy. It contains no phthalates, latex or cadmium, which is a plus. You should clean this with a mild soap and warm water, or your favorite toy cleaner. You may use your favorite water or silicone based lube with this safely, as well. The material sounds fairly safe. It's not the best, though, and I would still use a condom if sharing this toy, or if you're courageous enough to use it anally.
There's definitely a chemical-y, PVC smell to this toy. It's fairly strong, and even holding it about 18" in front of my face, I could still smell it. It didn't seem to diminish after a wash with soap and water, and a couple days of airing out. Right now after airing out for about a week and being used and washed a couple times, it does still smell about as strongly as when I got it. I hope the smell will diminish over time, but currently I wouldn't recommend this to someone who is very easily bothered by smells. I didn't smell this at all during use, however.
The material feels pretty nice on the skin. It has some good drag to it, but takes to lube pretty well. It's squishy enough to be comfortable, but still feels nice and solid, and won't cause problems with insertion. If you squeeze the shaft in your hand, it feels squishier on the outside, and like the material gets denser towards the inside of the toy.
Size:
This really is a big toy! It's definitely not for the faint of heart, that's for sure. The remote measures 4 ¼ " long, and the cord measures about 25" not including the jack. The toy itself is 8" long from base to tip with about 7" being insertable, and the base measures 4 ¾ " long. The base is large enough to hold on to during use, and makes it safe to use anally as well. Around the ridge of the head is 6", and the rest of the shaft is 5 ½ " around. The shaft has prominent veining that is fairly subtle when inserted, but I could feel it a bit. It really is a sizable toy and definitely
not
for a beginner! This is
great
for someone looking for a lot of girth and length.
Here are a few photos for reference: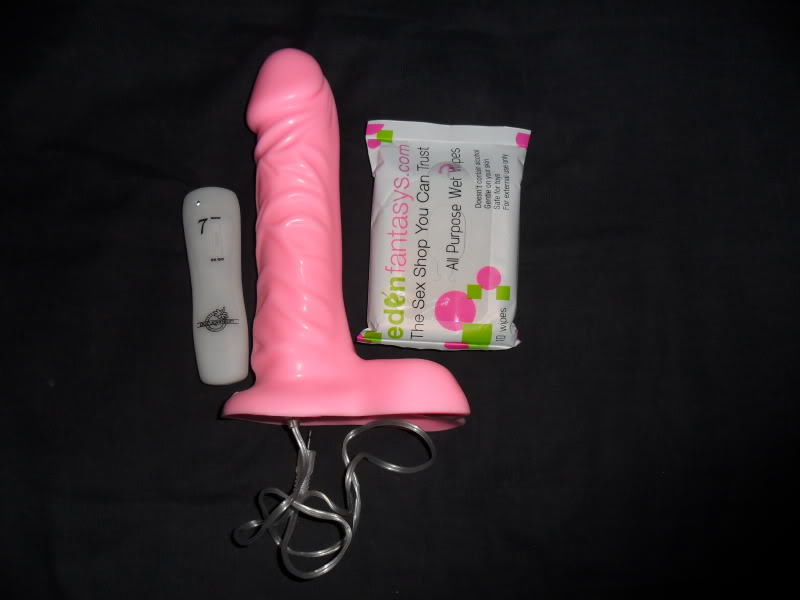 Eden toy and body wipes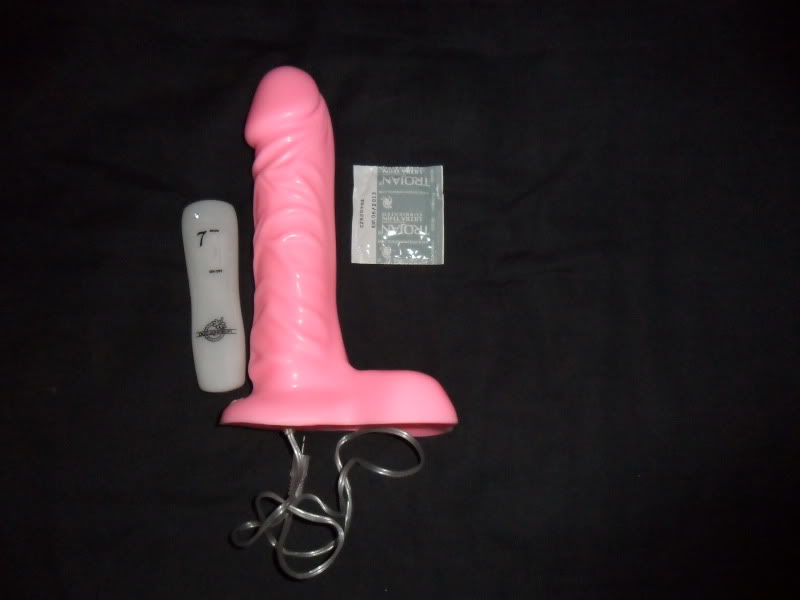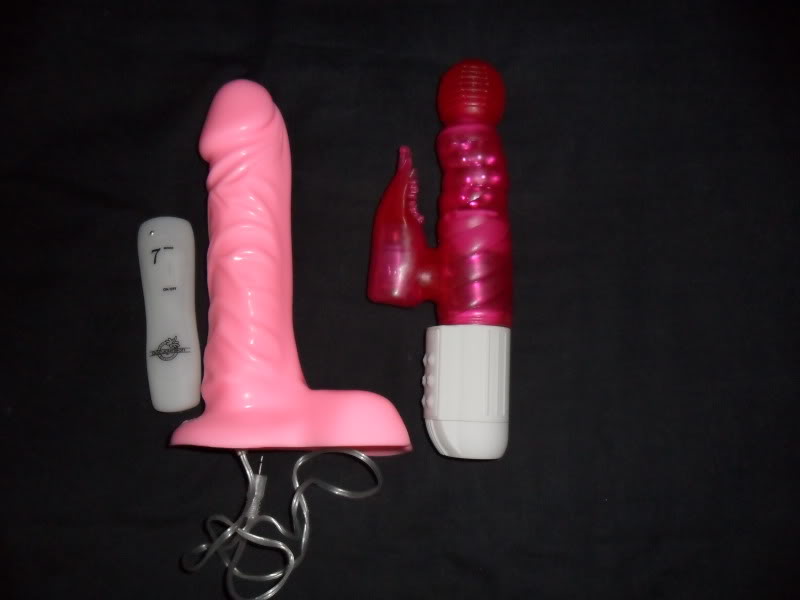 Sugar Pop
Controls/Batteries:
This is an easy toy to use. Just plug the jack into the remote, and then use the two buttons to turn it on/off, and to cycle through the vibration speeds and patterns. There are 7 different speeds and patterns. You get four solid vibration patterns and 3 various pulsations.
This toy requires 3 AAA batteries. There is a clear diagram inside the remote showing you how to insert them. They fit snugly, but are easy enough to put in. The door to the battery pack comes off easily, but doesn't seem to come off during use.
Vibrations:
As for noise, let's break it down:
Level 1-
Very quiet, not heard through a closed door.
Level 2-
Still quiet. Might be heard through a closed door in dead silence, but not over some white noise like a TV, music or a fan.
Level 3-
Might
be heard through a closed door, but not over white noise.
Level 4-
Feels and sounds much the same as level 3 to me.
The various patterns don't get any louder than the straight vibrations, but because of the changing/pulsing, they might be easier to hear, so keep that in mind. They can still be covered up with blankets and white noise.
When inserted, the vibrations are
much
quieter and easier to hide.
The strength of the vibrations is great in my opinion. The vibrator itself is in the head of the toy, and the vibrations can be felt most strongly there. They can be felt very clearly halfway down the shaft, and then less so towards the base, but still felt. I'm very happy with the vibration strength, and I think the various levels and patterns offer something for most people.
Experience
I was definitely intimidated when this monster arrived! There was no 1:1 picture for me to get a really solid idea of the size, so when I got it out of the box and had a good look at it, I didn't know if I'd be able to use it! Now, I DO like girth in my toys, but I am not a big fan of length so I knew I wouldn't be able to get this fully inserted. I gave it a couple washes to try to get rid of the smell, checked out the controls and how the batteries fit, and a day or two later I tried it out. I got myself thoroughly turned on since there was NO way I was going to just go for it with this thing! Then, I lubed it up with
Pink Silicone
, and after a little teasing, I started to insert the super cock. It was much bigger than anything I was used to, but wasn't unbearable. I did have a little bit of a time getting past the ridge in the head, but once that was in things seemed to go fine. I couldn't get this much more than halfway in, since as I said, I don't have much capacity for length (5" is about it for me!) but it was still plenty of fun. The large base made it easy to hold and maneuver, as well. I used my
Xtreme Pack gspot bullet
on my clit (first time trying that out, too!) and made my way to a couple of orgasms. I definitely enjoyed this vibrator, though pulling it back out afterwards was a little bit painful. Seems my muscles had clenched around it more than I thought, so I just had to be slow and careful with it.
Follow-up commentary
3 months after original review
I actually gave this one away to my BFF. She's used to and enjoys larger toys, so when I showed her this one I saw her eyes just light up! Since it's a bit big for me, I passed it on to her.
She really loves it! I've heard nothing but glowing praise from her since I gave it to her, which is great.

[We both realize that this toy can NOT be sterilized. We are very, very close friends and I do not recommend sharing toys of non-sterilizable materials with just anyone.]
This product was provided free of charge to the reviewer. This review is in compliance with the FTC guidelines.

Thank you for viewing
Softee vibrating ballsy super cock 7"
– realistic dildo vibrator review page!