Three flowing waves of Pleasure
Beautiful in name and appearance, I never expected the Goddess to deliver this much in performance. Its subtle wavy ridges and thick head are someone incredibly comfortable yet impressively stimulating at the same time.
Published:
Pros:
Beautiful in person, comfortable ridges, provides surprising g-spot stimulation, harness compatible.
Cons:
Single speed bullet could do with improvements.
Having recently noticed quite an increase in the number of Tantus toys in my collection, I think it's safe to say that I'm quite a fan of the brand. With toys like the Compact, Buzz 1, Charmer, Purr and The Vamp already in my collection, I'm familiar with the high quality Silicone used in Tantus toys and was eager to add the Goddess to my growing 'Tantus Shrine'
-Packaging
The Goddess arrives in Tantus's usual style of clear plastic packaging. With no sexual imagery used and plenty of material information included on the sides of the box. As the clear plastic box is so see-through (even in places where there is information printed) it gives the advantage of being able to see the toy from every angle while it sits in it packaging.
-First Impression
The Tantus Goddess is made in colour options of purple and pearl white. I opted for the beautiful pearlescent white option to review. In person the colour of the toy varies hugely depending on lighting, ranging from bright white to milky white and from grey to an almost silvery/metallic appearance. On very close inspection you can see what looks like the finest shimmering glitter running through the silicone.
In terms of size, the Goddess is roughly the size of an average penis but with a slightly girthier head. Along the front of the shaft are what I would call 'waves', three in total, with the last 'wave ridge' just below the head of the toy. The back of the shaft is quite contrast to the front and is incredibly smooth. The head of the Goddess features two very satisfying looking raised bumps, one on each side. With the unusual shape of its head (girthy bumps at the sides and relatively smooth along the front and back of the head) I was curious as to whether its shape would work well. No other dildo in my collection has too similar a shape to this.
-Measurements
Total Length: 6 ½ Inches
Insertable Length: 6 Inches
Circumference: Ranges from 4 ¼ Inches to 5 Inches
Length of Bullet Vibe: 2 ¼ Inches long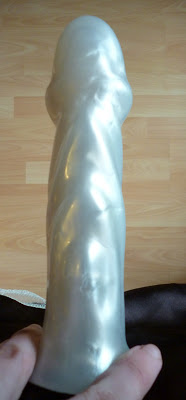 -Front of the Goddess-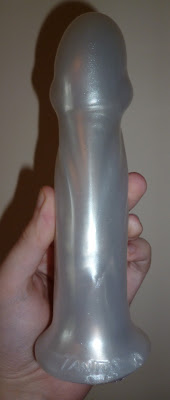 -Smooth back of the Goddess, taken in dark lighting to show its grey/silver shades-
-In Use/Experience
Having admired the tempting curves of the Goddess's wavy body, I was ready to find out what its unusual shape had to offer during play,
With its average size and fluid curves, I found the Goddess to be much easier to insert than I had expected. Its smooth head and flowing waves work well with lubricant for a pleasant and comfortable insertion without the need for too much of a warm up before hand. I'm personally on the petite side and generally need to use small warm up toys before moving onto anything too realistic in size but the Goddess manages to be the exception to this.
The unusually shaped head which had me both curious but also worried at first turns out to be comfortable yet stimulating, I hadn't expected its side bumps to be quite as soft as they are, meaning they are certainly not the worrying or troublesome feature that I feared they would be. They do actually add to the pleasant range of sensations to be had with the Goddess.
And now for the best part, the shafts three flowing 'waves' which turn out to not just be beautiful, giving the Goddess a flowing and feminine feel, but also manage to provide a very unexpected amount of g-spot stimulation for a toy with no real degree of curve in the shaft.
To look at, I had no idea this would turn out to be such an incredible choice for g-spot stim. The shaft is quite straight and the waves along its front are not even terribly pronounced. I don't know how the Goddess does it but somewhere in its design it really does boast Goddess like powers with its waves ready to surprise the unsuspecting.
With two of its understated waves providing pressure on the g-spot with every thrust, for me the Goddess manages to beat most g-spot toys I have tried, even those with the most obvious of curved shafts and bulbous heads.
The Goddess is also suitable for use with a harness. The bottom of the dildos base measures 2 ¼ Inches in diameter and with the dildo fitting a 1.5 Inch O-ring it stays securely in place during even the most heated of strap- on sessions.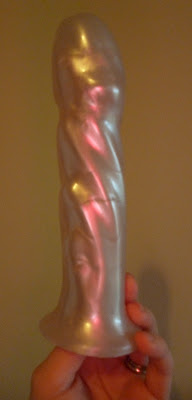 -Photo taken with an orange flash to help highlight the waves-
Experience
-Bullet/ Vibrations
And with all that talk of how well this works as I dildo I nearly got to the end without mentioning that the Goddess is of course not just a dildo but also comes with a bullet vibrator which sits inside the base of the toy and can be easily removed for washing of the toy. The reason why I managed to make it this far without mentioning it is that well it is pretty forgettable as far as bullets go. With just a single speed which is noticeably weaker than most bullets I've ever owned, the bullet is where this toy is let down.
Having tried the bullets from three other Tantus toys over the years, I've always found them to be a disappointment and am surprised that Tantus haven't overhauled them to give them either a stronger level of vibration or several speeds of vibrations. To look at, they are pleasant, with a simple black push button. Silver in colour and shiny, they even have the name Tantus engraved into them.
Powered by three LR44 watch batteries, I usually find myself more grateful for the included batteries than the bullet itself. If you are a fan of strong vibrations there is a good chance this bullet won't do it for you but you can always see if your favourite bullet is a good fit in the Goddess's base.
-Material Information
Made of high quality silicone, The Tantus Goddess is hypoallergenic and both Latex and Phthalates free. Silicone is completely non-porous meaning that it can be fully disinfected by boiling it in a saucepan for just 3 minutes or by throwing it into the top rack of your dishwasher or it can be simply washed after use with warm soapy water or specialized toy cleaner. It is generally highly recommended that you don't use silicone based lubricants with a silicone toys. I would recommend using a water based Lube with the Goddess. As the white version of the Goddess seems so vulnerable to staining from touching off dyes or other toys I recommend keeping it in a zip sealed bag, this also keeps it dust free in between uses. Like alot of Tantus toys and just silicone toys in general, the Goddess is a dust magnet and again the white version shows up dust and hairs worse than other Tantus colours.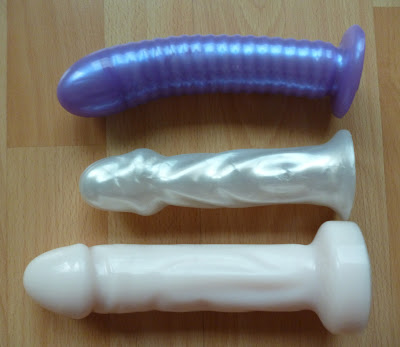 -Size comparison with the Tantus Purr and Tantus Vamp-
This content is the opinion of the submitting contributor and is not endorsed by EdenFantasys.com

Thank you for viewing
Goddess
– dildo review page!