Try a Little Tenderness
Glass is just plain awesome, and this one is no exception. While it is not the best toy for beginners, it will be great for those who live for rigid toys with texture. The large head hits the G-spot like no other, but can also create some painful catching on the pubic bone at times. I am beginning to believe that glass toys and I cannot go wrong. This dildo has done some amazing things for this texture lover, and I am very happy in the end with this toy!
Published:
Pros:
G-spot curve, Textured shaft, anal safe base, Body safe material, Creates a nice POP! sensation
Cons:
G-spot curve will not fit everyone, Diameter + Texture may be too much, Discontinued?, No pouch
Use:
The Pure Joy Pleasure glass dildo is amazing for those who like filling and textured toys. Keep in mind that this is made out of glass. It will not bend or move with you. Be careful when thrusting, because glass dildos can bump and bruise your cervix. That being said, this is one fantastic toy to use for slow or medium thrusting. I tried some heavy thrusting, but the large head kept catching on my pubic bone. The shaft does feature a very nice G-spot curve that is simply perfect for my lady parts. Want to take a double dare and attempt anal? Well thankfully this dildo has a safe flared base made just for your backdoor adventures. Temperature play is also possible with this toy, but more on that later.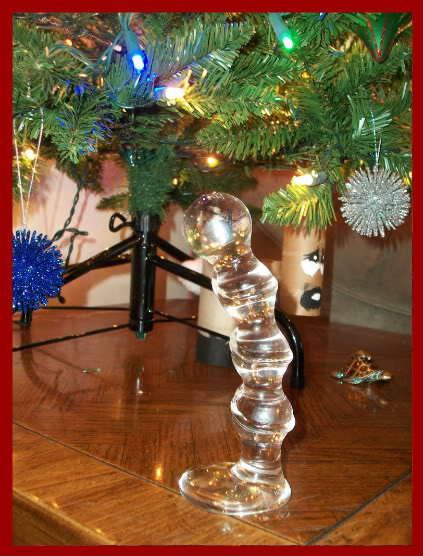 Materials:
This gem is 100% tempered glass, which is also known as Pyrex glass. Being less dense than glass, Pyrex glass is much more resistant to shattering or breaking. If this were to happen, it would break into large pieces instead of thousands of tiny shards. Pyrex is very smooth, and requires little lubricant. That being said, any type of lube (water, oil, silicone) can be used with this toy. Pyrex is known to be excellent for temperature play. Just play around and figure what temperatures you like best. To change the temperature, simply fill up a bowl with the desired temperature of water. Then place your glass dildo in the bowl of water. I usually like to leave it in the water for a good 3-5 minutes. I am then ready to play.
As a side note, I have noticed some imperfections in the glass. It is most noticeable in the head. If you look carefully, you might be able to see it in the picture below.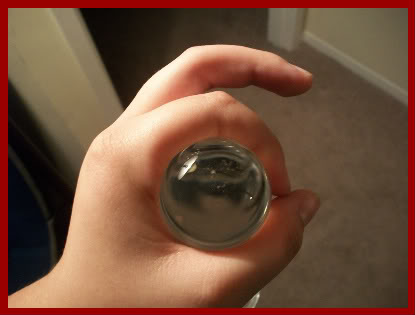 Texture/Design:
As said in the beginning, this dildo features a very round and large head. The shaft, in my opinion, is highly textured. The shaft is comprised of three bulges. Each bulge has some raised swirly lines. The pictures on the product page make the bulges seem like they have sharp edges, but in reality they are very rounded. The bottom of the dildo has a flared base, which makes for safe anal play.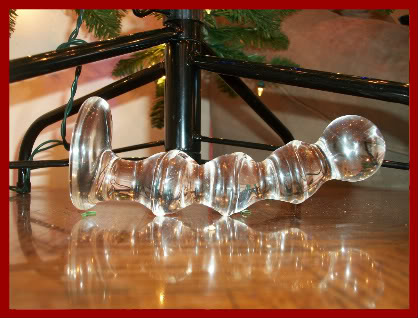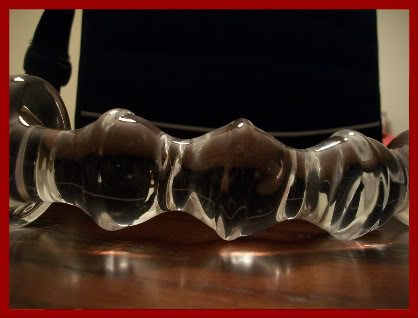 Size:
The large, bulbous head measures about 1 1/2" in diameter. The three bulges on the shaft each measures about 1 1/4" in diameter. I say "about" because each Pure Joy Pleasure glass dildo is handmade, so the diameter will vary a little with each dildo. The total length of this dildo is 6 3/4", but only 6 1/4" of that can be inserted.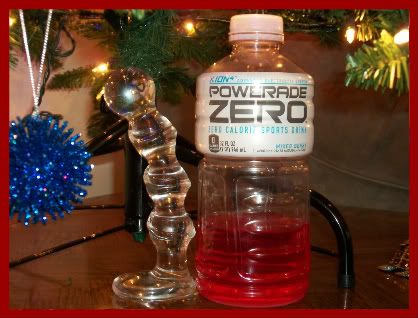 Care/Cleaning:
Glass is one of the easiest materials to clean and keep clean. Before using, always check for chips or cracks. If you find one, do not use it. After having your fun time, simply clean with warm water and a gentle antibacterial soap (favorite toy cleaner can also be used). Dry with a soft cotton towel, and store in a nice padded pouch (a sock can be used if you have nothing else. This just protects your glass dildo from getting scratched up. Again, any type of lubricant can be used with this toy.
Packaging:
When it comes to the packaging for this toy, it is nothing fancy. It is inside a cardboard box. The box has a see through window, which is located in the front. There is also a picture of the toy on both sides. If giving as a gift, just remember that the original packaging is in no way discreet. The back is where all of the information is. The wonderful people of Joyful Pleasures inform you that this piece is handmade, fracture resistant, hypo-allergenic, great for temperature play, and is compatible with all lubricants. Inside of the box, the dildo sits in a plastic tray. This glass beauty does not come with a pouch, so I would suggest you buy one or make one.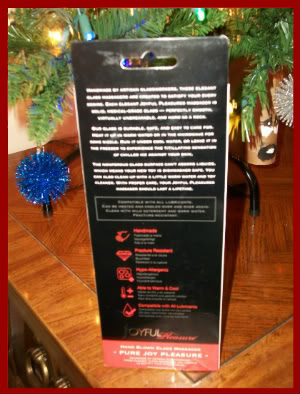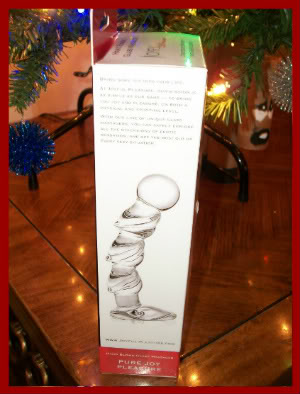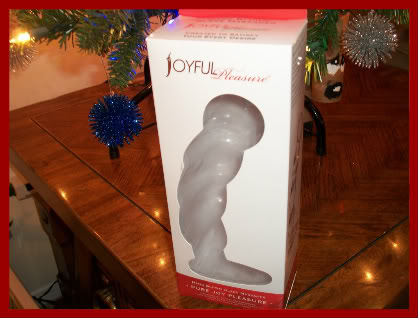 Experience
Remember the whole catching on my pubic bone thing? Well I found that the best position to avoid this was lying flat on my back or doggie style. I also found that if I was in the first position (flat on my back), only propped up on my elbows, it would catch instantly. Remember that this was my experience, and what works for me might not work for you.
With that said, when this dildo did hit my G-spot successfully I had some very powerful orgasms that did include some squirting.


Side note: A big "Thank You" to Eden for introducing me to this toy, and letting me do this review! You are simply amazing.
Follow-up commentary
7 months after original review
I still love this dildo, but I recently sold it to make some quick cash because of family problems. I wish I hadn't sold it, but I will buy it again if I have the chance. This was perfect for me because I love texture, so this toy would be better for those who are more advanced in glass and texture toys. It was a lovely piece, but I reluctantly had to let it go. This is truly a lovely piece.
This product was provided free of charge to the reviewer. This review is in compliance with the FTC guidelines.

Thank you for viewing
Pure joy pleasure
– dildo review page!