Ultra High Maintenance... But Worth It!
The Ultra Realistic Cock is an extremely lifelike dildo which offers accommodating girth for beginners if they can handle the care needs of such a high maintenance material.
Published:
Pros:
Feels very lifelike.
Great detail.
Realistic size.
Cons:
Requires lots of care.
Porous material.
Weak suction cup.
The Ultra Realistic Cock is molded directly from a real penis and has a Caucasian skin tone colour, faint blue vein detailing and a pink glans. This dildo has an insertable length of 6 inches and a circumference of 5.25 inches, and features a realistic scrotum which has a circumference of about 11 inches (including the shaft) and a suction cup base which has a diameter of 2.5 inches.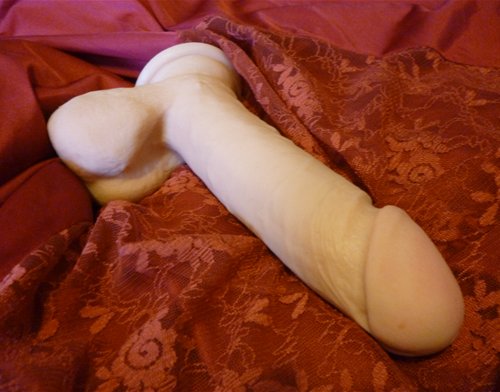 This suction cup base allows this dildo to be attached to the headboard or shower wall, and could be used to fulfill any double penetration or threesome fantasies. It is also harness compatible, making this suitable for pegging, although with such a porous material caution must be exercised.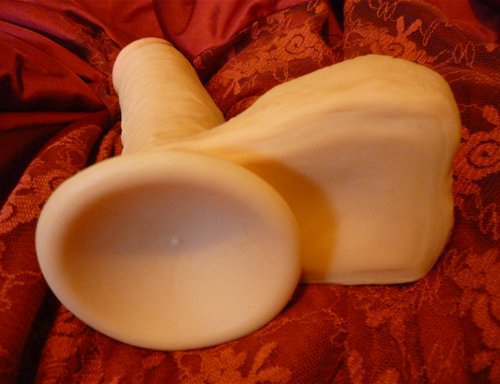 The dildo comes packaged in a plastic clamshell, inside a cardboard box which has windows cut out of the back to display and highlight the different features of the dildo. This is far from subtle; if privacy is an issue, a blue drawstring pouch is supplied which makes for a much more discreet storage solution. The drawstring bag has the Doc Johnson novelties logo printed on either side, but unless somebody is already aware of the brand they shouldn't be alerted to its sexual nature.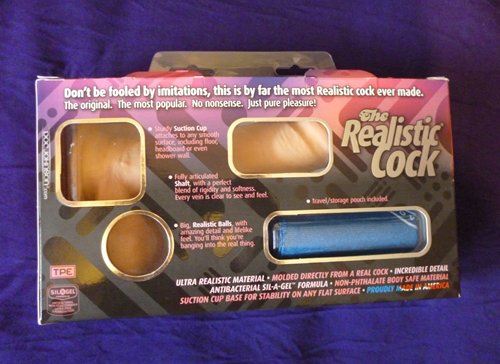 The bag dimensions are 8 inches x 10 inches. It can be tricky finding storage bags with ample space for sex toys with balls, but this houses the dildo quite well. I just wish it was just a couple of centimeters longer to better accommodate the length of the shaft.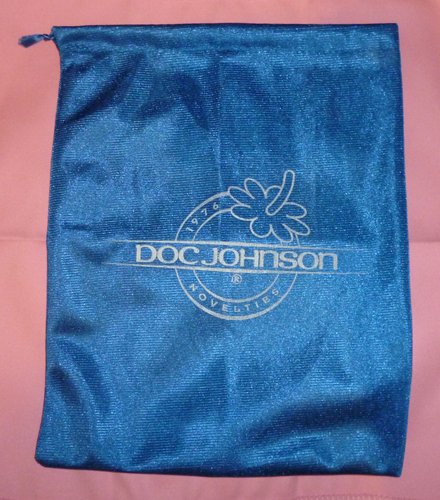 A small leaflet was provided which contains some very useful information about caring for UR3 toys. UR3 is a very high maintenance, porous material, which means it has lots of tiny pores for germs to hide. This is especially problematic on the Ultra Realistic Cock since it features a lot of wrinkle details, in particular on the scrotum, and dirt can easily become trapped within these tiny crevices. UR3 is a very delicate material which is prone to snagging and tearing, so it needs to be handled with care. It should also only be used with water-based lubricant.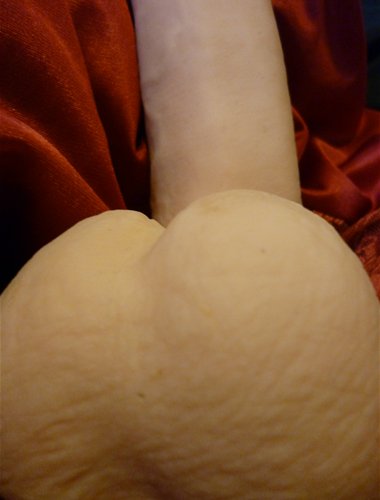 To clean this dildo, spray it with an antibacterial sex toy cleaner, rinse with warm water and pat dry with a soft lint-free cloth. After allowing all crevices to dry, sprinkle some cornstarch (or corn flour) on the dildo before storing it in order to help it retain its soft, skin-like feeling. The Care Guide leaflet suggests using talcum powder, but this has been linked to a possible cause of ovarian cancer. When you are ready to play with the dildo again, simply wash off the cornstarch and enjoy!
Experience
This is my first UR3 dildo and I am amazed by its realism. The material warms very easily and feels just like skin-on-skin contact, and the balls slap against you with every thrust. The shaft is quite firm yet squishy and flexible, which allows it move like a real erect penis. This reminds me of the density of my Johnny Vixskin dildo, with its firm inner core and soft external layer. The picture below shows the Johnny Vixskin, James Deen Vibrating Cock and Ultra Realistic Cock.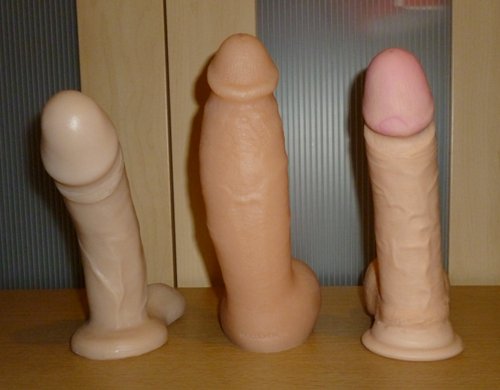 Johnny Vixskin is very shiny and has a pale colour to it, however; whereas this dildo has warmer, more lifelike tones. Johnny Vixskin also has a smooth texture, whereas the Ultra Realistic Cock has a velvety soft feeling that seems to have a sort of elastic quality to it which makes it move almost like real skin.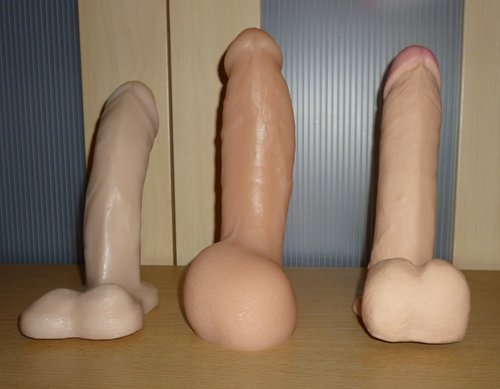 Having never used UR3 before, I was very wary about inserting such a porous material inside my vagina. I tried to put a condom on it, but it wouldn't fit. I struggled to roll it down the shaft, where it got stuck half way and I had to remove it. Since it was a new toy, I decided to risk using it without one after giving it a quick wash.
I find the suction cup doesn't do a great job of suctioning to surfaces, but perhaps that might be because the material is flexible and the dildo has quite a bit of weight to it. I think if the suction cup was made from a firmer material it might stay attached for longer.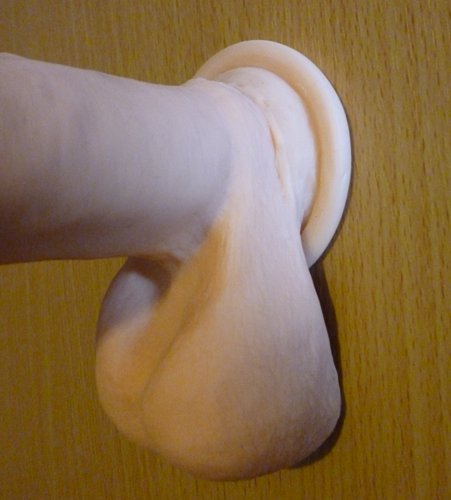 After each use I have noticed the pink colour on the head of this dildo has become paler and is rubbing off. This makes me feel uneasy but I haven't had any odd reactions to it.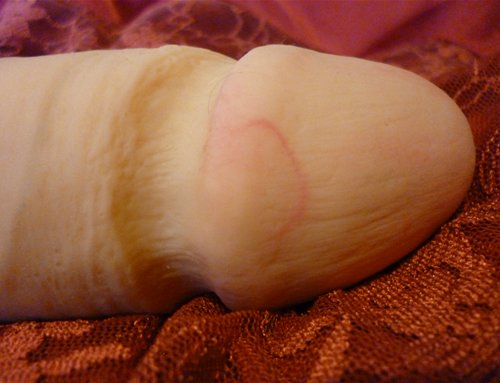 This dildo has a very sweet odour. My boyfriend has a UR3 male masturbator which gives off exactly the same scent, so this seems to be pretty common with UR3 material.
The drawstring on the bag keeps coming undone, so I like to use a simple slip knot to keep the pouch securely fastened. This has extra benefits as it's very quick and easy to open by simply tugging on the tail, which is useful when you want to quickly get your toy out for a play session. This type of knot also creates a loop which can be used to hang the bag up somewhere in a safe place.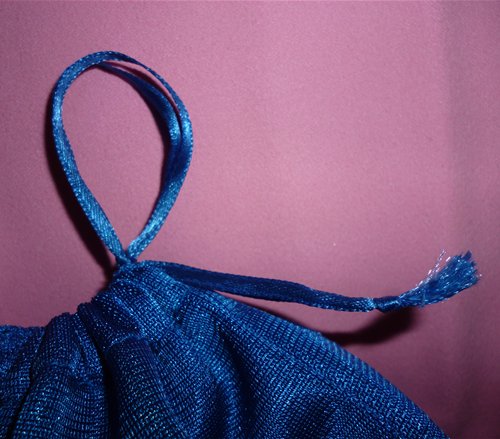 This product was provided free of charge to the reviewer. This review is in compliance with the FTC guidelines.

Thank you for viewing
Ultra realistic cock
– realistic dildo review page!