A tangled mess lacking a bit in quality and size.
These stockings were a disappointment because they didn't fit me properly and they snagged easily. If you have slender, stumpy legs but a long torso, you might be happier with them than I was.
Published:
Pros:
easy to put on
Cons:
easily snag, no grip on thigh band, not versatile sizing
My boyfriend and I both find garter belts and thigh highs incredibly sexy, so I was excited to add this to my cart filled with other stockings to try out! After opening and trying them on, though, I was sorely disappointed. When I decided to give them a second go-around (mostly for this review), I got really pissed off at how tangled they were from my prior wear. If you're the kind of person that can get a single thigh high tangled, I'd steer clear of these. Otherwise, they're worth a try if you're the right proportions...maybe.
The packaging for these is a pretty simple cardboard envelope encased in a plastic sleeve. I tossed the sleeve. The model on the front is chilling in the stockings and her own thong and heels. She seems to make the stockings work, despite having legs that look like they're a reasonable length. The packaging is definitely NOT discreet. If discretion is a fear, toss the envelope immediately. The envelope contains the garter stocking with another piece of cardboard inside. Here's the packaging: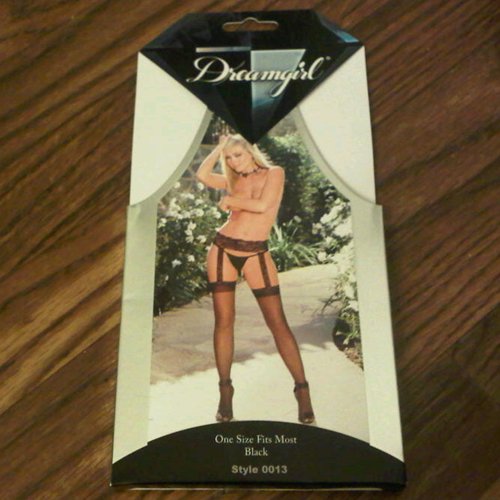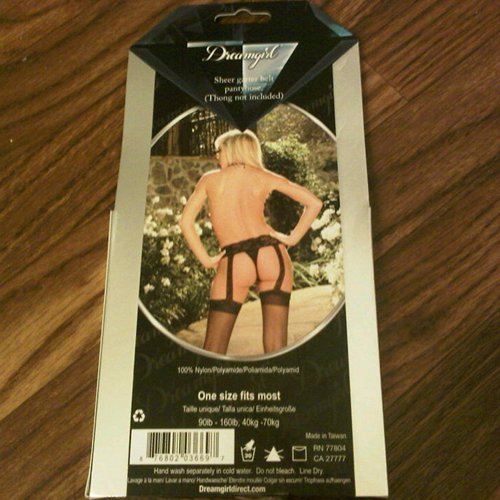 The one size fits most did not fit me.
Putting them on the first time wasn't too hard. The stockings were still straight and nothing was tangled, so I just put one leg on like normal thigh highs and then shimmied my other foot in like it was a pair of tights. Tugged them up and ... wow; they only went up about the width of my hand above my knee. This wasn't going to fly for my work outfit; I couldn't have my thigh highs hanging out under my dress!
I was able to tug at the feet and up the legs enough to get the top bands up above the hem of my dress enough to be comfortable, but I was concerned about how long they would stay up since they didn't have the silicone grip on the inside of the bands that most decent thigh highs have. I wasn't confident in the lace garters' ability to hold up the stockings at the right height. The "garters" aren't adjustable; they are just a length of lace. For me, they were longer than I wanted. When I had the stockings at the height on my leg that was most comfortable, and the belt was around my waist as was most comfortable, the lace garters had slack in them and were not taut. I shrugged and went with it. I could always take them off in my office if they were that bad and switch to the back up pair in my desk.
I made it from my home to my car and I noticed the stockings had already slipped a lot lower than was comfortable. Nothing was revealed just yet, but they were dangerously low and I was nervous. I made it through the morning at work just tugging them up before I got up from my desk to do something. This did cause a few more snags/minor pulls in the stockings at the top. The material they're made of is not the sturdiest, and black sheer stockings easily show pulls when they've caught them on something. At home during lunch, I threw them in an apparently tangled mess on the floor to be dealt with later. They were not my friend.
I put them on again for this review after I got them untangled. Again, when I first pulled them on, they only went up and over my kneecap by a few inches. This wouldn't do for me. I pulled and yanked and tugged again and got the stockings to extend further up my thigh. Then I adjusted the waistband of the stockings and sighed at the extra fabric in the garter.
The length of the garter flat was 6 inches in the front and 8 inches in the back. It stretched easily and comfortably to about 9 inches in the front and 12 inches in the back. The legs of the stockings measured 21 inches flat.
Caring for these - I would just give them a quick wash in the sink or in the shower with me and hang them over the towel bar to dry. That is, if I wore them long enough to get dirty or ever wanted to wear them again. I wouldn't risk throwing them in the wash (even in a lingerie bag) because of their potential to snag.
Experience
These sucked for me because:
1) There is no silicone grip in the top of the band. Even if you get the stockings to the right height on your leg, you'll have a hard time keeping them there if you want to move around.
2) The length of stocking was not long enough for me to easily put on. I was fighting to get the stockings midway up my thighs.
3) The length of garter is not adjustable and therefore probably not perfect for everyone. They were too long for me.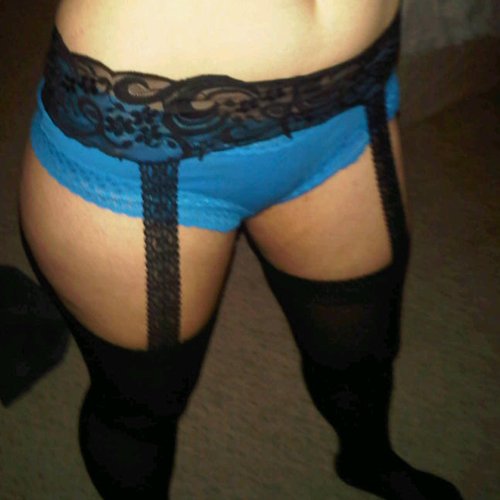 I'm using my wide-angle lens on this one... My thighs aren't that thick.... But this kind of shows you where everything was hitting on me.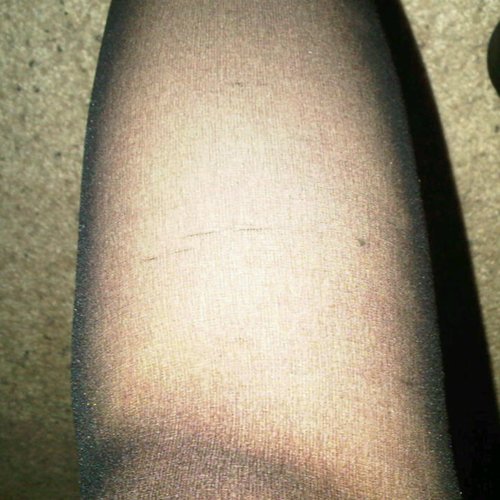 These occurred when I tried putting the stockings on for a second time and had a "fuck it" attitude. But I wasn't being particularly rough. Just not careful. The material didn't hold up well for me (even in the beginning), but at least the toe felt sturdy.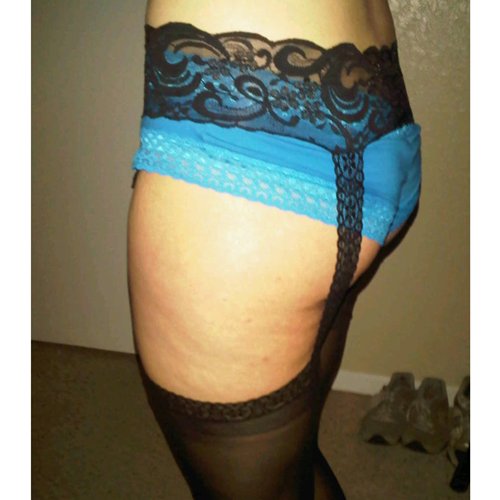 There was no way for me to get the stockings further up my thigh than that. There just wasn't enough material. Also, there was no way to keep them at this height. Without a grip, they just slid down towards my knees.
Follow-up commentary
10 months after original review
I still didn't get the hang of putting these on or rocking them. I don't think they were the right size for my body. You win some and you lose some sometimes with lingerie. I'll stick to my preferred body stockings!
This content is the opinion of the submitting contributor and is not endorsed by EdenFantasys.com

Thank you for viewing
Black pantyhose with garters
– thigh highs review page!