Adorable but.....one size fits all?
This is a beautiful red chemise that is well made and comfortable to wear. I am giving it 5 stars because it looks beautiful and was so well made. I really wish it came in bigger sizes because I would order it again. If you are smaller in stature I would recommend this chemise as it will make you and your partner's night.
Published:
Pros:
sexy
beautiful color
price is great even not on sale
Cons:
does not fit over 175 lbs
Oh how I wanted this item!!!
I asked for this item to review because it looked so wonderful in the pictures and I figured one size fits all should fit. I waited anxiously for my box and when it arrived I couldn't wait to open it and try this on. Of course I had to wait because I had two of the munchkins with me. When I finally got the chance I tried this on and was very disappointed that it did not fit. Never fear, I have found a new home for this beautiful little chemise. My daughter will get it as soon as I finish my review. This product arrived in a box suitable for gift wrapping but it is not discreet by any means. On the front of the box is a picture of a cute little model up close wearing this chemise. Across the box is the manufacturer's name, Music Legs. The word "Mini" on the top right, should have been my first clue. On the top left is the style number and name of this article, Sweetheart lace low cut front chemise with ruffles and heart buckle (such a long name for something so small). It also includes the information on sizing: 5' - 5' 10" (100 - 175 lbs). On the back of the box is a picture of this same model full length wearing red shoes (the chemise is red). Across the top left is the manufacturer's name and on the right is the word mini again. On the left bottom are the care instructions and material info. This is 100% nylon and is made in Taiwan. Care instructions are in pictures which indicate hand wash and hang to dry, no machine wash or dry, no iron. This info is also included on the tag inside the chemise. There is no underwire so do not expect any support if you are very large in the chest area .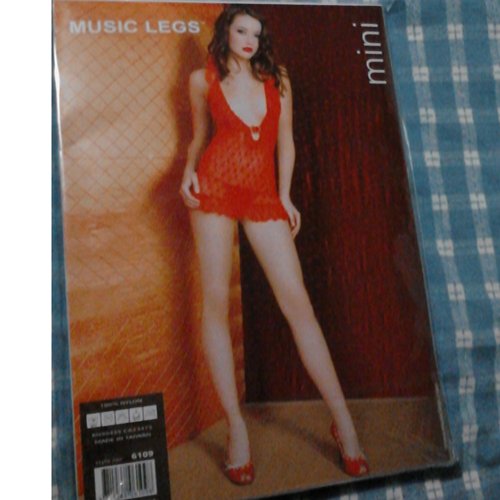 Chemise
This is a one size fits all but as you can see from the sizing info it is not meant for someone who wears a size 18 (which I do). I do fit in the height requirements but the weight requirements are so far from my size that I was afraid to even try this on. I did try it on for scientific research. It is not scratchy and surprisingly it is very soft. The seams are well made and the tag is located inside on the side. This can be cut out carefully but I would not recommend ripping it out as you could rip the lace. This is halter style and has a cute heart shaped plastic buckle that should rest between the bust and belly button area depending on your height.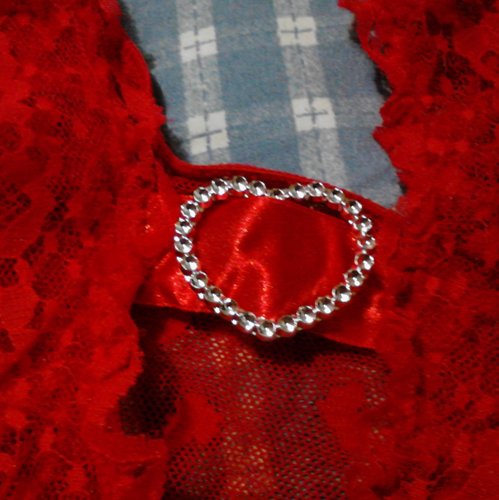 There was one loose thread on the front but it was not a problem to cut off. Music Legs does not give a size chart for the one size fits all lingerie but this outfit was 30 inches long from halter top to bottom lace ruffle. From the top of the halter to the buckle is 14 inches long, with about 3 more inches from the buckle to the bottom of the opening in front. The back of the outfit is 19 inches from the elastic that crosses the back to the bottom ruffle.
Thong
The thong was too small for me to even think about trying it on. It does not have a lining and it is very small. The triangle is 3.5 inches wide at the top and the bottom is .5 inches. It is 6 inches long from top of lace part to bottom where the elastic continues around to the back. The waist band is about 18 inches around un-stretched. From the back waist band to the bottom of the triangle is 6 inches of elastic. It is cute but not meant for someone my size.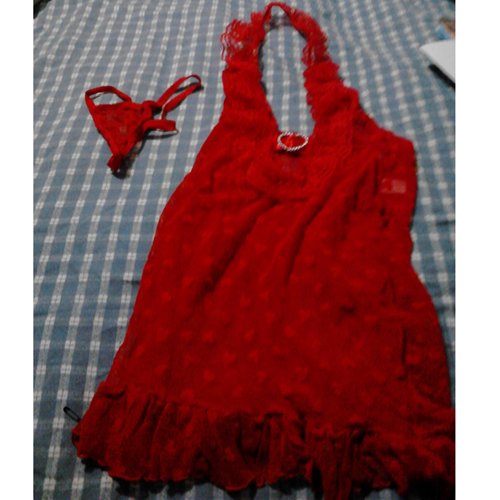 I really wish this had fit. It is just about the sexiest thing I have ordered so far and my husband would have been disappointed had he seen it. Alas, I saw no reason to tease him with this. I am sure this will get plenty of use in its new home.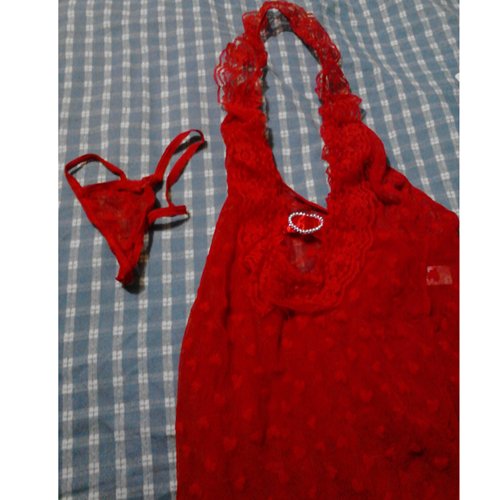 This product was provided free of charge to the reviewer. This review is in compliance with the FTC guidelines.

Thank you for viewing
Sweetheart lace low cut front chemise
review page!