Beads O' Pleasure
The textures for me are a plus but they may be a con for some. I like the flexibility of these beads. They don't have the stiff curve that can make for an uncomfortable insertion. They are springy and stretchy. They really enhance your orgasmic sensations when pulled out one by one at the right time. They don't slip out as the way some plugs can when you get going. I am very impressed by these.
Published:
Pros:
Flexible
Squishy
Silicone
Easy to Clean
Textures
Cons:
none
Posh silicone O beads by California Exotics
These are a great set of silicone anal beads. You get two in the package and they come in great bright colors. Each of the beads have different textures so you can decide which you prefer. I like that they are solid silicone. I had a pair of anal beads years ago that were beads tied onto a string and it was gross for clean up. Those went to the trash quite fast but these will be around for years of use.
The Posh anal beads are one solid piece of silicone. They are for anal use by both the guys and the girls. You can wear them while masturbating, vaginal intercourse, or for use alone. You can wear these for extended periods of time. They wiggle and they giggle when you hold them in your hand they wiggle around they aren't the solid type of beads with the curve to them. I have found when you insert the firmer ones with the curve to them you can actually insert them with the curve going the wrong way and they feel uncomfortable, not these. These beads are great for use when having intercourse as your partner can pull the pull tab and slowly pop the balls out as you are orgasming. This really enhances and drives your orgasm up the charts. I personally really like them to be pulled when I am receiving oral from my husband.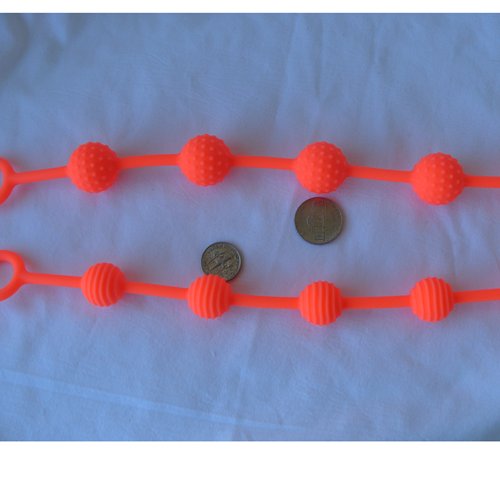 Materials/Textures
The smaller of the two anal beads has a lined texture and the larger has very slight bumps. You can feel the textures on these and I like textures so they are great for me. The sensation is muted when using the silicone textures it is not as pronounced as the textures on glass.
The silicone is rated a 10 on the Eden safety scale. It is non porous, hypoallergenic. Latex and Phthalates free. It is one of the safest materials for sex toys and the toys can be shared between partners if properly cleaned in between. These anal beads are flexible and springy stretchy. The silicone is easy to clean. For anal use I use a heavier water based lube for use with it. You don't want to use any other type of lube with it as it may hurt the finish on the silicone. It has no scent to it and I did not taste it. The posh line comes in some great bright colors, I have the bright orange, there is purple, blue and yellow.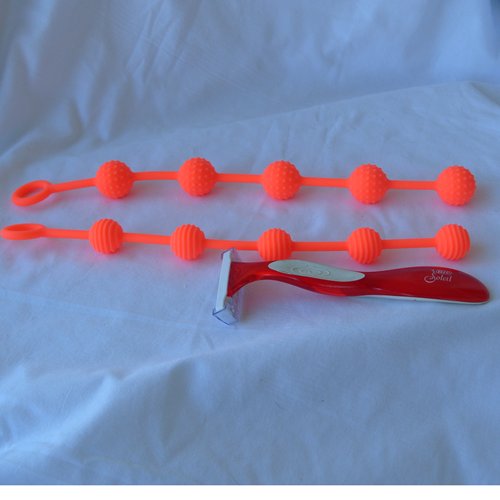 Size/Shape/Design
In the package you receive 2 anal bead sets. The first set is the smaller with balls that are the size of dimes. There are a total of 5 balls. The end of the balls has a round loop for your pull tab. They are a total length of 10 inches. Each ball is ¾ of an inch from top to bottom and the silicone area in between the balls is 1 ¼ inch. The round end for pulling is one inch across. The small set has lines in place as textures and they are approximately 3 centimeters apart.
The larger set has 5 balls the size of nickels. The total length is 11 inches with the balls being 1 inch long and the space between the balls being one inch. The pull tab loop is one inch across. You always need that one inch! These balls have small bumps on them that look like they have goose bumps! You can feel these textures and I really like the bumps.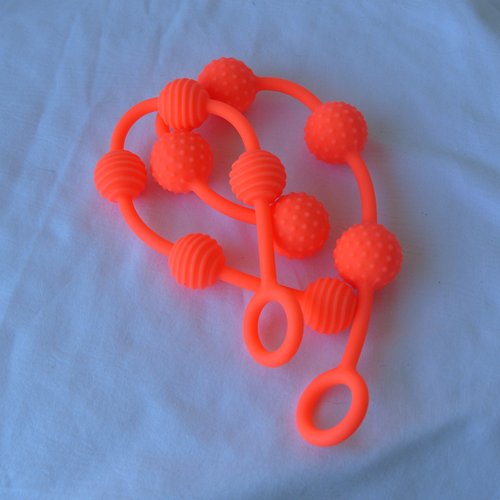 Care/Maintenance
The balls are so easy to care for. You can clean them with antibacterial soaps and water, toy sprays or even your Eden wipes. They can be boiled, you can put them in your dishwasher. You can wipe them down with a 10% bleach solution. They are very sturdy and I wouldn't worry about the connection areas breaking. I store all of my silicone toys away from each other and basically I keep all of my toys apart. There have been other reviewers who have commented on toys melding and sticking together as well as instances of having the finish of toys compromised and I don't want to harm any of my toys. I keep these inside of a plastic baggy. Both myself and my husband use these beads and I don't have any issues since they are non porous and are easily sterilize able. I use water based lubes with my silicones and for anal play. It is not suggested to use silicone lube with silicone toys.
Packaging
The rings come in a white box with the picture of the beads on the front. Just some general product information is on the box.
Experience
I love these beads! I really like their flexibility and that they aren't part of a stiff curve. The textures are not so prominent that they are over whelming. The husband gives them a thumbs up too. I would suggest these for both beginners and experienced anal users!
Follow-up commentary
2 months after original review
These are a great pair and you get 2 of them!! They can be a little tricky with insertion but they are the best material, easy to use, have great popping sensations and clean up easily. You can just throw these in the dishwasher or boil them to sterilize.

I do really enjoy the textures and the popping sensations with intercourse.
This product was provided free of charge to the reviewer. This review is in compliance with the FTC guidelines.

Thank you for viewing
Posh silicone beads
review page!