Bells Not a Ball
These nipple clamp aren't very strong, nor to they grip very well. If you perform form over function, I recommend these; the bead details and bells make them very cute. Otherwise, stay away.
Published:
Pros:
Cute
Weighty
Cons:
Weak pinch
Falls off easily
These Tweezer Bell Clamps by PHS International are a simple, less intense introduction to the world of BDSM. They have a slight pinch with some weight that tugs at any bits you affix them to. The black rubber ends keep the pinch from being too harsh.
They work by being pinched against the skin, then moving a small metal ring at the base up its shaft, which keeps it closed and locked in place. This sounds simple enough, but in practice they're admittedly a little difficult to use. The ring is small, which makes it hard to get a grip on with bigger fingers. It's also hard to simultaneously pinch them while manipulating the ring.
The beaded details are very cute and add a flair to your scenes. I got the silver and pink. They were really more of a purple, which I was a little disappointed with. The bell is made from a very thin sheet metal. This is good because they're lightweight; I suspect the clamps would very easily fall off if they weren't. However, the "jingle" is very quiet as a result. The 3 Bee rating corresponds to the amount of noise they make.
The biggest problems with these clamps are they have problems staying on. I had problems getting them to stay on with even a slight tug. If you want something with a strong pinch and a strong grip, I can't recommend these.
The clamps come in a clear plastic clamshell container. If you need to keep these discreet, it is not a good storage solution as it pretty clearly says "nipple clamps" all over the package. I store them in a small satin container.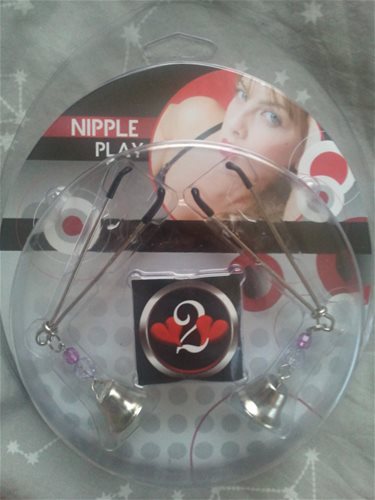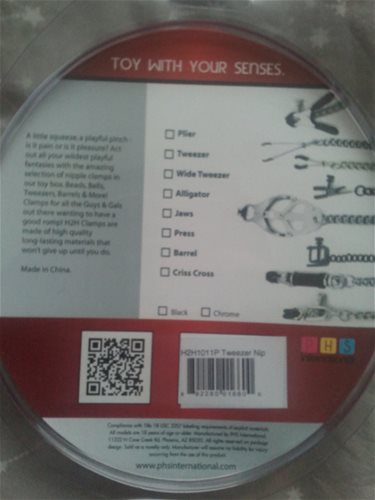 Cleanup is easy. I wash them with warm water and soap, then towel dry them with a clean towel. Take care not to get them damp as they might rust.
Experience
I used these for way more than just my nipples. I found they also stuck to frenulums, labia, and clitorises. This makes them a universal toy. Unfortunately, the pinch wasn't very satisfying and my partner couldn't really tug them, so it was more of the weight that delighted me.
This content is the opinion of the submitting contributor and is not endorsed by EdenFantasys.com

Thank you for viewing
Tweezer bell clamps
review page!