Criss Cross Sexy and Hot
Overall I give this 5 out 5. I do recommend this for people, just unfortunately it's not for everyone. It just will not fit those who are curvier. It also might be too open in both front and back. I love both the front and the back. More the back than anything, because like I've said before, it is my favorite thing to show.
Published:
Pros:
Plunging front.
Criss Cross open back.
Not too short in the back.
Cons:
Not going to fit every body type.
Might show to much in front and back for some.
USE-
This Criss Cross Halter Dress by Espiral is designed to wear. Wear it out to the club, the bar, a party, and anywhere else that you want to have all eyes on you. With this dress you're going to look super sexy. It's not your usual black dress, this takes it up a notch. If you find yourself not comfortable wearing it out in public, that's just fine; wear it for a date night at home with your hubby/spouse. Turn up the heat with this sexy number at dinner.
Material/Texture-
The Criss Cross dress is made from 93% Polyester and 7% Elastic. The texture of this dress (as well as others in this line) are very soft. The dress is also light weight due to the material it's made of. To me this dress had no smell to it, so that's good, no bad smells.
Design/Shape/Size-
The design for this dress is a halter top dress with criss cross ties and an open back. The front has a 8in long plunging neckline that is 4 1/2in wide. The top has no support, but if your're able to make them work, you could buy the strapless/backless bras. I measured the dress laying flat and it was 29in long and from the widest part, 15in wide. I mention the back is open and has two 34in long straps that criss cross and tie in the middle of the back. The open back also has a 17in long and 9in wide plunge. This might be too much for some people; it's a deep plunge. When I have the dress where it's suppose to be, it is just above the top of my butt crack. I do love showing off my back. I did all the measurements while the dress was off but I do have measurements with the dress on. The shape to this dress is almost straight down, but it looks like it does flare out a little towards the hips. Even with that this dress will still hug your body and all your curves. Not so tight that you can't move, though; like I said it is very light weight. I guess what I'm trying to say is it is just a form fitting dress. The dress is a solid black pattern. That is the only color so far (hoping for more). As for as sizes, it comes in S, M, L, and XL. I have the Large and seems to me that sometimes Espiral's sizing can be off. The last dress I got was XL then L and then a M, and they were all way too big. This dress was true to size, so go ahead and order your size.
Espiral Size
Bust Waist Hip
S 34 25 34
M 36 27 36
L 38 29 38
XL 40 31 40
My Size 11-12 jeans shirts M-L dress 9-11 or M-L, 36C-D/28/41, 13 inch long torso.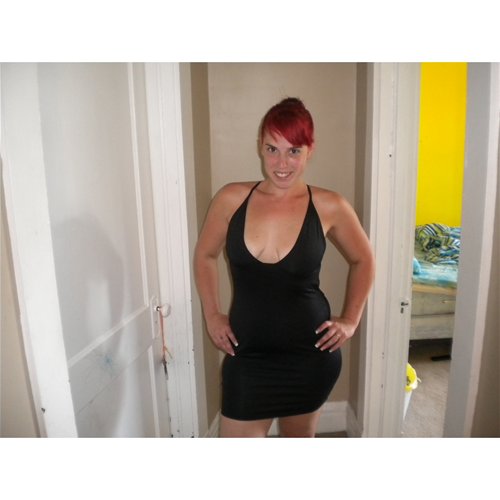 front opening on me was 12in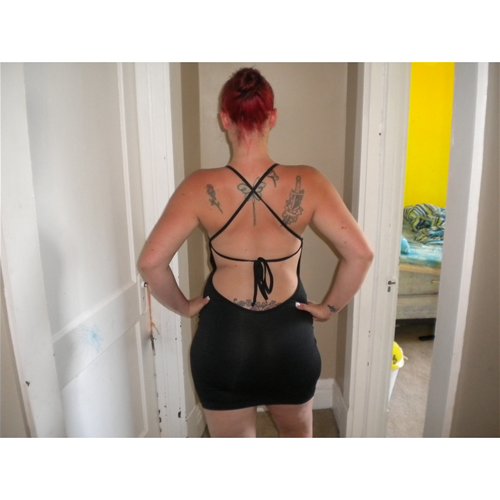 back opening on me was 19in
this next one was just for fun :)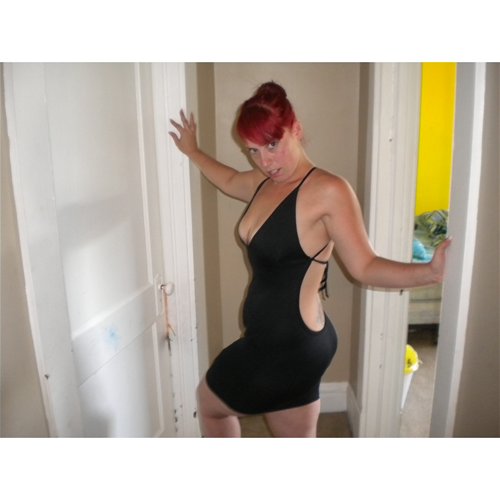 Functions/Performance-
The criss cross ties in the back can be adjusted to fit you. The materials this dress is made out of would have to deal with performance. They are good materials, I have seen a lot of dresses and lingerie made from them. I stretched this dress from 29in to 39in and from 15in wide to 26in wide. The dress went right back to its normal shape and size. I didn't hear any tearing or ripping. There where no loose threads before or after stretching. I also didn't find any bad stitching. I think that this will last for awhile in my wardrobe.
Care/Maintenance-
The box the dress came in says to wash separately, drip dry, and don't bleach. Anytime I see this I always hand wash these types of items and then hang dry. This is what I recommend doing with this dress. Once it is dry I will put it on a hanger and place in my closet. This dress really doesn't need that much, but it should be hung up. If you decided to put it in a drawer it will get wrinkled and you can't put in the dryer to get them out, so I would recommend hanging this.
Packaging-
The Criss Cross Halter Dress comes in a bag inside a cardboard box, which is recyclable but no suitable for storage. The front is a model showing the front style of the dress, which also has the color, size, dress style, and also number. The back has two models in the front and back styles of the dress. It shows you the color, material, care instructions, and size.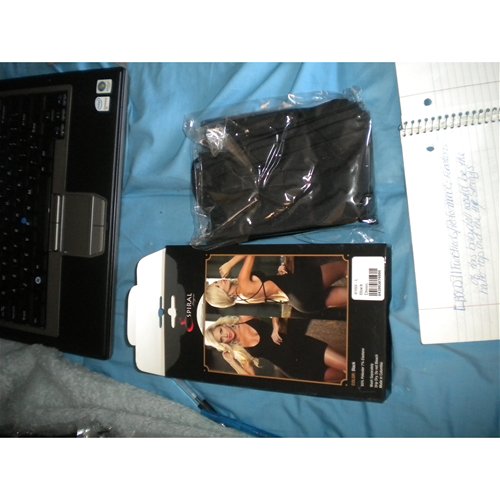 Experience
This is not your simple black dress ladies, this is your sexy-show-off-your-curves black dress! The dress that makes everyone stop and look at you kind of dress, but in a good way. I personally love most of the dress collection from Espiral, so I was super excited when I saw that Eden Fantasy had added this dress onto the site. I also like the way this dress is designed. The front is low, but if you get the straps right and tight enough, you shouldn't have a problem with your boobs spilling out of the dress. Even with no support, the only time I felt like my boobs were going to fall out is when I stayed bent over for a long period of time. See, the back is actually why I bought the dress. My back is one of my favorite features of my body to show off. It has the criss cross then it dips down. This dress is pretty long on me even with my curvy booty. Most dresses or skirts are too short, but not this one. Honestly I can't wait to get more dresses from Espiral.
Follow-up commentary
2 months after original review
Well, I'm starting not to like this dress as much as I did. I've only had the chance to wear it out once. Like I said in my review, you have to tie it up pretty tight so you don't pop out. That didn't seem to work out all that well. I tried to use those "invisible bras", one that just went right on your breast and pretty much covered some of your breast and your nipples. Wearing that under this dress wasn't the best idea. I swear that's all you could see, the outline of those busting through the dress. Then, as I started to dance, the strings started to get loose and I could feel myself starting to come out of the dress, which isn't good--hubby would have a heart attack. Also, the dress kept riding up on me every time I started dancing. All night I was very uncomfortable and unhappy with the dress choice I had made. So, all and all, the dress was a bust that night and I think it will remain hanging up in my closet until I can find away to fix the massive amount of cleavage that shows. For me, the best feature on the dress is the back--that's why I got it in the first place.
This product was provided free of charge to the reviewer. This review is in compliance with the FTC guidelines.

Thank you for viewing
Criss cross halter dress
– mini dress review page!