Don't Eat This Mushroom!
Although the collection is a lovely idea, the toy overall just fails to gain my approval. If you are looking for power in a toy, look away! This is not the one for you!
Published:
Pros:
Lovely packaging, nice shape, fairly quiet.
Cons:
Not enough power, this is the biggest con of them all. Also, seam.
The Wonderland line by Doc Johnson is very wonderfully whimsy. The 'Mystical Mushroom' is made of silicone. It is powered by ONE AA battery. Now, as we sex toy junkies know, one AA usually isn't that powerful. And that still holds true for this one. In conjuction with its odd vibrations, this fungi isn't that strange after all.
The Mystical Mushroom is part of a new collection of toys from Doc Johnson, the Wonderland collection. The whole collection is inspired by Alice in Wonderland. The toy comes packaged in a very nice box, for it being Doc Johnson. There's no naked ladies on the front. The box, on the outside, even looks a little like a book. On the inside, there is a blurb about the collection: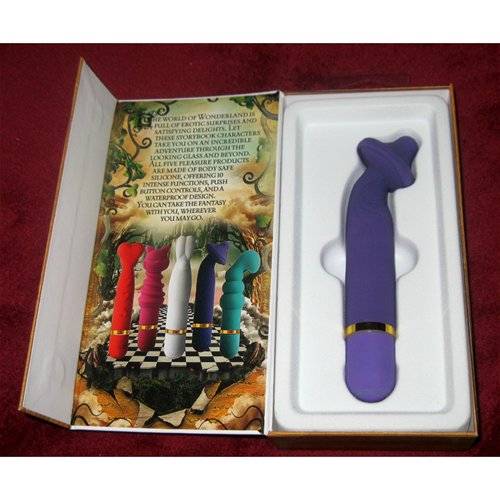 The head of this purple toy is very slightly flexible. The head also has a small vertical seam in it, although its not noticeable during use. The Mystical Mushroom is approximately five and one-fourth inches long, the main part is 2" circumference and the tip is 3". This toy really isn't meant for insertion, I would not try it. I cannot imagine it would be very enjoyable at all.
The back of the box says it's waterproof with ten functions. I did not test the waterproof abilities of this toy, but the functions were so weak and similar that it seemed more like 8 or 9. It's incredibly hard to describe the functions, so I'm not really going to try that hard. But the first three were constant vibrations, with the next five/six intermittent ones. Also, with some of the functions, it made very odd sounds. Not incredibly noisy but just odd. Besides the fact that three of them were constant and the others were intermittent, there honestly was not that much of a difference between the functions. And, the vibrations are fairly weak. I would say a three, at the very most, for the strongest of them. They vary between 1 - 3 vrooms. I was not able to orgasm with this toy, even after warming up a bit with another, stronger toy.
The vibrations are turned on by one button on the bottom of the 'stem'. There is only one button, so you have to cycle through all the functions again and again. The button, if held for a few seconds, will turn the toy off.
I did not expect to be impressed by this toy, and I wasn't. I would have loved to be proven wrong, but sadly that was very much not the case here. This Mystical Mushroom really isn't that mystical after all.
Follow-up commentary
3 months after original review
This sad little piece of work still sits in my closet, unused. I have tried to use it twice since I reviewed it - no beans. Don't believe the other reviews when they say its 4/5 vrooms....not even CLOSE, unless you can orgasm from a butterfly landing on your clit, or something. The packaging is shiny, yes, but don't let that fool you. It is NOT worth your money.
This product was provided free of charge to the reviewer. This review is in compliance with the FTC guidelines.

Thank you for viewing
Wonderland - The mystical mushroom
– clitoral stimulator review page!