Flirting? I Got The Cold Shoulder
Clitoral stimulation is something I never neglect during my playtime - this special little pleasure button is instrumental to my satisfaction. I've always been interested in toys like the Womanizer which are designed specifically for clit stimulation, and after seeing that EdenFantasys has their own variation - the Air Flirt - I knew I needed to try it out. Unfortunately, the Air Flirt wasn't very flirtatious, but I was pleasantly surprised by the vibrations this little toy possessed.
Published:
Pros:
This little Flirt has powerful vibrations!
Cons:
Small Size, Difficult to Position, Weak Sucking
Packaging and First Impression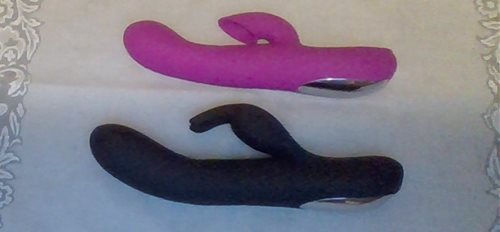 The Air Flirt arrived in the standard, nondescript cardboard box I receive all of my EdenFantasys orders in. Inside, however, under the packing bubbles, the Air Flirt arrived in a very pretty box. The box itself is a simple, plain box with an easily removable lid, but the sleeve it is in has a gorgeous purple to pink color gradient with the name of the product - Air Flirt - written in a stylish cursive font to give off a feminine, flirtatious air.
Opening the box and taking my first look at my new Air Flirt, I realized just how small the Air Flirt is - above you can see it compared to my EdenFantasys Sway. It's a very small and slender toy, with only a couple inches of insertable length. However, with sex toys it's all about how they manage to use the length they have, and bigger is not always better, so I was excited to take this sucking vibe for a test drive.
My Experience With The Air Flirt
Due to the cone-like opening for the suction-section extension of the Air Flirt, it was incredibly difficult for me to position it correctly over my clit for a good seal. Its shape was not conductive for an easy time positioning it. And, once positioned, the experience was... disappointing. I expected a big "wow" moment to blow my mind, but it never happened. In fact, with the weak suction and the awkward angling in the placement, It was difficult for the suction to be felt at all for any intense clit stimulation.
When the "air flirting" failed, I didn't have high hopes for finding a way to enjoy this toy... but then I tried out its vibrations. For such a tiny toy it sure packs a big punch! I was shocked to find its vibrations were as powerful as they were - due to the air suction being the primary feature and selling point of the Air Flirt, I assumed the vibrations would have taken a back seat. But I was wrong! And, while the "rabbit" protrusion for the suction extension didn't really suck all that well, the vibrations were able to resonate in it for some minor clit stimulation.
Final Thoughts
Something I would like to note is that, in my examination of the Air Flirt to see if I was perhaps not utilizing the air suction correctly, I found that there is only a tiny hole inside the suction extension in which air is actually sucked in. Using my fingers to investigate, the suction can only really be felt if you are able to press directly against this hole or if you can manage to get the cone-like opening completely sealed off pressed against your body. But, with the shape of the toy and its opening, and the way a woman's body is "down there," that isn't easy to accomplish. The shaft of the toy continually gets in the way of manipulating the suction part to lie flat around your clit - or at least it did for me.
In the end, I know I'll still use the Air Flirt frequently. Why? The vibes! They're not the most mind-blowing vibrations in the world, sure, but they are surprisingly powerful and extremely quiet. Aside from a tiny buzz there is no sound making it great for discreet usage.
Due to the small, non-intimidating size, and powerful yet quiet vibrations, the Air Flirt could be a great beginners toy. It's a bit on the expensive side for someone wanting to get their first sex toy, but it works like a charm!
This product was provided free of charge to the reviewer. This review is in compliance with the FTC guidelines.

Thank you for viewing
Air flirt
– rabbit vibrator review page!