Fun panties, but not what we expected or really needed.
If you're looking to feel like you're not wearing any panties (or want free access to both your crotch and your bottom), adding sexiness that color and lace provides, and need a size that fits larger women, this could be your pair. If you're looking for more traditional crotchless panties [can you say "traditional" and "crotchless" together?] with nicer construction that fits average-sized women well, take a pass on these.
Published:
Pros:
Unique opening runs the entire back and crotch. Fits large range of women. Beats a pair of Hanes :)
Cons:
Baggy on average-sized women. Rubbery gathering. Opening runs entire back and crotch.
In the heat of the moment, I got my wife to agree to a future night out with her wearing crotchless panties. She didn't own a pair, so I started my search. I picked the Tres Sexy crotchless panties in turquoise and black, because the color in the EF product photo looked liked a color combo she really likes and she prefers lace with some coverage on the back.
The panties arrived folded in a very small clear plastic bag with an inventory number stuck on it. No outer packaging or box. Presentation looked really cheap and certainly not presentable as a gift. When I removed the panties from the bag, there was a really strong, stinky chemical smell that did not fade on its own. Again, not a nice presentation if this were to be a gift. However, I remembered these were relatively inexpensive panties and figured I shouldn't expect that much in this regard. After all, these were simply to be a catalyst for (at least) one hot night for us and not her go-to pair of sexy panties.
Two other things jumped out at me when I took them out of the bag. First, the color really didn't look like the "turquoise and black" pair in the EF product photo (or in the photos of these panties on other sites for that matter). In the photos they looked more blue - almost a light blue. In person they definitely looked more green - like a traditional turquoise. Not nearly as pretty and hip as I expected. Second, the photos suggested that the bottom and crotch were both open, but that they were gathered in between the bottom of the back and the crotch - essentially providing one opening for the crotch and one opening between the buttocks. In reality, they were not gathered but split wide open from the top of the back all the way through the crotch.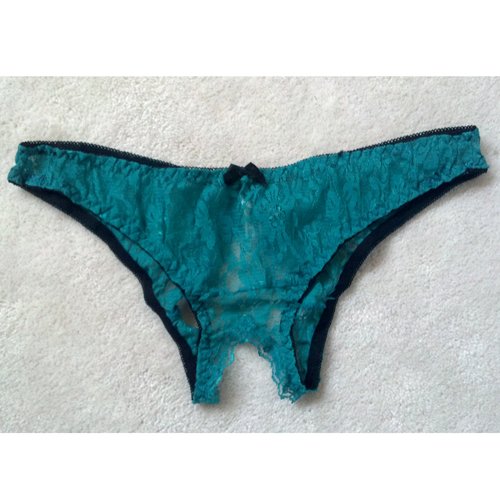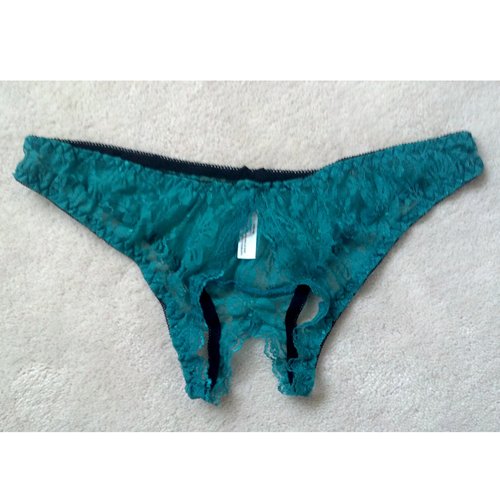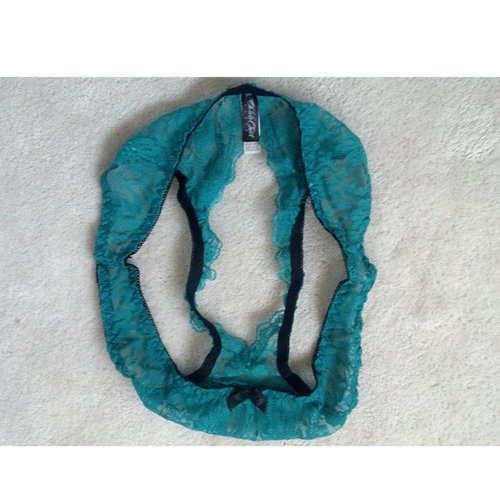 After handling the panties, it appeared the lace was a little scratchier than I expected, but acceptable for the price point. The black gathering at the waist and leg openings was v-e-r-y stretchy. It was also more rubbery, thicker and "industrial" than I expected. The plus to this material was that it would stretch to fit much larger sizes: the waist unstretched measured 26" and stretched it could fit up to a 52" inch waist.
Experience
So what did my wife think? She's a gamer, so she followed through with her offer to wear them out and we had fun in the process. While she looked pretty damn hot in them, I have to admit they fit her kind of baggy - nothing like the form fitting suggested by the photo in the product listing. Once again, I guess this is the trade off for the "one size fits all" option. However, she's a size 8 and didn't need this option. She said they felt cheap, due to the poor fit and rubbery gathering in the waist and leg openings.

One comment I received from her that I didn't expect was that these panties didn't deliver the type of feeling she expected from crotchless panties. She was looking forward to the unique feeling where she had panties on with just her genitals being exposed. But because they were split from the top of the back all the way through the crotch - and were loose on her to boot, she said it just felt like she was wearing no panties at all. Not that there's anything wrong with that, it's just not what she was looking for in her first crotchless panties experience.
This product was provided free of charge to the reviewer. This review is in compliance with the FTC guidelines.

Thank you for viewing
Tres Sexy crotchless panty
– sexy panty review page!