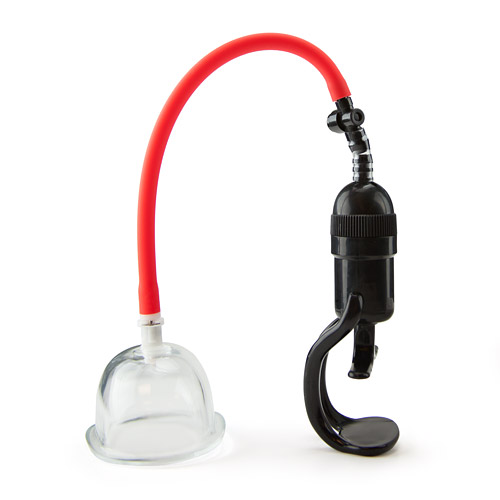 Pussy enhancer
Vaginal pump
by EdenFantasys
Great suction
If you're looking for a pump that suctions great and does what it's meant to do, then this one is amazing for you. It's easy to clean, and you can take it apart easily and store it. It would also be travel-friendly. It's great for beginners and advanced as you can take your time with it.
Published:
Pros
Great suction
Quick-release valve
Price
Cons
I just wish the cup was a little smaller
This arrived in the mail in a plain brown box. Inside, this was in a clear plastic bag that was easy to open. So I ripped the bag open, and the cup, pump, and tube were separate. The tube basically clips into the cup part. Once it's in, you'll have to press the metal part to release it. I liked that it was a tight fit like that. The actual pump is also attached easily to the tube. This has an easy-grip handle for you to pump.
Packaging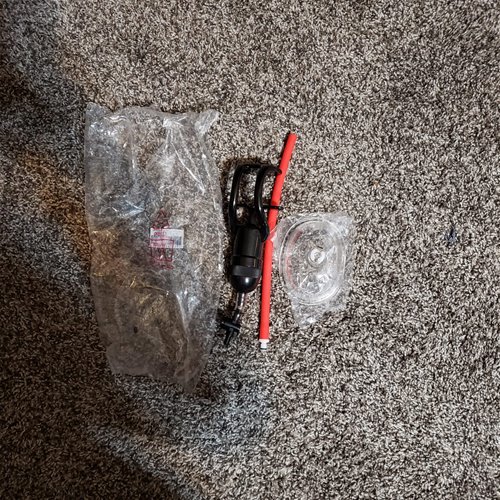 This pump seemed very well put together. The cup part is made of Acrylic. The handle seemed to be made of plastic. The Pussy enhancer is hypoallergenic and non-porous, so it doesn't harbor any bacteria. It's also latex and phthalates-free. The pump is waterproof, which is nice. It's also very basic, so it's very easy to clean with soap and water. You can also use a toy cleaner if you'd like. The cup length is 4 1/4" long. The diameter is 3 1/8". And the circumference of the cup is 9". The tube is about 10 1/2" long.
Next to Silicone pussy pump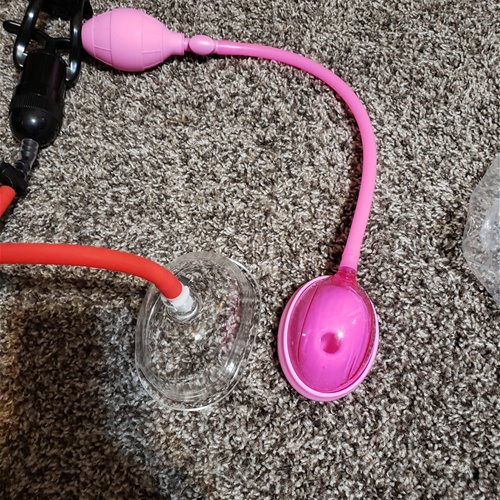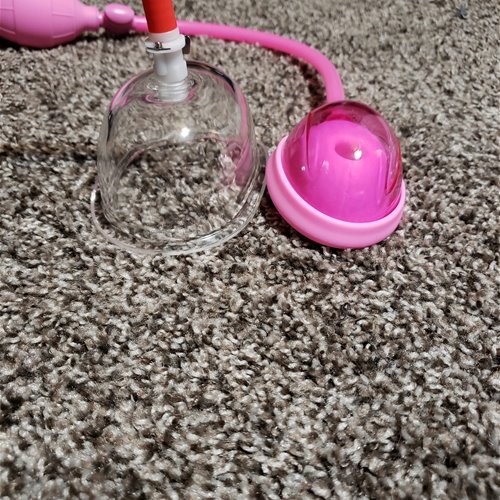 The cup part itself was actually a lot bigger than I had originally imagined. I was very unsure if it would fit right as pussy pumps are not a one size fits all. Some fit differently and better than others. The other pump I have is called silicone pussy pump (which was my first one), and the size difference was huge. Anyway, I figured the only way I'd find out is to give this a try and see if it'd work for me.
So if you're new to pumping, I'd suggest starting slowly. It's best not to over pump at first. If this is your first time, it'd be best to maybe start out with only a few minutes and no longer than 10 minutes. Pussy pumps work best if you're shaved or trimmed, as it can have a better seal. After you're ready to give it a try, you'll want to get the cup situated. If you're having issues getting it to suction when you start pumping, you can add lubricant to the edges of the cup. Also, it's best to pump in a missionary position so it can stay on better. Once you get everything right, you should be able to start pumping. After 1-2 pumps for me, I'm able to let go of the cup. If you over pump or have an uncomfortable feeling, you can hit the quick-release valve. Pumping should never cause pain, so if it does, it's best for you to start over. When you pump, the suction will help draw more blood flow and cause everything to become more sensitive. This will cause more pleasure and better orgasms.
Quick-release valve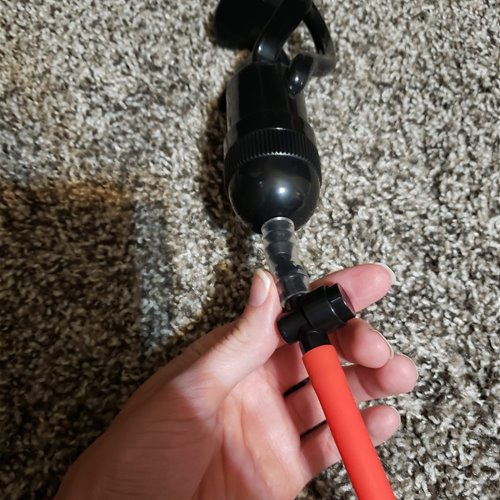 Handle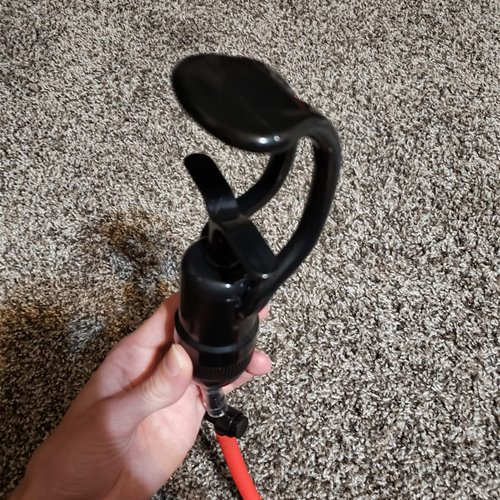 Cup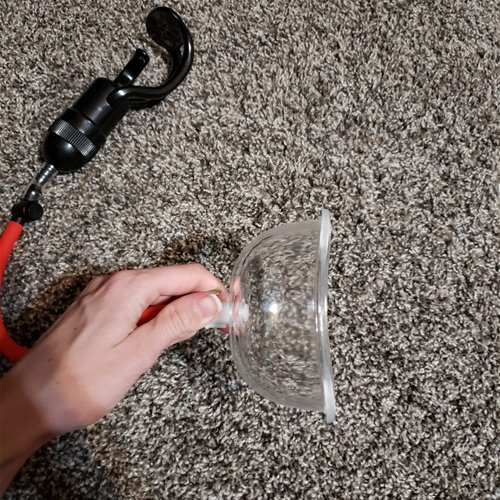 Experience
As soon as this arrived, I was so thrilled. I love my other pussy pump I have but started to feel like it was more of a beginner one and wanted something with more suction. So I had pulled everything out and took the cup part and went and washed it with soap and water. I then put everything together and took my shorts off in the living room and laid down with my husband sitting next to me. He had no idea I was trying it right then and was slightly confused but excited to watch.

So I pressed the cup against my vulva and tried to pump. Nothing happened, I did this a good 6 or 7 times with readjusting it. My husband could see me getting a little frustrated about it and asked if I wanted lubricant to help, I told him the problem was an air spot. So he grabbed it from me and lined it up slightly different and held it against my vulva and told me to pump. His first try worked perfectly. After 2 pumps, he let go, and the cup stayed there.

I will state that the pump didn't hurt at all, but it wasn't as comfortable as my smaller one. My first time pumping with this one, I stopped after 5 minutes. This pump has a very strong suction, and I wanted to make sure I didn't overdo it my first time. As I had the pump suctioned on, I started to feel very aroused. I'm assuming it was due to the blood flow. My husband was shocked but excited when he looked into the cup and seen how it was suctioned. We were both excited to see how it felt when I stopped.

So after the 5 minutes, my vulva was slightly puffy and was very sensitive. I think I should have kept going for 10-15 minutes, but for my first time with this one, I think 5 minutes was good. We headed to the bedroom, and all I can say is it was amazing! My clit was super sensitive in the best way possible. I had gotten super wet in no time. My husband also mentioned how it felt different during sex. My orgasm felt way more intense! All in all, it was a great experience, and I can't wait to continue my use with this one.
This product was provided at a discounted price in exchange for an unbiased review. This review is in compliance with the FTC guidelines.
Thank you for viewing
Pussy enhancer
– vaginal pump review page!