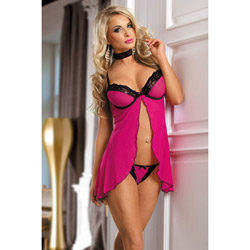 High low babydoll
Babydoll and panty set
by Spice Lingerie
Hello Baby Doll
Although this is too small to fit me the way it should, I can still technically wear it. Under the item description it says One Size Fits Most, but most likely what you're going to get is what I got, S/M, which means Small/Medium. This is a beautiful baby doll lingerie set, but the material is very thin, and sheer. There is no cup support for breasts, even though I like the open belly "genie" look. I still think this is a great piece of lingerie, though a bit pricey.
Published:
Pros:
Beautiful Pink & Black Baby Doll Set, Includes 3 Items Altogether.
Cons:
Material Too Thin & Sheer, "One Size Fits Most" Should Not Mean Small, No Breast Cup Support.
What I love about this sheer piece of lingerie is the beautiful pink color of it, with accents of black. The reason I wanted to receive this from EF is because it looks like a Pure Romance baby doll that I've been eye-ing forever, but which is no longer available to purchase by the looks of things.

When it came, it came enclosed in a thin plastic bag, which sadly I'm unable to recycle but can use to package other things. The velcro pink and black choker and thong came inside this as well, separated from the garment with a type of wax paper (which I think is compostable?). Altogether it is a set of 3 items included with this purchase.

On the EF web page for this product, it states that "One Size Fits Most." The lingerie I received was in a size S/M, which as you probably already know, means Small/Medium. I would certainly say the size of what I received is Small, and not Medium. It's a little frustrating because I wear a size Medium or Large, have a large bust, and have grown a bit in my size due to having three children. This was a tight fit for me.

The cups that my breasts would go in are also smaller than would normally fit me, so it was a tight squeeze, meaning that my breasts will pop out of this very easily. On further note, I was unable to get the back clasps on this garment to close. The only way I will be able to wear this is to leave the clasps open, to not connect them. It was therefore too small for me. The straps also came adjusted to the smallest possible length, which of course was no alarm or surprise, and I had to adjust them to fit my shoulders. It was a bit of an uncomfortable fit on my shoulders, overall.

I want to note here that I am a petite person in height, at 5 feet tall, and I am not heavy set, even though you can tell I am pregnant right now in my photos. Luckily due to its open nature around the belly area, much like a genie costume, it was not uncomfortable in that area. I really like that this baby doll is open in the belly area and comes apart like a pair of pink curtains. It has a very lovely look.

I did not realize that the material would be so thin. For the retail price of this item I expected sturdier material, but this is sheer, almost like fishnet. By the photographs on the product page I also would never have guessed that it would be so sheer and thin.

The cups that would hold one's bust do not include any padding or support. If you have a large bust, you may have a problem here, even as sexy as this baby doll is and how much I love it. My nipples can be seen through the garment and it does not hold up my breasts, but instead, gives them too much opportunity to fall out of the cups (which have hard plastic inserts underneath but again, no real support).

I think the velcro collar/choker is adorable, and a nice touch. I didnt realize it was apart of this set until I received the item. I never really noticed it in the picture, and upon receiving it I thought it was a garter. Checking the product page again I realized it was a choker and I loved it even more. I think it is so unique!

I'm not a big wear-er of thongs but I think the thong and choker both complement this baby doll really well. The thong is a little big for me (my butt is smaller than my bust haha), but it's so pretty, and I love the black and pink look of it and that it matches the top of the baby doll.

My boyfriend and I both look forward to my wearing this more in the future. Though it is thin material, see-through, and probably only hand-washable (I would not put this in the washing machine or dryer if I were you), I think it is beautiful and it's just the kind of thing I wanted in my lingerie collection.
Experience
I was not able to upload all of the photos that I took of this (including any of the photos I took of the details of the baby doll, 12 photos altogether .... technical difficulties on EF's picture uploader ......), but here are the 3 I was able to get uploaded: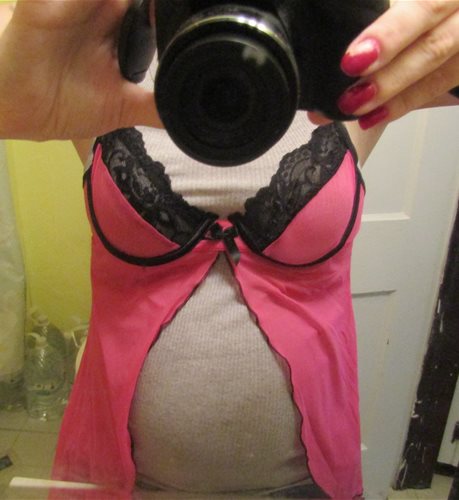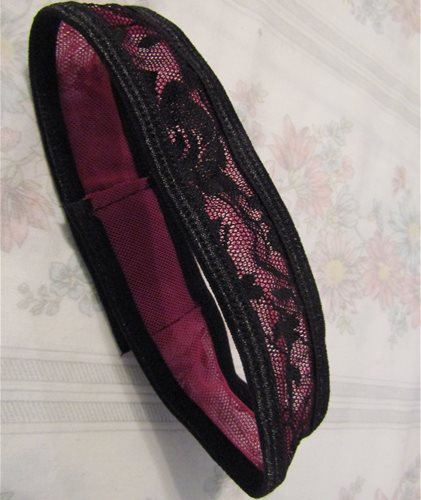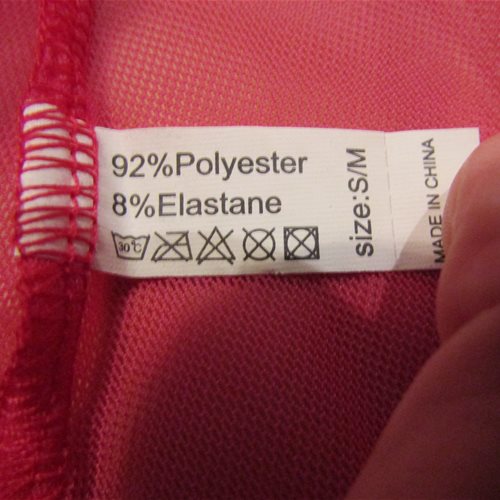 This product was provided free of charge to the reviewer. This review is in compliance with the FTC guidelines.

Thank you for viewing
High low babydoll
– babydoll and panty set review page!