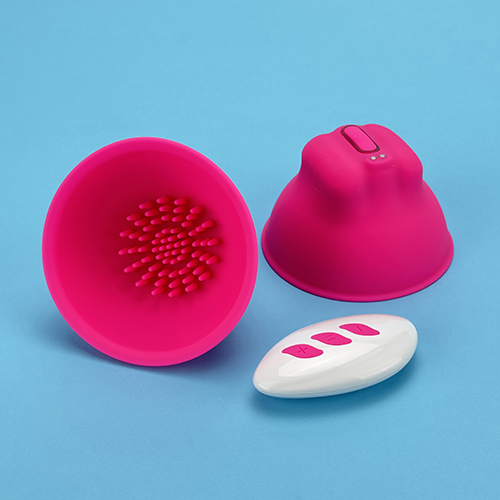 Vibro tities huggers
Vibrating nipple suckers
by EdenFantasys
Hug Me Again and Again
I personally really think that these are worth it if you enjoy nipple or tit stimulation and either live alone or with your partner. If you're in a different situation, do some thinking on them or get them while on sale (Eden has plenty of sales to pick them up during). Four stars just because they aren't discreet at all!
Published:
Pros
Pleasant to use
Remote
Soft
These are two nipple/tit vibrators with a remote. When I got the package in the mail, it was in the typical nondescript brown shipping box Eden is known for. Inside was a second grey box. The image on the box makes these seem as if they are grey; they are not. They are hot pink like the images on the product page. I personally recycled the box in my cardboard recycling and threw out the rest of the packaging as it took up a lot more space than the two cups and the remote. After getting them, I washed them with baby soap and water. The two cups are waterproof; the remote is not. After washing, I dried off one cup's magnetic charging spot and set it up to charge. Unfortunately only one can charge at a time as only one charging cord is included and I don't have another cord with the proper size magnetic charger. Luckily each cup only takes about an hour to charge and I let them charge while I was in my online classes.
After charging them up and making sure everything worked, I inspected them. They do have a slight smell, but unless you have the right next to your nose or have an extremely sensitive sense of smell, you won't notice it while in use. They are super soft and flexible. The weight of the vibrator is a little heavy, but not so much that it is overly so. These are silicone, so if you use lube when putting them on, use a water-based lube.
I personally turn the cup inside out (it may take a few tries) and put the ticklers where I want them and release. Even having them hanging down and in use, I have not had them fall off at all using this method. I do wear a 32C or 30D/DD (I wear a 32C but I've remeasured and am either a 30D/DD and haven't been able to check this by trying bras on due to the pandemic), so this could be due to me being smaller chested.
A single charge on these has lasted through 4 sessions and still no signs of the battery being about to die! I have even had to charge the clitoral vibrator I have been using in addition to these.
The only downside I have found is that these are not discreet at all. Any setting past the first one (low constant vibration) is very loud and is not suitable if you have a roommate or thin walls. The power lights are also very bright on the cups themselves. All in all, next year they're going to get a lot less use or be confined to the shower since I will actually have a roommate in my dorm.
Experience
These are very enjoyable; however, for me, they are more of a warm-up toy or something to use in addition to another toy. While nipple stimulation is something I like, I cannot cum without clitoral stimulation. These have made it where I cum sooner and with a lower setting on the vibrator (I like to slowly step myself up through settings and use patterns to finish). I haven't even gotten to the patterns before orgasming with these on. These are definitely going to be a staple for some fun times as long as there aren't people around because they are not very discreet.
This product was provided free of charge to the reviewer. This review is in compliance with the FTC guidelines.
Thank you for viewing
Vibro tities huggers
– bdsm toy review page!