I Am So Happy To Have Tried Ceramic
This is an understated, vibrating ceramic dildo and the sheer smoothness of this simple design is just very compatible with my body. I was pleasantly surprised to discover the subtly raised ridges are a texture that works for me. All it takes is a few twists with my wrist and I am transported. If you like glass as much as I do, I think you would also enjoy a ceramic toy and I highly recommend this one.
Published:
Pros:
smooth, ceramic, mutifunctional, needs little lube, bleachable, pretty flower design, temp play
Cons:
cap can be difficult to open & close, not very strong, buzzy vibes
Doriane by Lovemoiselle is a traditional style vibrator only in shape. Instead of the usual plastic, silicone, or other materials, this one is done in ceramic. I have always wanted to try different toy materials ever since I discovered glass. I knew that the smooth, frictionless quality I so love in glass would likely be true of ceramic as well, so I searched long and hard to find one I could afford. Finally, I found this for sale in the classifieds by someone I know and since I know ceramic is a 9 out of 10 on the Edenfantasys safety scale and can be sanitized, I jumped at the opportunity to own it.
The 7.75" long, cylindrically-shaped shaft starts with a tapered head on the 6.25" long insertable portion. At a circumference of 4.5" and a diameter of 1.375", this is girthy enough to fill you without being too much for most to accommodate. That said, this does not have a sufficiently flared base to make this safe for anal use. But for vaginal or clitoral use, it is very comfortable. Sometimes with ceramic, as with glass, the perception of girth is amplified by the rigidness of the material, so this is something to take into consideration when choosing a size for yourself. In my experience, it is safer to size down from what I am comfortable handling in a softer, more yielding material, such as some silicones, or TPR.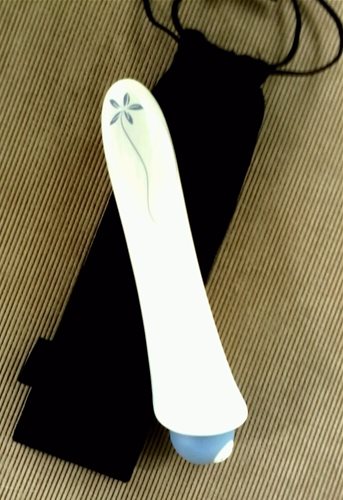 My new vibrator did not arrive with the original box, but it did have the velveteen, drawstring pouch, complete with the side-sewn tag identifying this as a Lovemoiselle product. Doriane itself is surprisingly lightweight. (I don't know what I was expecting, perhaps something with the heft of terracotta?) Regardless, once the 2 AAA batteries are inserted, I would place it's 0.5 lb weight somewhere between a plastic vibe and a glass dildo. So if you have any restrictions, or issues with mobility of your hands & wrists, this might be too heavy for you, depending on how you like to use it. The nice thing about this model is that is has vibrations, so it does not have to be used solely as a thrusting toy.
The ceramic is cool to the touch and the glossy finish makes it delightful to touch. There are no sharp edges, or rough seams anywhere on this toy. And since this is also poreless, I can wash and sanitize it with ease. Soap and water, toy cleaner, or a bleach solution are all easy to do but, avoid boiling or dishwashers so as not to damage the motor. There is an O-ring for the battery compartment, but I think this is probably a splash-proof toy and not a submersible one. I am unwilling to risk testing that because it is no longer available at Edenfantasys, so I need to keep my prize in running order!
I rarely need any lubricant with it. If I do use any, it doesn't take more than a drop or two as that spreads beautifully. I can also use any lube I prefer without worry of harming the material. Just be careful with this toy, especially when slippery with lube, you don't want to chip or break it! That may be one drawback to using this material, but I think that benefits outweigh any minor concern for its fragility when dropped. For instance, the ceramic material makes this a good toy for temperature play, using the usual precautions when using heat or cold on your genitals.
One side near the tip is painted with a delicate, periwinkle flower and stem. It adds a touch of whimsy that I find just enough without being too fussy. The flower color is echoed in the end cap & happens to tie the whole piece together.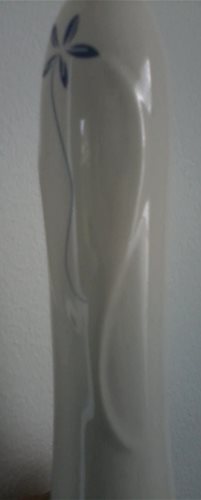 I tried to show in the above picture that there are two subtle, raised ridges on either side of the flower. The longer one runs about 2/3 the length of the shaft and is in a soft "s"shaped curve. The other ridge is about 1.5" and is just barely in an "S" curve. Besides looking pretty I wasn't sure what the point was for these as they are neither very prominent, nor are there any others elsewhere in the shaft. I was pleasantly surprised to find these sinuous ridges comfortable for me as my vagina is very sensitive to textures. I was even comfortable thrusting this toy which I usually don't find that pleasant. But what I found really nice, was inserting the shaft and then slowly rotating the entire toy. Now that produced some really nice sensations as it rubbed over my G-spot without irritating me. I hadn't even gotten to the vibrations and this toy was already a hit for me!
Experience
[continued from above section]
Speaking of vibrations, there is a single button that turns it on, as well as controls all five of the functions. I say five because, although the product page lists six, I only have five distinct functions on mine. The first and second settings are a low and a medium constant vibration and the third setting is a constant pulse. However the forth and fifth settings are various patterns of pulsation and escalation that are too complicated for me to try and detail here. All of these vibrations are well transmitted throughout the whole shaft from a motor located in the tip. However, I would describe the vibrations themselves to be medium strength, not a powerhouse or overwhelming setting in the bunch.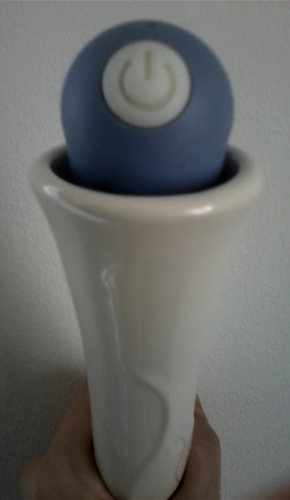 They are also fairly buzzy, but with some more rumbly vibes in the patterns, although it is definitely buzzy vibrator overall. The vibrations penetrate a little, but not the deep penetration you get with a rumbly vibration. I wasn't as bothered by the buzziness when I used the toy inside me and used another toy, or my fingers on my clitoris. Otherwise, the vibrations were a little too buzzy for direct use on my clitoris. However, I was pleased not to have my hand go numb if I held it by the cap or just the very rim of the shaft. My hand frequently goes numb around any buzzy vibrations, so that was a surprise worth noting.
In all, I am very pleased with ceramic as a material! I decided to get this particular model because it has the vibrations and I figured that if I didn't care for using it as a dildo, vibrations might salvage it for me. Despite the buzzy vibrations, I enjoy the more moderate power of this motor. I think that is what saves me from finding the buzzy vibes as irritating as I normally find them. For external, clitoral use, I still have issues with the buzziness, but internally, it worked for a low, slow build and sometimes that's exactly what I want. I am really glad fate smiled upon me with this coming up for sale in the classifieds section here at Edenfantasys!
Follow-up commentary
3 days after original review
I still like this, but because of the buzzy vibrations, I am using it more as a dildo. I just get itchy from buzzy vibrations. I love the feel of it inside me and I just use it with my finger, or another vibe, like the Salsa, for clitoral stimulation.

I tried pressing a wand to the base of this while not turned on and it transmitted the vibes well, but it was awfully loud against the ceramic or the end cap, so it's not something I would recommend unless you are desperate for the unit to vibrate. This is still a very nice toy and if you don't need deep, rumbly vibes, then I think this would be a great ceramic vibe to buy!
This content is the opinion of the submitting contributor and is not endorsed by EdenFantasys.com

Thank you for viewing
Lovemoiselle Doriane
– traditional vibrator review page!