Lia Lover is Love to my Lips
Lia Love is a powerful, pretty, and pure silicone G Spot vibrator. Her tip is angled perfectly for G Spot stimulation. She had 10 different functions aimed to please almost anyone. Her vibrations can be felt throughout her length allowing her to stimulate both the clit and G spot at the same time.
Published:
Pros:
strong vibrations, perfect tip for G Spot, pretty colors
Cons:
loud, hard to get battery end on straight
Lia Love i10 comes to us from California Exotic to provide powerful vibrations to the G Spot and any other area that she touches along her path. Her wavy body and slightly curved tip along with ten different patterns of pulsations and vibrations allow the user to change the pattern with a simple push of a button. The only drawbacks are that you can't go back to a particular setting without going through the whole line up or by turning it off and back one, and she is noisy.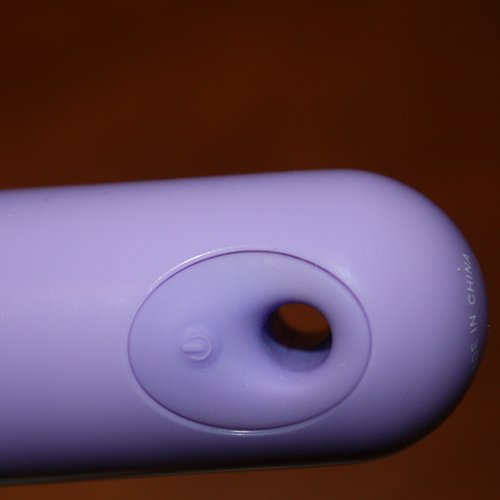 Lia's curves and ridges are wonderfully felt during thrusting and even when she is laying still against your body. The vibrations are focused on the tip but can be felt throughout her 9 inches. Her soft velvety covering is a wonderful feeling. The various settings of pulsations, vibrations,and speeds make this a delight to most users, is gender friendly, and an asset to any toy collection. Due to its intense vibrations, it may be too strong for a beginner but something that definitely needs to be on everyone's wish list.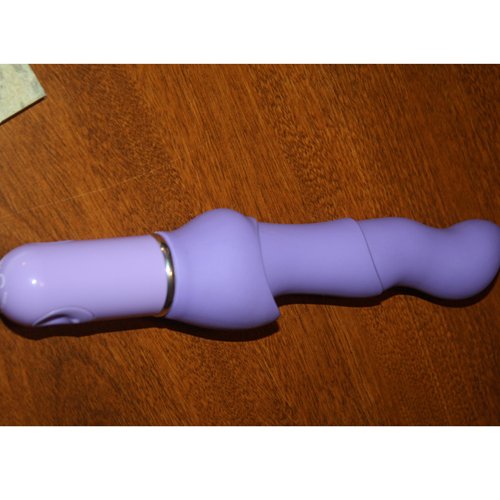 Lia Lover is made of plastic and pure silicone which receives a rating of 8 out of a possible 10 on Edens safety rating scale. She is velvety soft yet non porous, hypo allergenic, latex free, and phthalates free. She doesn't have any smell or taste to her and she likes water based lubes. She will let you use any lube other than silicone lube which might make her sick.
Lia is a 9 inch girl with 7 inches being isertable. That, along with her slightly curved tip, should reach most women's g-spot. She had 5 increasing waves along her body that add to the sensation factor. Her circumference is 5 1/2 inches and her diameter is 1 1/4 inches. She weighs in under a 1/2 pound at .3 pounds.
Lia doesn't require much, just 2 AA batteries inserted in her. The cap is somewhat tricky and if you don't like up the lines just right, removing it and changing the batteries will be difficult. This also helps seal the battery compartment making her safe for a swim. She has 2 buttons on her handle, one on each side. On one side is the on/off button. On the other side is the button that controls the settings. She starts out quietly with a fairly weak steady vibrations. By clicking the button, her vibrations can be increased to two more levels, getting noisier with each increase. After the steady vibrations comes a steady pulsation followed by two more settings of strong to weaker pulsations. Setting seven is a stronger pulsation sounds and feels like it is going up a misical scale. and is followed by setting eight which has pulsations that go up at a steady pace, followed by two quick beeps of pusations and then repeats itself. Nine is similar to eight but is a stronger intensity and has three beeps before going back down, followed by three beeps and climbs stronger again. Finally, setting ten is pulsations that go up and down at a steady pace with various beeps and vibrations. Lia can be used on women or men to stimulate genital areas, sensitive areas such as nipples and inner thighs, and even as a massager for sore or tired shoulders or back. Her special features include multifunction, powerful, a premium texturized surface, and waterproof. While I haven't submerged Lia in water, I have used her in the shower and she withheld the test of time. Afterwards, when I checked the battery compartment for water, I didn't find any. Again, lining up the lines on the battery compartment helps make the seal that prevents water from entering.
Lia asks to be cleaned before and after each use with either warm soapy water or a toy cleaner and she likes to be stored my herself. She doesn't like to be with other silicone toys and can be stored in the box she arrived in. If you are going to be sharing her, please use a condom between partners to keep things clean and safe.
Lia arrived in a clear plastic boxy displaying herself and her qualities. The front of the box shows her laying in a molded plastic tray with her name and functions listed on the front. On the back, her name appears again along with her top 5 qualities. A purple butterfly also rests on each side of the box.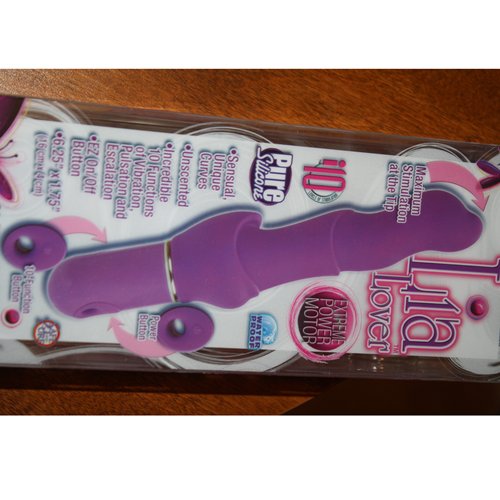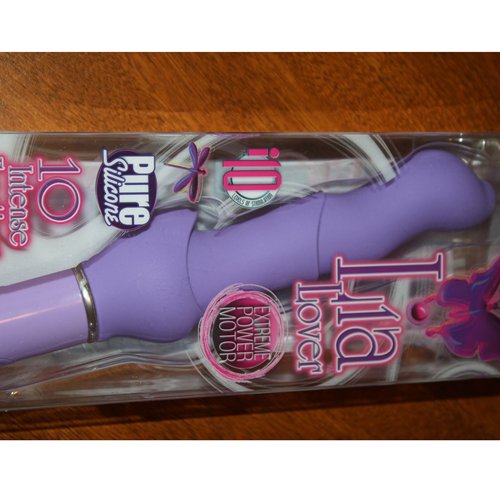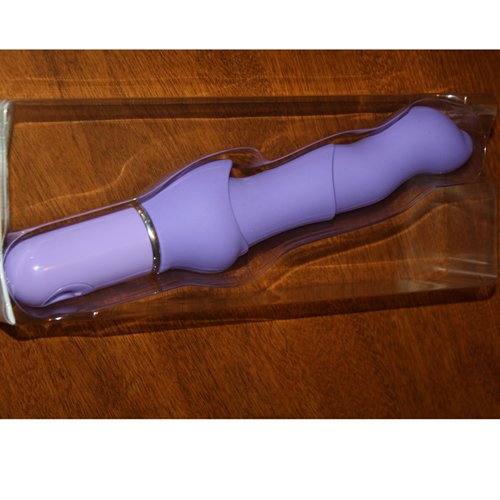 She can be stored in this box or in a bag if you choose. While she is obviously a sex toy in appearance, she is light enough and small enough to be carried in a large purse or in an carry on bag. Just remove her batteries before storing or traveling with her.
Experience
I was surprised at how strong Lia really was. Yes, she was noisy but her power outshines her noise. While noise isn't a problem for us, if there are others in the house, you might want to turn the TV a little louder or wait until everyone is gone to use her. Lia felt wonderfully soft yet firm enough to provide awesome sensations. Hubby liked the different settings and kept changing them. What is it with men and the need to push buttons?? It;s just like the remote control! Lia only needed a very small amount of lube to insert herself perfectly and within minutes brought me to new heights. With her many options in the areas of vibrations and pulsations, she will stay pretty active at our house. She doesn't seem to be eating batteries at this point which is a great thing. Hopefully, she will have the opportunity to go swimming in the hot tub before my follow-up and we will see if she can actually swim or if she sinks to the bottom.
Follow-up commentary
17 days after original review
I still like this vibrator. She is still as loud as ever which isn't a problem most of the time. Sometimes, I like a quieter vibe even when there isn't anyone here but hubby and me. She has not been too hard on the batteries. We have used her about 12 hours total and they are starting to wear down but she still works OK.
This product was provided at a discounted price in exchange for an unbiased review. This review is in compliance with the FTC guidelines.

Thank you for viewing
Lia lover i 10
– sex toy review page!