Lick 'em fast or you'll ruin the sheets.
When used in moderation, Nipple Lick 'Ems are a great occasional use foreplay aide. They are a little too sweet for some, but for me they were just right and they didn't leave a nasty aftertaste like some foreplay aides tend to do. They do leave you sticky, but a couples shower afterwards is fun for everyone! If you have a sensitivity to Glycerin, steer clear of these drops.
Published:
Pros:
Nice flavor and scent, washes off easily, price.
Cons:
Too sweet for some or in large amounts, must be washed off after use, sticky, Glycerin.
Nipple Lick 'Ems by Doc Johnson are designed as a tool to add a little spice to your foreplay fun times.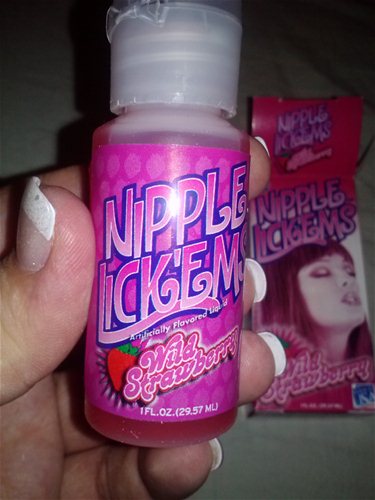 Nipple Lick 'Ems comes packaged in a small, bright cardboard box with Nipple Lick 'Ems displayed on every side of the box, including the top and bottom flaps. There's also a picture of a woman on front and various product information and instructions on each side and the back.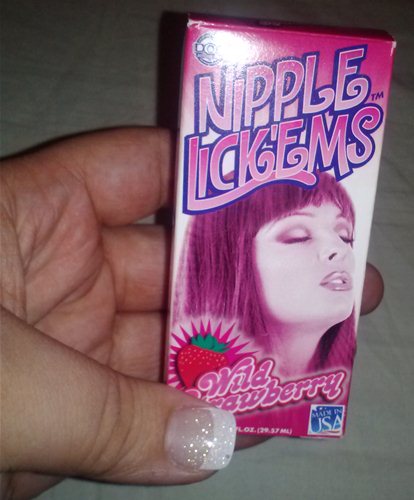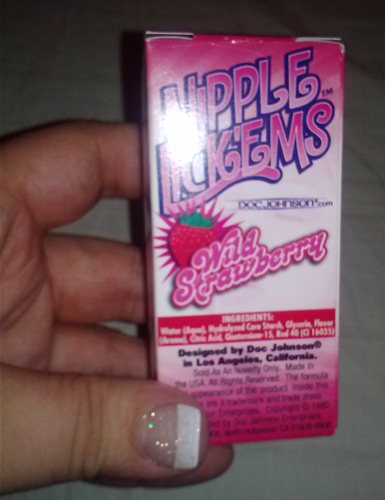 Inside the box is a 1 fluid ounce bottle with a pretty pink label displaying the product name and list of ingredients. The bottle is very portable and in the three months I've owned it, it has yet to leak, even when tipped upside down. If the cap happens to come open, it will only drip out if squeezed or pressed.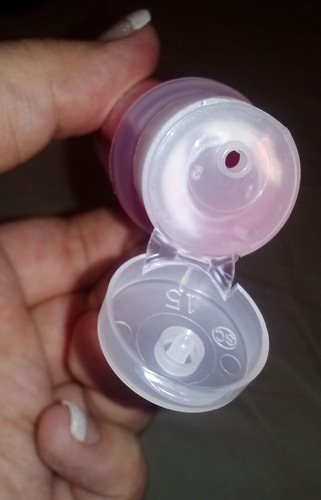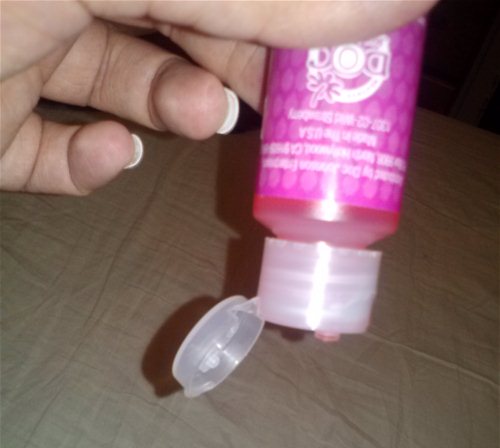 According to the package instructions, you're supposed to 'Apply a drop or two of Nipple Lick 'Ems to her firm ripe nipples and gently spread it. Then slowly lick and suck her breasts, caressing her nipples in your mouth.' However, this just doesn't accurately reflect the product at hand. One drop is all you need to use at a time or you're going to make a huge mess and have one very unhappy, sticky partner.
These drops have the consistency and viscosity of water and for the most part feel really lightweight on the skin. It's really runny and any slight movement will make the drop go in all sorts of directions leaving a sweet, albeit sticky, trail behind it.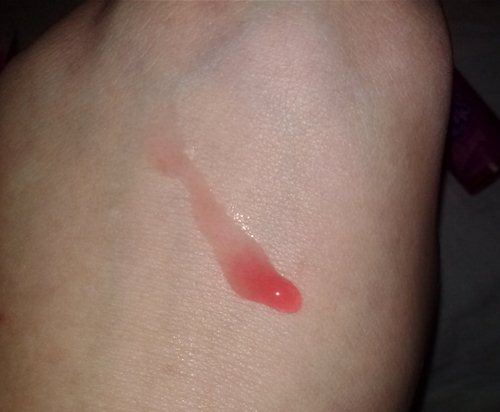 I picked the Wild Strawberry flavor and I was pleasantly surprised to find that they taste wonderful. They taste and smell just like strawberry-flavored hard candies, but liquefied. It's really sugary and sweet. Too much in a short period of time will leave you with an upset stomach, but just a few drops per nipple is fine and won't cause any upset.
I don't recommend these for female genitals, but in small amounts they would work well on the penis shaft. They could easily be used on the chest, neck or other various lickable regions of the body, but they will leave you really sticky that way and a shower with lots of warm water and soap will be the only way to relieve that sticky feeling. Wipes just don't do the trick with this stuff.
Also, beware that these drops contain glycerin, so anyone with a sensitivity to glycerin should steer clear.
Full list of ingredients for reference:
Water, Fructose, Glycerin, Flavor, Quaternium-15,Citric Acid, Artificial Flavor, FD&C, Red #40.
Experience
Personal Comments:

While the packaging clearly directs these drops be put on a woman's breasts and nipples, they work well when dripped on men, too. These are good for any gender, so long as you can handle sweet, sticky body parts when it's all said and done.


Experience:
We didn't think at all before leaping into using this product. We just grabbed and dripped it and it was a horrendous first experience. We didn't think to cover our white sheets, either. The whole thing was a disaster. After we showered and got all the sticky off of us, we had to change the sheets on the bed and ultimately, we had to throw them out. They ended up with pale pink splotches all over.

We did try again though and were careful to only use one drop at a time to avoid the mess and it worked much better this way. No sheets were harmed, but we still ended up a sticky mess. We've had to shower each and every time we've used these drops, but for occasional and infrequent use it's really not a big deal at all.
This content is the opinion of the submitting contributor and is not endorsed by EdenFantasys.com

Thank you for viewing
Nipple lick'ems
– drops review page!