lighted shimmers BLISS!!!
Powerful, sleek, easy to use - the Lighted shimmers bliss is all of these things and more. With strong vibrations and multiple settings, this toy is certain to bring any girl to a climax! While this toy may not be the most quiet of the bunch it certainly makes up for it with its orgasmic vibrations and great shape! Also, who doesn't like toys that light up? I know I do!
Published:
Pros:
Easy to use
Powerful vibrations
Quiet on most settings
Cons:
Loud on the highest setting
Battery compartment was a bit confusing at first
I wasn't too sure what to expect when I ordered the
Lighted Shimmers Bliss
vibrator by
Cal-Exotics
. This company hasn't failed me yet, though, so I was excited to receive it! This toy comes in pink and purple and I chose purple!
Made out of food-grade material and free of the dreaded Phthalates, this is an excellent and safe toy. The toy is made out of plastic, which is rated an 8 on the safety scale, which is pretty high up there. It can be used with water-based, oil-based
and
silicone-based lubricants. It can't be boiled or autoclaved, so sterilizing isn't possible. This means that you should use a condom on this toy if you plan to share it. Cleaning should be with toy cleaner, hot water and antibacterial soap, or isopropyl alcohol.
After measuring my toy, it was just over 7" long, though only 5 3/4 is insertable. You don't want to insert past the last nub before the battery compartment. The toy itself is fairly lightweight and came packaged in a plastic sleeve inside of its product box. The box is a pretty purple color on the front with the toy's picture and the name of the toy along with the words "Illuminating with extreme power" on the bottom. The back lists your typical product description with company contact info.
This toy takes 2 AA batteries and waterproof! You will want to make sure that you close the battery compartment tightly, so that no water gets inside of the compartment while in the tub. I did use this in the bath, and it works quite well!
The coolest thing about this toy, other than how amazing it feels and how powerful it is, is the fact that it lights up! The toy itself is purple and pretty see-through, but as you turn it on it lights up! The higher the setting the brighter the light! The blue light makes it easy to see in the dark of course, and makes it all the more fun to use in my opinion! Also if you are using this toy on someone, it will make it easier to see what you're doing if you want to use it in the dark! The tip of the toy has a small "ball" on it, actually looking like a baby bottle nipple, followed by two larger nubs.
It
is
multi-speed, and has a turn-dial base. The dial isn't overly sensitive, so it won't shut off accidentally during use but it isn't so picky that it is hard to turn on. There was no noticeable taste or smell to the toy at all. Because it is so sleek, I did not actually need any lubrication to use this toy, only my own natural goodness! This toy shouldn't be used for anal play because it does not have a flared base and might be lost in the body, so if you do try this, make sure you
hold on
! That would be an unpleasant trip to the ER!
The only part of this toy that I didn't like at first was the battery compartment. To screw the top back on, there are two different sized slots on the toy part, and two matching pieces that fit into those slots on the top to the compartment. You have to carefully match them up in order to put the top back on. These always frustrate me because I don't leave my batteries in my toys when they are not in use, so each time I have to fumble with putting batteries in and closing it. Other than that, I didn't notice anything else about the toy that I did not like!
It was a bit loud on the highest setting, but very powerful which made up for it. It could easily be heard from under the covers, but depending on how soundproof your room is, it
may
not be able to be heard behind closed doors. I know that it definitely would be heard in my house unless I had music on, or something else like a fan or air conditioner that makes noise. Of course, the toy itself is not discreet. Most people who take one look at it will figure out what it is, but maybe if you are dealing with someone who lives under a rock, you can tell them it is a neat back massager! (but really, just hide it somewhere)
To store my toy, I simply keep it in a pouch, since it did not come with one.
Front of box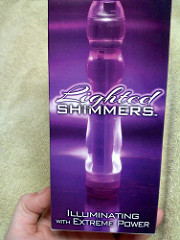 Back of box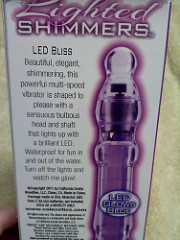 What a cool toy!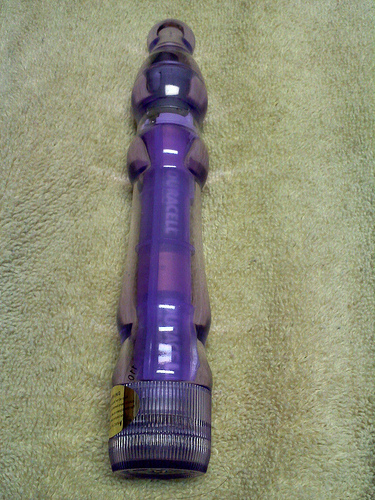 The tip of the toy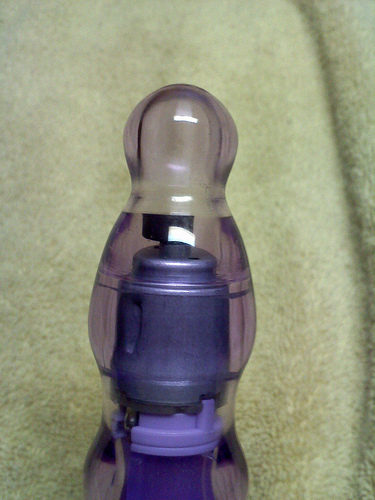 Inside and top of battery compartment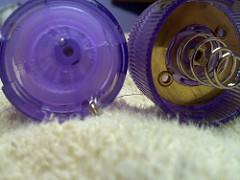 Crazy vibrator loving cat (this is an example of the toy lit-up while on)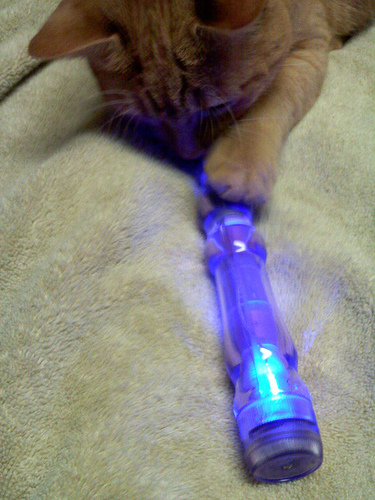 Experience
I did enjoy using this toy for clitoral stimulation. It doesn't really have a great shape for G-spot stimulation, and I am more of a clit girl, myself, so I used it externally, mostly. It is also great for teasing other parts of the body like the nipples (for me on a lower setting) or the outside of the anus. It may also be nice for the scrotum or penis for men as well!
Bloopers?
My cat decided to be her normal goofy self and while I was in the middle of taking my photos, she decided to play with it.
so here is the video of the little goober Hannah, enjoying her first vibrator!
Sorry it's sideways! I was in picture mode right before.
Also, my guy decided to take it and hold it against his bottle of whiskey, because "it looked cool"....okay, I'm a sucker too because I thought it looked awesome watching it make the whiskey ripple on the surface.
Follow-up commentary
3 months after original review
I still love this toy, but don't use it as often as I had originally thought I might. I think the fact that it lights up and the powerful vibrations are wonderful, but I've found toys that are just as powerful and a bit more quiet. The style and strength do make this a great toy, though, even if I don't use it too much!
This product was provided free of charge to the reviewer. This review is in compliance with the FTC guidelines.

Thank you for viewing
Lighted shimmers bliss
– traditional vibrator review page!