'Mini' Is Right: One Helluva Short Dress
Beautifully made and designed to make you look like a sex goddess, this mini dress is a show-stopper. Only sad thing is, it's so short it will ride up over your butt so you'll have to be the one stopping to tug it down, every five steps. The belt buckle at the neck, while sexy, is a poky little choking-piece, and I'm not THAT heavily in BDSM. A ML would've better suited me.
Published:
Pros:
Really sexy, stretchy material, will fit range of sizes
Cons:
Spandex rides up constantly over butt, belt buckle uncomfortable, VPLs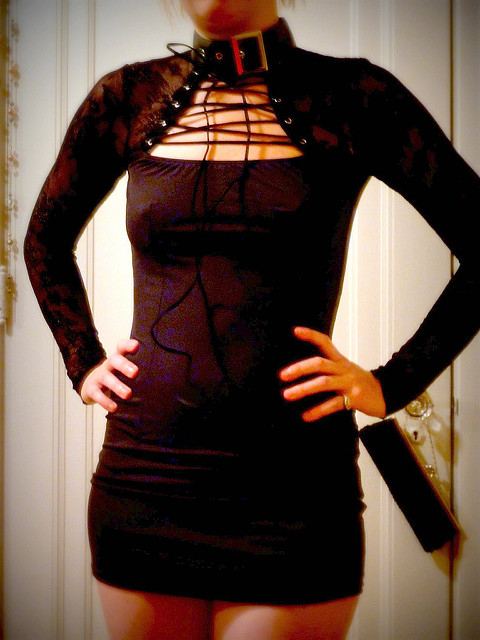 Is it just the model's bouncy boobs or is this one helluva sexy dress? As it turns out, it's both. This mini dress with attached lace shrug from Leg Avenue is an absolute show-stopper. Form-fitting and figure-flaunting, the snug spandex will flatter those most comfortable in their own skins. And because the tight spandex tends to ride up past the ass with any sort of movement, it's also a dress for the most patient. Or those who don't mind the look of garters attached directly to their skirt hem, holding up their thigh highs, and pulling down their skirt.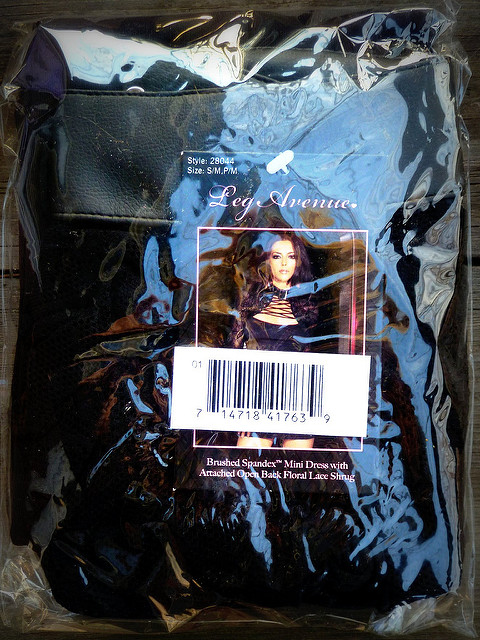 The mini dress came in this cellophane bag. Resealable, but nothing I'd store a dress in. A simple tag with minimal detail about the dress' makeup was attached. Inside the dress at the waist was an ever-itchy black tag with care instructions. I quickly cut it out.
The dress material is made of 55%
Polyester
, 35%
Nylon
, and 10%
Spandex
. Per the EF product material info pages, each of these synthetic materials is durable, but kind of a pain to maintain. All in all, it's recommended to hand-wash, line dry, and never iron this dress. This makes it a high-maintenance dress in my house.
The dress portion is made of 'brushed spandex,' though I couldn't find any information regarding what the difference between that and regular spandex is. The attached open-back shrug is made of a small-pattern floral lace. The cleavage area features a corset-like detail with a super-long (~70") elastic black string, and metal grommets to lace it through. The neck has a belt-buckle closure. This is where the trouble begins.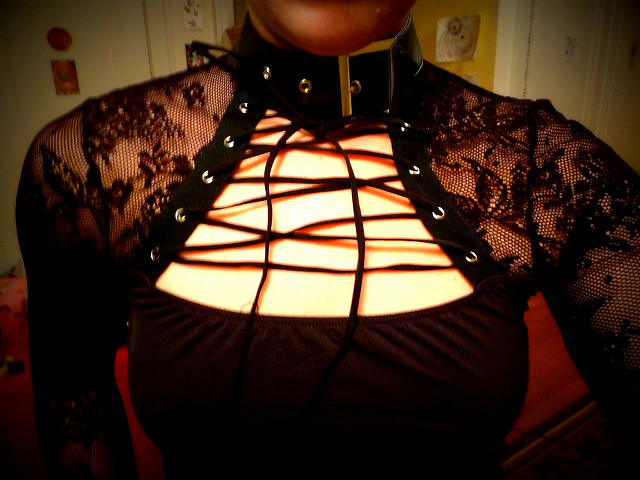 Belt Buckle
Unless you have a giraffe neck, this 2 1/8" metal belt buckle is going to be an issue. My throat from top to bottom, measures 3.5". If I'm wearing this and want to look down at all, this will pinch, poke and choke me. The edges of the buckle are thin metal, and sharp enough to be obnoxious. I'm not
that
into pain play yet, thanks much.
Also, my easily-wringable neck measures about 12" around. The belt opens to 14" at the largest setting. There are 3 settings and I can't see how anyone would ever use the 2 smaller. I was using the largest of course, and found this to be a little restraining on my throat.
The vinyl of the belt is very soft and resembles leather in pattern. It's a soft black and has a slight sheen. The belt is sewn together quite nicely, and attached to the shrug sturdily. It looks hot. It just feels yucky.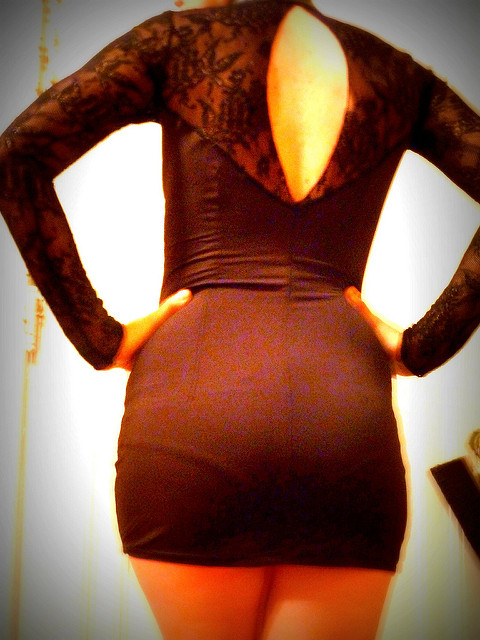 The Shrug
The floral lace used in the shrug is appreciatively soft. It feels great against the skin. The sewing used here, as well as the rest of the dress, does not interfere with the gentle softness of the garment. I dig that.
The back is open from neck to mid-back and reveals a wide sliver of skin. The lace already reveals whatchu got goin' on as-is, but this adds a little surprise when you turn around. Honestly, the design of this dress is so sexy. It's just the implementation of the concept that failed.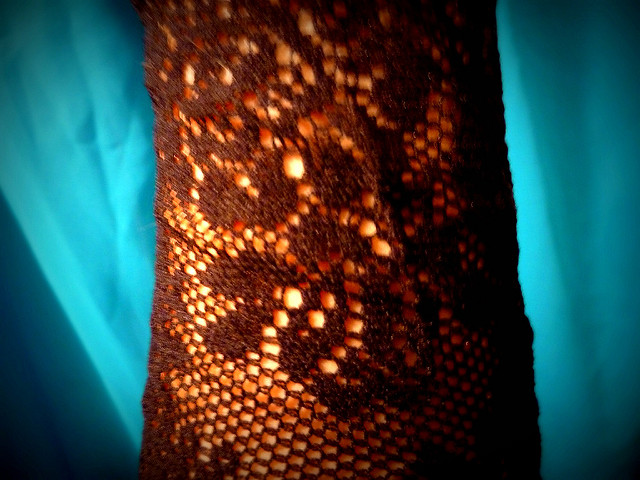 Sleeve lace detail.
The long sleeves hit me perfectly at just past my wrists. No pulling down short sleeves all night. The lace is stretchy and moves with you. Larger arms than my stick-girl ones will fit into this just fine. The lace doesn't restrain at all.
The Corset Chest Detail
(see photo above)
The string used here is sturdy, soft, and very stretchy. It's so freaking long too! My cat attacked me while trying this on for the first time. He saw the strands hanging past my short hem and thought I was trying to play with him. He jumped at them as I lifted and lowered them to tie into a bow, and sunk his claws into the dress. By the way, the spandex holds up to sharp kitty claws. It hurt like shit but left no mark on the dress. Well, thank goodness. As long as the dress is okay.
(Insert photo of bad kitty here for no good reason other than to illustrate his viciousness.)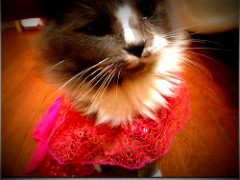 Elvis. I punish him by taking photos of him in EF's lingerie. That'll teach him.
After that little kitty incident, I cut the strings so they fell above my belly button, instead of at the skirt hem. No need for them at that length, and they didn't add anything to the design of the dress. The corset can be adjusted to make the chest opening wider or smaller. I found the standard sizing, as the dress was shipped to me, to suffice. The effect of the string criss-crossing above the chest is pretty unique and sexy.
Experience
The Dress
Spandex galore! The dress is cut really flatteringly for smaller figures. As it's spandex, you'll need to be very comfortable with your curves to wear this. It's not tight as most spandex items, and does flow and fall off the body a tad, as you can see in some of the above photos. So your
every
bump, mump, and lump won't show. Just the gist of them.
I never wear bras, so you can see my nippos through this. The material is thick and very dark black, and completely opague. A push-up bra won't hurt, if you're not opposed to those things. Some serious cleavage will prevail in this dress. It's made for cleavage.
A line of elastic travels the top of the dress above the chest and allows room to grow for wider chests. No bra support is offered.
A handful of form-fitting lines are stiched vertically down the dress, gathering the material to flatter your figure. The spandex is quite soft and feels really good against the skin, kissing and hugging and tugging at you when you move. But the upside turns out to be the downfall too.
I noticed this was short as hell when I first put it on. Pulled snugly down as far as it would travel on my thighs, it hit me about 3" below my ass. When I merely walked across a small room, each stride lifted the skirt higher, until my ass was showing. So sad! I recommend purchasing garters. Hook one end to your thigh-highs and another to your dress. If you're not anti-this look, you'll do fine in this dress. If you're like me and can't pull that look off, and wanted a more sophisticated, sexy, classic look, you're going to cry. I did.
I ordered the SM. The dress only comes in SM and ML per EF's shelves. I fit perfectly into the requirements for a small, at 126 lbs, 5'6", with a 34" chest, 30" waist and hips at 35". These measurements were not a problem. It was just that the dress rides up. It's too short to begin with, but that could be reckoned with if it didn't travel north every chance it got. Sigh.
Leg Avenue Size Chart
If I could do it over again, I'd get a ML. The model below is wearing one, it appears. The dress looks much baggier save for the breasts, but at least you can't see her ass when she walks across a room.
By the way, wear black panties with this! Just in case your ass shows. A thong isn't a bad idea either. As you can see above, visible panty lines are an issue, given the hip-hugging nature of the spandex.
Another photo I found online. The model appears to be wearing the ML size, as it is baggy on her, and not riding up on the hips.
Back View
Pair With: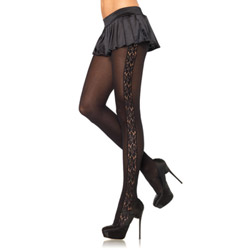 Plumeria Lace Side Panel pantyhose by Leg Avenue.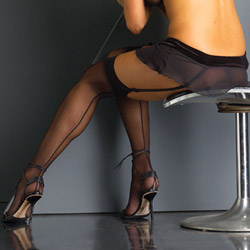 Backseam stocking by Fantasy Lingerie.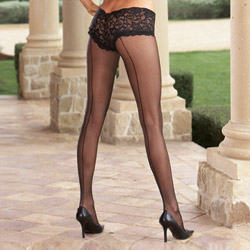 Backseam Stockings with Boyshort Panty by DreamGirl.
Follow-up commentary
8 days after original review
The Final Take
In conclusion, this lost 1 star for the neck piece's pointy, chokiness, and 1 for how short it is. However, with a thick band of lace and a sewing machine, one could easily lengthen the dress to acceptable length. If the choker weren't such a pain, I would definitely have kept this and pulled out my seamstress side. This dress was so close to perfect, it just missed the mark on a couple accounts.
I ended up sending it back into EF. The search for the perfect black dress continues. Carry on, shoppers!
This content is the opinion of the submitting contributor and is not endorsed by EdenFantasys.com

Thank you for viewing
Mini dress with open back shrug
review page!