Ooh, Baby BABY!
For a sweet feminine treat, this pink sequin babydoll and thong is just the thing. It's revealing, flowy and soft. Larger breasts may want to steer clear, as the set offers no support, but the itty bitty titty committee can climb on board! The set is innocent and so sexy.
Published:
Pros:
Pretty
Feminine
Fabric is light and cool
Cons:
Dry clean only
Shorter than I prefer
Sequins can itch
Elastic not comfy for sleeping
In the search for something pretty and comfy to wear to bed, I stumbled across the Sequin Top and Babydoll Thong by DreamGirl. The vibrant fuschia color screamed 'soft femininity' to me, and the flowy fabric was oh-so-sexy. I lusted and lusted after this set. Lucky for me, it arrived on my doorstep; a gift from the Eden Gods.
I was surprised to find it came wrapped only in (granted, cute) pink tissue paper, with no bag around it, hanger, or anything. It was simply the babydoll and thong rolled into pink tissue paper, the DreamGirl tag attached. I was more surprised when I pulled the size Small babydoll out of the box. It was
much
shorter than I'd anticipated. Seeing it on the model, I assumed it would be more of a very short dress. In retrospect, the model is bending a bit, while touching her hair in that oh-so-alluring way. Come to think of it, she probably sold the set to me! Redheads in pink lingerie? Yes, please.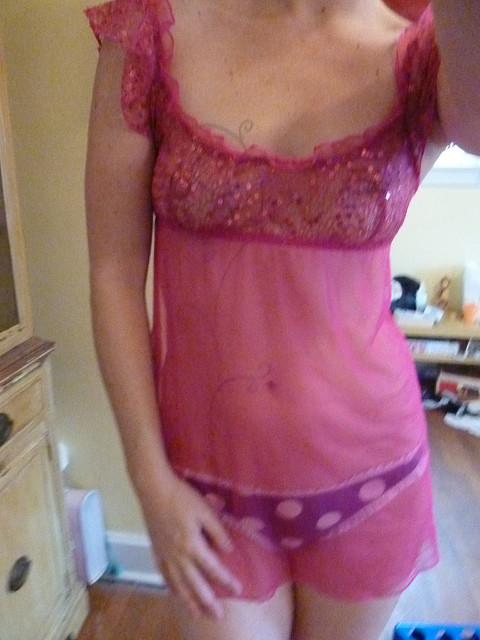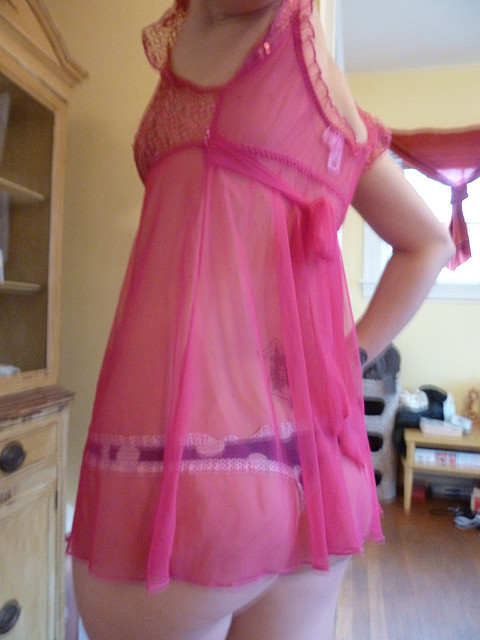 When I pulled the top over my head and adjusted it just off-the-shoulders, as the model had done, it did hit me just at the top of the thigh, about 6" below my hipbone. It just seemed so tiny in my hands! I'd still prefer it to come down below my ass about 5". It can't pass for a dress. I'd like to run around the house in this and pull off an attempt to be somewhat covered up. Alas, my ass hangs out, and besides, the whole thing is basically transparent.
The cute ruffled sleeves are saturated in square sequins. They give a flirty flair to the piece, and I just love them. The top can be worn off-the-shoulder or pulled up, worn like a regular top. The off-the-shoulder option gives you more coverage on your ass, if that's what you're looking for.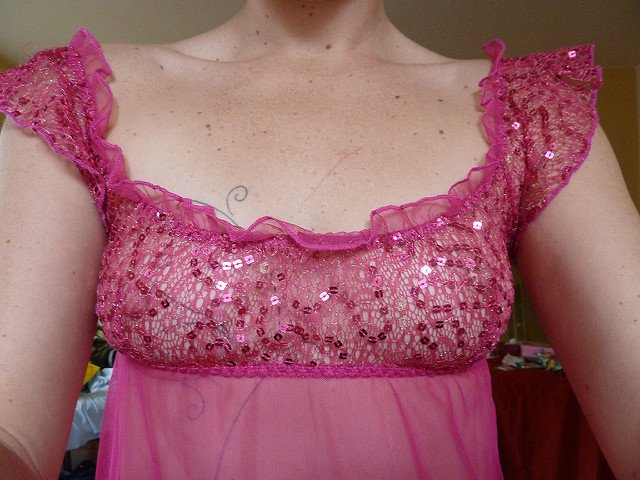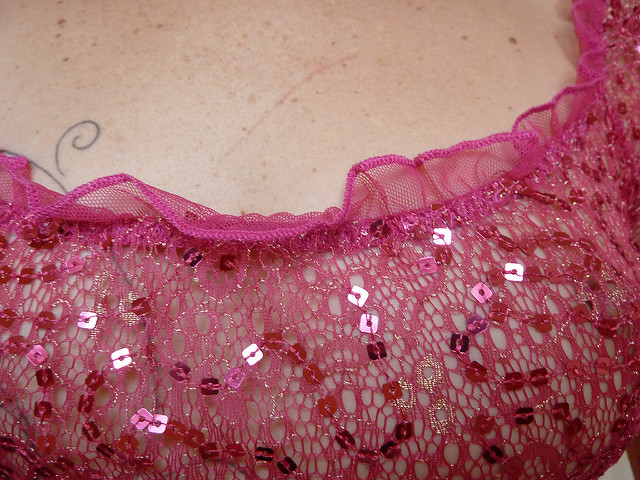 The chest portion is covered in the same sequins and mesh, and is subtly see-through. If you look closely enough in the pictures, you can just make out my nipples. Naughty, naughty! I like this sly allure.
I took a nap in this while waiting on my lover to come home to me. I found the tag at the back of the neck to be annoying, so I cut it off. The ribbon tie I'd tied at the back was also a bit bothersome when I slept on my back. It can be tied around at the front, or the side, as is shown in the model pic.
My chest measures 32" just under the boobs. I found the elastic used in the band just under the breasts to be a little too tight when worn extensively. Then again, others may not even notice it. I don't wear bras, and anything constricting around that area is a nuisance to me.
My A-cup boobs fit perfectly in this. The elastic used under the chest and around the entire bandeau-style top ensured the fabric's settling around my girls in a flattering way. There was no lift or underwire. Just my ladies and some cute sparkles. I dug it. If you have large boobs, I'd skip this. Unless you have an underwire bra to wear under this, you're not going to have lift or support at all.
The square sequin edges found their way through the mesh in the top and poked my skin a bit as I lay waiting for my beau. This wasn't incredibly bothersome, but it was itchy. Round sequins on mesh fabric should be a general rule, for this very reason.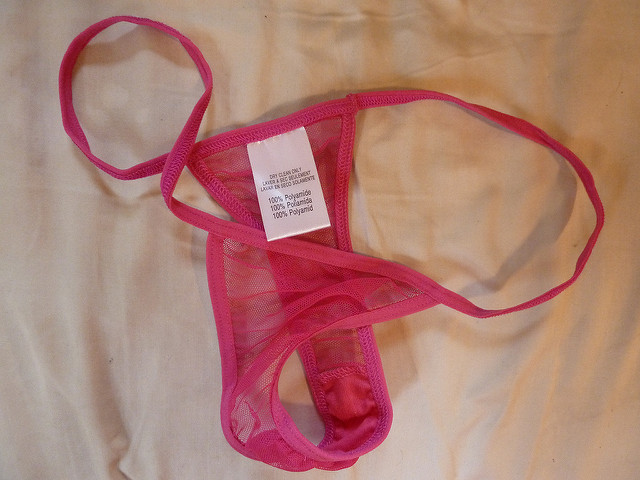 The thong was really nothing special. As I'm not shaven down there, I didn't wear it for the pics. And as I'm not shaven down there, I won't wear it. I like to be covered in my panties, at least in the front. Furs sticking out the sides of a panty = not hot. So unless you shave, this high-cut thong will either show your furs sticking out the side, or if nothing else, show them through the transparent mesh. As you can see from the pics, and as I said before, the entire set is basically transparent.
Experience
The thong would be much more comfy if it were a G-string. I personally hate wedgies so thongs of this style are what I steer clear of. The part that goes up your butt is about 2" wide at its widest. The thong does include a cloth panty liner which I love. And a tag which I would cut out, if I were to plan on using it. I'll probably give it to my sister. Because she's awesome. And she likes wedgies more than me.
The panty did have a bit of stretch. I'm size 7 in pants and I think up to an 9 would be fine wearing the small. As it's short enough as it is, and a little tight when relaxing, I see no harm at all in ordering a size up. I should do that from now on. I tend to order a small and even though I'm 130 lbs, 5'6" and an A-cup, alot of times EF lingerie is too small in the size Small!
Despite the rap that sequins get, this piece seems to be holding up really well. The stitching is all sturdy, and the sequins have not dropped off yet. Granted they've only seen 2 uses, but I'm giving them the benefit of the doubt.
The entire set claims to be made of 'Polyamid.' What the furry is that, you ask? Well, per the
EF product material information page
:
"Polyamid is a polymer containing monomers joined by peptide bonds. They can occur both naturally and artificially. Polyamid is generally a strong and resilient material which offers a good barrier and high fatigue properties. It is also hypo-allergenic and offers good resistance to oils, greases and solvents. Polyamid can be washed in foamy water but without using a scouring powder."
The mesh Polymid was quite soft and silky. I love rubbing it between my fingers. It feels sexy sliding across the skin.
The tag says dry clean only. That's a bit of a bitch. I'm gonna go with the foamy water suggestion on the EF page. I'd handwash this in warm water with a gentle soap, like shampoo, for example. And hang it to dry, without wringing.
You can throw the thong in your lingerie drawer and the babydoll there as well, or put it on a hanger. Rumor has it you can get the pretty, padded satin ones for lingerie at WalMart on the cheap.
Follow-up commentary
2 months after original review
As gorgeous as this is, the pokey sequins are too itchy for me, and I just wish it was about 4" longer! Why do chemises have to be so damned short? Dresses are much cuter and sexier, in my opinion. A gorgeous set, but the execution failed. Round sequins would've made this set a 5-star rating for me.
This product was provided free of charge to the reviewer. This review is in compliance with the FTC guidelines.

Thank you for viewing
Sequin top babydoll and thong
– babydoll and panty set review page!