Pawn? More like a major yawn..
The pawn is a decent addition to any toy lover's collection. The vibrations are not extraordinarily strong, but it is suitable for beginners. The small size makes it perfect for traveling and storage. The odd shape makes it perfect for creative minds. This is the perfect teaser, but if you want something that will make your heart race and toes curl I'd look elsewhere. I love that the pawn did come with a one year warranty.
Published:
Pros:
Size,Waterproof, Multiple Settings,Perfect for beginners,1yr warranty, Travel Friendly,
Cons:
Vibrations too weak
I've never learned how to play chess. I never felt the need to learn to play; it always seemed dull and truly tamed. When evolved decided to let out chess pieces as toys, I thought it was quite a funny idea seeing as masturbation and playing chess are in two different worlds. Maybe some people get an orgasmic release from playing an intense match of chess, but the ones I know do not. Ha-ha
When the line started to become available I did not pass up the chance to try one of them, or maybe two of them. I did not have any expectations for this toy. It was larger than a normal bullet, but then it was a little too small to be a traditional vibrator. So, my expectations were up in the air.
When receiving the pawn, I was surprised by the shape. I do not know what all the chess pieces look like in person, but my boyfriend does, chess happens to be his game. His first words were this does not look like a pawn. I then had to point out the obvious. This is a toy, and it can not be too oddly shaped. It had to be decent for insertion. You can clearly see the resemblance. One extraordinary thing that I've noticed with the recent additions to the evolved line is that most of the toys are coming with a one year warranty. The pawn also comes with one.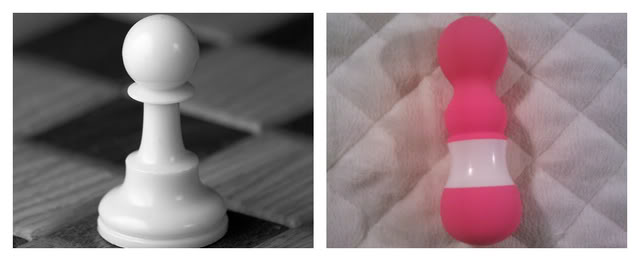 The packaging of the pawn is the same as the faith, and the embrace from evolved. It comes in this Christmas tree ornament type casing. The casing is hard and totally clear. It does have a plastic hook top. Which is singularly different from the embrace, and the faith, they have metal hooks at the top and this one has a plastic one. You cannot remove the hook from the container if you do, or try too. You will break the casing.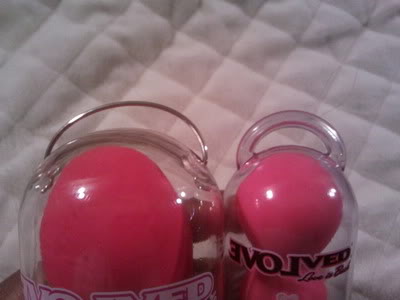 To open the container, you have to unscrew the bottom of the toy, you would have to use a little bit of force, but once the bottom is removed you can just dump the toy out of the container. The container does have writing on the front, and it had a picture of a crown on it. The back has more information. Such as its waterproof, and has multiple speeds.

Once you have the pawn out of the container, you will notice that the pawn is utterly smooth, and the only texture the pawn had is the design. It is pretty smooth. It does not have a drag or anything to it. It is made from PU coated plastic. It can be used with water and silicone based lubricants. It is phthalate free meaning it does not contain harmful phthalates. It is also latex free, which is perfect because some of us have latex allergy, so if you do have latex allergy. I would recommend this toy for you. It also has no smell, or taste to it.
The pawn is multiple speeds, but the speeds are not the best. There are only three of speeds, which are low, medium, and high. I was terribly disappointed in the speed. It is the perfect toy to warm you up, but to make your toes curl and the neighbors hear you scream this maybe not be the best for you. I'd recommend it to beginner or someone who is extremely sensitive and are easily stimulated. If, you require more stimulation than the average teasing than this would not be for you. The pawn is operated by a turn dial. The bottom turns; this allows you to adjust the settings. The pawn is powered by one single double A battery. To get in to the battery compartment you just have to turn the bottom and the top of the pawn in two opposite directions. The vibrations of the pawn are not loud. It has more of a high pitched buzzing and can be heard through covers, but not through a closed door.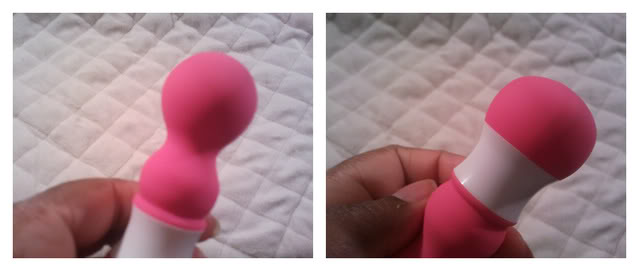 Experience
Continued...
The pawn is somewhere in the middle. It is 4 inches in total length, and 2 ½ inches insertable. It has somewhat of a bulbous head and a smaller neck. Around the neck is 1 ¼ inches, and the smaller neck has a circumference of about an inch. The pawn is at the smaller end, and it can also be inserted. You can not insert it fully, but you can partially. It does make one perfect clit vibe, also because most of the vibrations are in the head of the pawn, which is the most bulbous part of the toy.

The pawn is fully waterproof and can be taken into the shower or bath. When cleaning it, you can fully submerge it. You can wash it with mild soap and water, or you can use your favorite toy cleaner. When sharing you should use a condom. I honestly think the shape of the pawn would make for a perfect anal pacifier. Although, I would not recommend using it anally, but under a skilled hand, I think it could be used as an anal pacifier perfectly. Unless you are not a skilled anal user, I would not recommend using this for that purpose.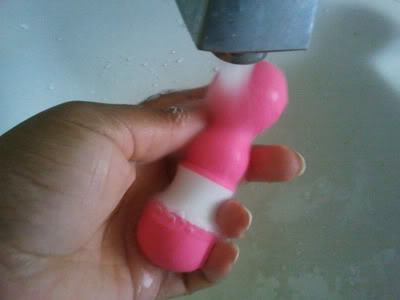 When traveling with the pawn it is extremely easy. You can toss it into your purse, or you can eve just place it into your pocket. It does not require extra effort when wanting to take it out of the house. You can use the casing for storage, and when putting it away and out of sight. You can place it into your top drawer, or just toss it in a small toy case, or in your bedside table.
Experience...
I had some fun with it. I do admit it did annoy me, because the vibrations were not strong enough. I highly dislike toys that just tease when I want to get off. I felt as if I wanted to toss it out my bedroom window. I decided it is perfect for stimulation to get your juices flowing, but nothing more. That is unless you are VERY sensitive. I did use it as an anal pacifier, because my guy is not into anal sex. I get my anal stimulation from other sources, and this worked perfect for me. Because of the bulbous head, and the much smaller neck it kept the toy from moving around. It kept it from slipping in or out. The vibrations were perfect for that. It was not too small or too strong. When using it anally, I did use it with a condom. I do not know if I'd recommend everyone using the pawn for anal, but it was pleasant to try out.
This content is the opinion of the submitting contributor and is not endorsed by EdenFantasys.com

Thank you for viewing
Checkmates the pawn
– discreet vibrator review page!