Pretty for Pointy Breasted Women
The Embroidered Elegance Chemise and Thong made by Fantasy Lingerie adds a sense of romance and enchantment to sex night. The chemise creates a feeling of innocence and virginity with just the right amount of naughty by throwing in a thong to wear underneath. The only downsides are an ill fit in the cups due to a badly placed seam and the roses do seem to not be sewn on well.
Published:
Pros:
Soft, romantic, and classic design.
Cons:
Sizes run small and roses are about to fall off.
The Embroidered Elegance Chemise and Thong, which is made by Fantasy Lingerie, has an elegant bridal feel with a bit of a modern twist to it. It is a white chemise and thong set that is made of a sheer nylon.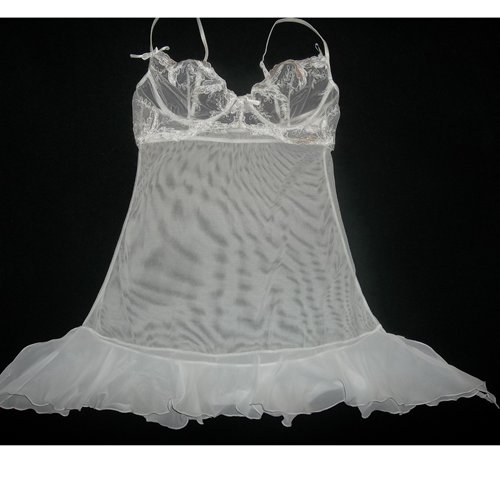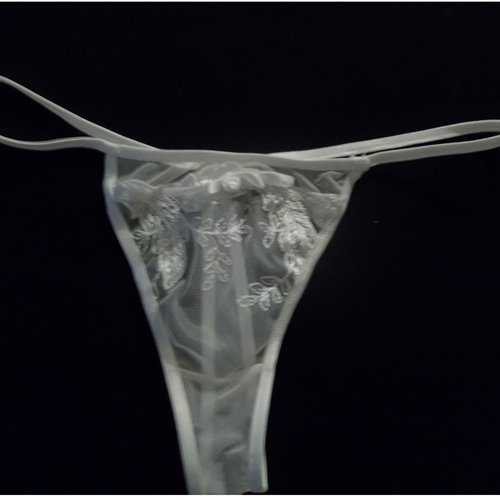 There is no hiding in this set; you can see everything through the material quite clearly. The cups and the top front of the thong are embroidered with a leafy design.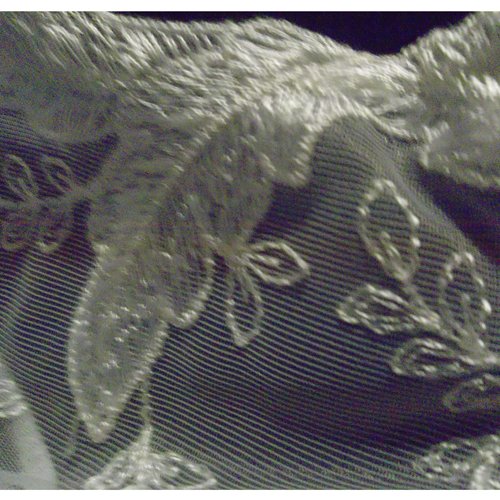 The bodice of the chemise is my favorite part. The bottom is cut in a flapper 20's way that seems classic yet modern. The bodice seemed to fit me better than the cups of the chemise. It is very soft and not itchy. I still had room around the middle. The length of it ran down to about my upper thigh.
The cups are underwired and soft even though they are embroidered and aren't lined. They don't chafe, but there is a seam that runs up the center of each cup.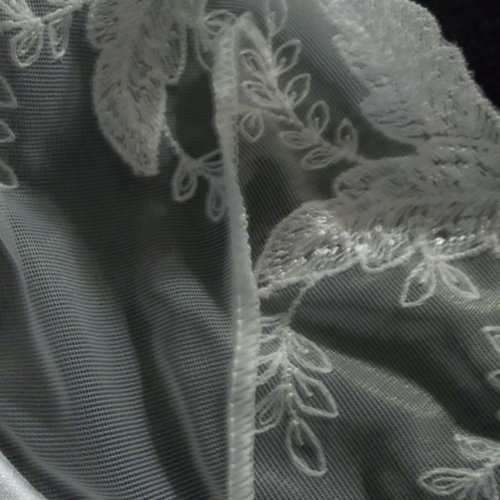 Where the straps and cups meet and in between the cups themselves, there are cutesy bows made of ribbon with roses in the middle of them.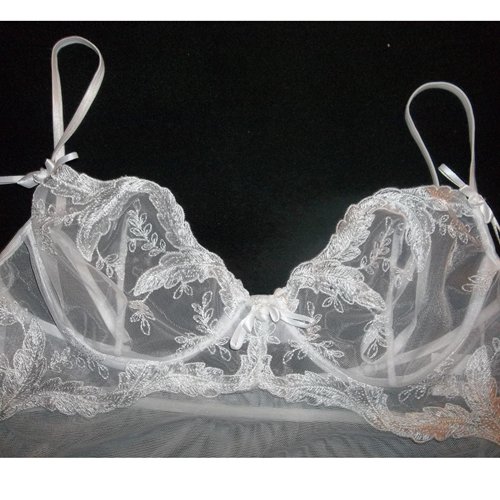 The thong that comes with it has the embroidery on it and the same bow with a rose in the top center of the thong on the front side. It is not lined either, but it is still comfortable to wear. The waistband of the thong is elastic that goes through a loop of fabric that makes up the main body of the thong and the elastic slides through it freely.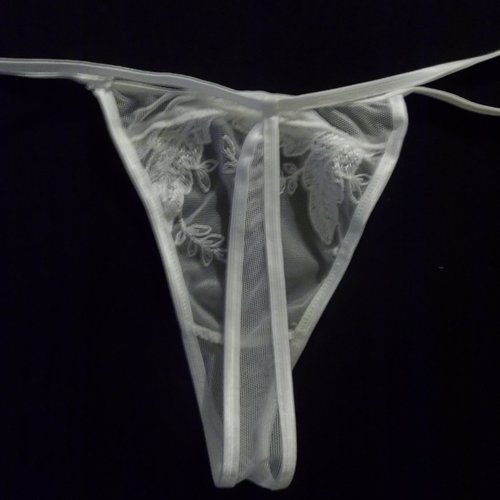 I would recommend this to women who are looking for something a bit more on the romantic side. I could definitely see a woman buying or receiving this for their honeymoon night. I did feel very virginal when wearing it.
As sweet as this set is, there are some downsides. The top part of the chemise, the cups, did not fit correctly. It felt very tight and like my breasts were overflowing in a not exactly a sexy way. My husband thinks this is hot, but I think it is uncomfortable and unsightly.
Also, the seam down the middle of the cups comes to a very obvious point. The darts are just not well formed. Now if your breasts tend to be more pointy than round then it may fit you better than it did me. I have very round, natural breast at a size 38D, so there is a big gap in the fabric between my breast and the fabric that makes it feel not right. Please keep in mind that this is the first time I have ever had lingerie made by Fantasy Lingerie, so I purchased a medium based off of the size chart they provided. In the future I will probably purchase a large because of the cups.
Their size chart for a medium and large are as follows:
Size Bust (in) Waist (in) Hips (in)
Medium 10 - 12 37 - 39 28½ - 30½ 39½ - 42½
Large 14 - 16 39 - 41 30½ - 32½ 42½ - 44½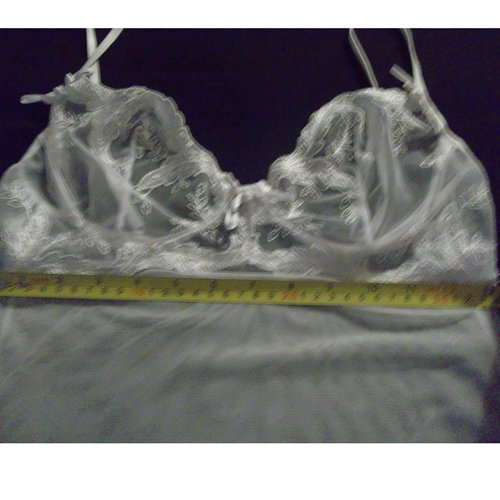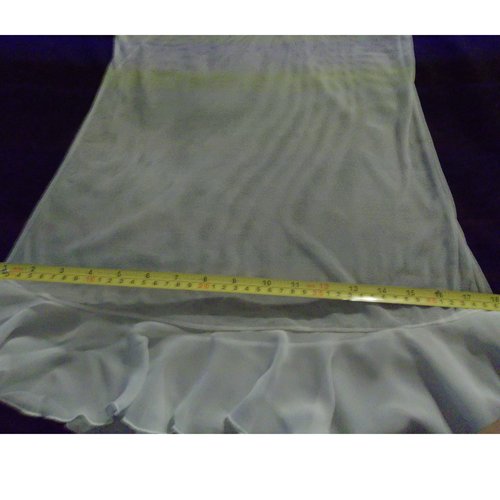 Now, I usually wear a 8, 10, or 12 depending on the brand. I have a 38 inch bust, 32 inch waist and 39 inch hips. The waist and hips fit fine, but as I said, the cups run small and the bust line tight underneath the breast.
The other downside to the set are the little ribbon bows with the roses. They are not sewn on very securely. I feel that after a few washes they will fall off.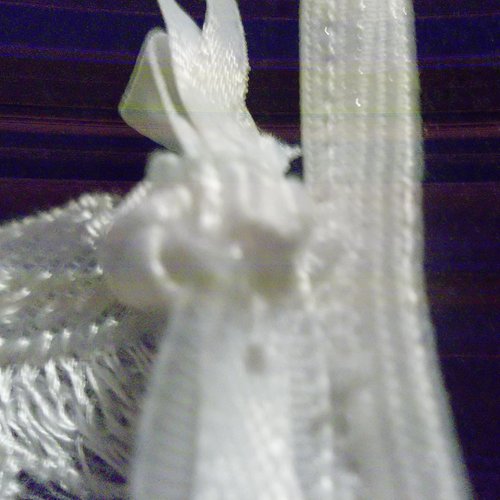 I was tempted to cut them off when I first received it because I feel they take away from the elegance of the set and create a strange bump on the bodice of the chemise from the rose on the front of the thong. When I tried this on, I noticed how lazy I had been with my grooming, and I rectified that immediately! It is best to be shaven or very trimmed down. You don't want to look like spiders are trying to escape from your underwear!
Because it is made of nylon, it does wrinkle easy. but if hung for a few minutes the wrinkles go away. It does wash well, but as I said, the roses do seem to be getting looser and looser with each wash.
Overall, it is very sweet set with just the right bit of naughty with the thong design, but due to the pointy cups and unsecured roses, I would not suggest it as something to wear during sex or for long term foreplay.
Experience
When I first put on the Embroidered Elegance Chemise and Thong, I realized quickly that I needed some grooming, but rectified that immediately. Once it was on I felt a bit tight in the chest, but I still felt very sweet in it. I liked the feeling of it when I rubbed the fabric against my body and I didn't feel like my body was trying to eat the thong. I took a deep breath and went to the living room to greet my husband as he played his video game. As soon as I walked in his jaw dropped and he turned off his game without even saying good bye to his buddies. Of course he immediately noticed my breast popping out and loved it. He couldn't even wait to get to the bedroom and took my right there in the living room. Thankfully he prefers skin-to-skin and had me take it off because with it feeling so tight on my breasts it made it uncomfortable to have sex in. I think if I ordered a size bigger it would have been fine to wear during sex, but it stilled helped us to have a passionate evening.
Follow-up commentary
3 months after original review
I am appreciating this piece a bit more than before. While it is still much too small for my breasts, my husband appreciates it which makes me happy. It is still a cute piece that has held up better than I thought it would, but I still think I may cut off the bows.
This product was provided free of charge to the reviewer. This review is in compliance with the FTC guidelines.

Thank you for viewing
Embroidered elegance chemise and thong
review page!