Sexy 'N Stuff, But For Small Chests Only
I really like this piece. It's gorgeous and unique and sexy. But it's definitely for small girls. This would fit girls with A or B cup boobs and size 0-7. The chest has a slight bit of elastic, but doesn't have much give. The top will not flatter larger boobs... it will look ridonkulous. Also, it's not satiny as the advertised, but rather mesh and see-through. And it's too short to call a chemise. Still, a great piece.
Published:
Pros:
Comfortable
Flatters small chests
Pretty
Sexy
Cons:
Back is short
Mesh and see-through
For small chests only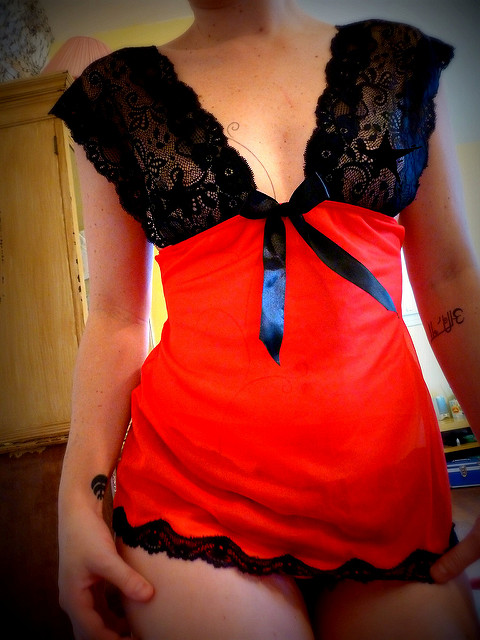 DreamGirl, I've heard some bad things about you, but I'm beginning to think we have a *special* relationship. Because the past three pieces I've gotten from you have pretty much been the bomb dig. I mean, pretty much. Sure you've got some design flaws, but everyone knows that I'm a picky princess and all but never satisfied. So we'll let those little things slide. I really kind of love you.
The chemise set is pretty hot. It's innocent but very sultry and shows quite a bit of skin. Even the nippies get displayed here! The set is very comfy, and even comes with a (crotch-lined!) thong and little bag. How sweet!
This came wrapped in pink tissue paper with a simple tag attached, and that was all. Don't rip the tag off because you'll tear the somewhat delicate material. Just snip with scissors and away we go.
As just about always happens with me and chemises, I'm disappointed by how damn short they are. When this arrived I was thinking, 'That ain't no chemise, that's a top!' And indeed, at least on my average, proportioned frame, it is.
I'm 5'6", 138 lbs, and a dress size 5-7. I wear a 36B bra in that rare event that I wear one. I ordered a small here, but I should've gone with a medium, to gain a little length. The top may've been more revealing with a medium, but I can't be entirely sure without actually trying the size on.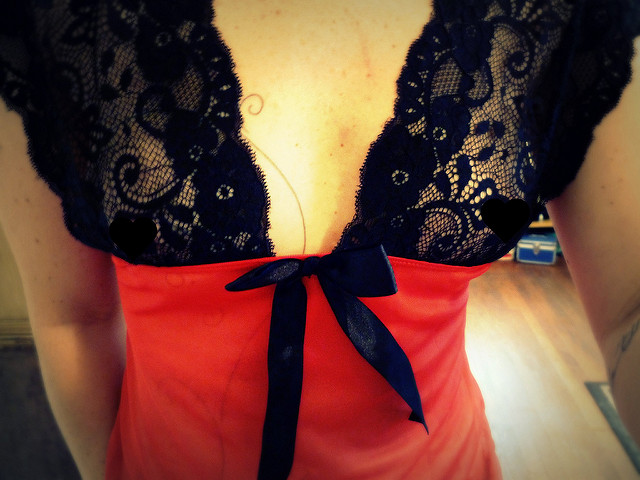 If you look
real
close up there, you can see I've cleverly disguised my nipples with some photo-editing. Yep, they show through the lace fabric, but just so. They're not shining in the sun, but if one pays much attention (as we know nearly all males do
not
) they'll detect the hint of pink poking into the material.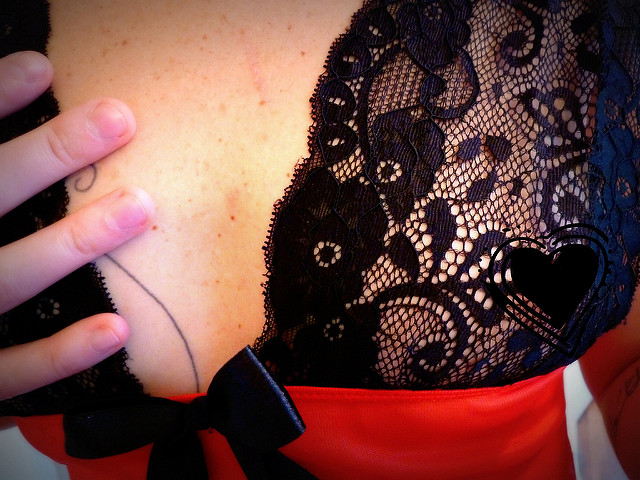 Speaking of material, notice the gorgeous lace used in the chest area. It's so, so pretty, and soft too. The bodice of the top is made of polyester mesh, as well as the back of the straps.
The chest area had to be adjusted at the shoulders when putting it on. You can wear it a couple ways, but it looks best spread out evenly over each shoulder instead of bunched, as it wants to do when you first wiggle into it.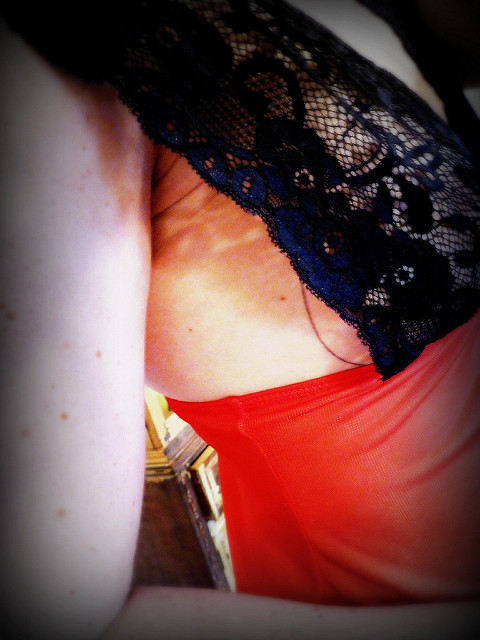 The chest features an elastic band running right under the tits, but it's not nearly enough in the way of support for those with big knockers. The fact that the chest is merely covered by a 4" wide strip of lace on either side leaves alot of side-boob to show, and for this reason I really don't recommend this for the blessed-breasted.
Experience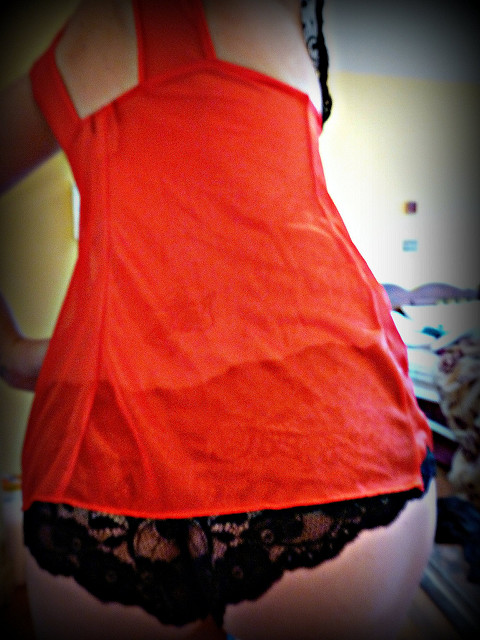 From behind, my booty is poppin'. Well, it does that on its own, no help needed from this chemise at all. But like I said, against my hopes this is completely showing my entire ass. I like to keep things under wraps, and feel much sexier when I'm being alluring rather than baring all.
The hem is nothing to get excited about either, as you can see from the above photo. It's a simple finished hem that creates a slight ruffle at the edge. The front is hemmed with the same black lace used in the top. Too many lingerie pieces are elegant in the front and completely plain in the back. This is another case of the same.
In general, this is a super comfy outfit. The material is soft and silky enough, though not the highest-quality material I've ever felt. It flows gently over the skin, and makes this a perfect top for summertime.
The thong that came with this is the same blue as the lace panels here, but plain mesh. It does feature a cotton liner - go DreamGirl! I despise thongs, however, and therefore won't be modeling it. Sorry!
The drawstring bag is in the same red mesh as the top, accented with a black satin bow. You can use it to store your new lingerie, or your favorite average-sized dildo, like I did. I
love
having new storage solutions for my toy, so I pretty much bought this set just for the bag. Honestly.
The tag at the back states that this needs to be handwashed in cold water and line-dried, but I'm guessing a gentle machine cycle wouldn't hurt. I'd line-dry this however, as it's fragile, and doesn't appear sewn together in the sturdiest of ways. There aren't stray threads and it's not coming apart, but I just don't trust this delicate material to the wrath of washer/dryer machines.
This content is the opinion of the submitting contributor and is not endorsed by EdenFantasys.com

Thank you for viewing
Chemise thong and bag
review page!