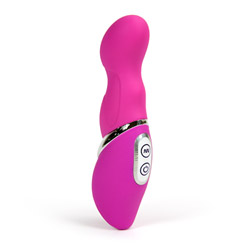 Waterproof G dancer
Flexible G-spot vibrator
by Aphrodisia
Silent But Deadly
Whisper quiet and powerful enough to send you into orgasmic bliss again and again. This toy is a "must have" for every lady's toy collection!
Published:
Pros:
QUIET! Powerful. Absolutely wonderful for clit AND g-spot.
Cons:
There are literally no cons to this thing that I can think of.
This is the first vibrator I've ever owned that's almost completely silent, even on its most powerful setting. No blanket needed as a buffer! This baby is QUIET. On its lowest setting, I could probably be sitting at a family dinner with it between my thighs and no one would know. (Not that I would... I'm just saying I probably COULD!).

But don't let its lack of buzzing fool you: this lil guy has all the power you need to succeed. Vroom vroom! Tap it three times to get it to its most powerful setting, and you'll be blown away. Wowsers!

I'd also like to note that while it's meant to be used as a G-spot vibrator (and it does its job splendidly!), I primarily use it as a clit vibe. The G Dancer's silence is golden and is perfect for use outside of the body as well as inside. The curve to the head is perfect for accessing your special nub, if you know what I mean (and I'm sure you do!), and giving it some TLC. Mmmm.

The G Dancer is completely waterproof, so feel free to use it during tub time, in the pool, or wherever. You can also use hot water to clean it.

As it's silicone, be sure to use only water-based lubes if you require additional lubrication. And, when washing, I would recommend drying it with a lint-free towel as silicone likes to pick up fuzzies.

The texture is devilishly smooth and it has just enough give to be seductively flexible. It's not shaped like a penis, but it has the "feel" of one.

For clit usage, this is absolutely my new favorite toy. For g-spot usage? Well... It might be a little short for some gals. It can take a little clever maneuvering to get it in the right area when using it for its intended purpose, I'll be honest. But, when it DOES make it to your g-spot, it's glorious.

I would recommend this toy to any woman looking for a great vibe. Especially those who are deathly afraid of getting caught. Trust me: NO ONE is going to hear you masturbating with this thing. I've used it, above the covers, WITH my door open, with my boyfriend in the next room and he had NO CLUE what I was up to! (Usually he hears me buzzing, with other toys, and wanders in to "watch the show" haha).

For $22, this thing is a STEAL. Just remember to stock up on batteries! It has a really long battery life, but you are going to want to use it OFTEN, and it's always good to be prepared ahead of time.
This product was provided free of charge to the reviewer. This review is in compliance with the FTC guidelines.

Thank you for viewing
Waterproof G dancer
– flexible g-spot vibrator review page!