Size of a gecko, power of GODZILLA! My new favorite toy!
Highly, highly, highly recommend this toy! It's a deep rumble that will get you off quickly--I can't say enough good things. It has the quality and performance of much higher-end boutique toys. Love it!
Published:
Pros:
Powerful, rumbly, small, unique settings, cute color, all-around excellent toy
Cons:
Not totally waterproof. It takes batteries--but that's a minor problem.
California Exotics' Gyrating Wave Teaser absolutely exceeded my expectations. It is a powerful, rumbly bullet-style vibe with a removable ridged silicone sleeve that goes over the bullet. The controls are easy to operate; the settings are varied and unique; it is reasonably quiet, and easy to store...I honestly cannot say enough good things about it.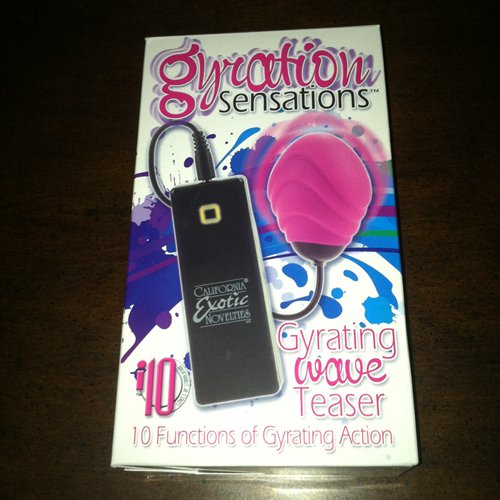 The packaging is not discreet, but is fun looking and not cheap or tawdry looking. There is no mistaking what this item is, but there are no graphic or explicit pictures on the package. It was easy enough to open, but I wouldn't use it for long-term storage of the product. My frequent complaint about CalEx products is its unattractive packaging--especially in this case, I think something simpler and more elegant would more accurately reflect the quality of the product.
This product is in three separate pieces; the power supply/control box, the bullet vibe, and the hot pink silicone sleeve. The bullet vibe connects to the control box via a headphone jack-style plug. The bullet is made from hard, glossy, black plastic. The product can be used with or without the silicone sleeve.
I have made this mistake before and apparently I just don't learn: Remember to put a drop of lube onto the bullet before you put the sleeve on. I forgot again and, of course, it was very difficult to get the sleeve back off. It's flexible and elastic enough that I was able to eventually get it off without damaging the toy but it would be ever-so-much easier if I just remembered that little step. = So don't forget!
The sleeve is ripple-textured and is a pretty color of hot pink. No odor or taste to speak of. Because it is silicone, you should only use a water-based lube when playing with this toy.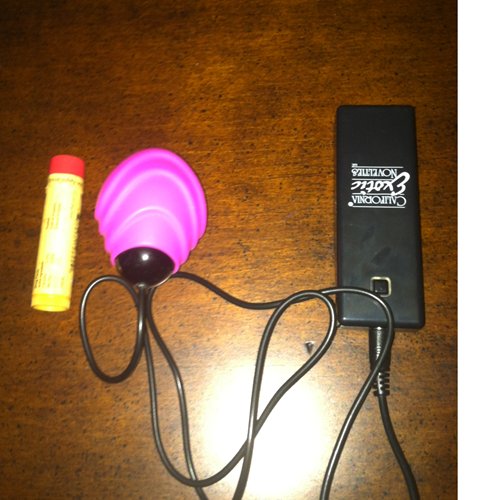 The control box is the size of a small, short remote control and takes two AA batteries. There is a small, square button on the top that you press to turn it on and off. It lights up and the light pulses in time with the different settings. That's cute, but I don't really see it as a needed function--I'm surely not looking at the lights when the toy is in use! To change the settings, you push a little trigger-style button on the top of the back of the controller. Now that I think of it, it's very similar to a Wii-mote! The buttons are easy to press even with slippery fingers.
There are 11 settings, all unique. The first three are consistent vibrations, highest intensity to lowest. Then comes a really unique setting, a stuttery-pulsing intermittent vibration. After that, there are 7 more settings of pulsation at different speeds and intensities. I really like most of the settings and I think it's got an excellent variety. The one I was kind of missing was a long, slow wave-type vibration that goes up and down in intensity. But it is not really missed all that much.
This toy is RUMBLY and POWERFUL. Not buzzy at all! It's the most powerful vibe I have apart from my Hitachi and possibly my We-Vibe Tango. It has actually become my #1 favorite and I haven't actually used any other vibe in the month since it came in the mail.
This is really intended for clit stimulation. You wouldn't really use it vaginally and DEFINITELY SHOULD NOT use it anally as there is no flared base for safety.
I don't really notice the rippled texture of the sleeve when it's in use, although I guess because it's not smooth or slick, it helps it to stay where you want it to.
This is a pretty quiet vibe. I definitely can't hear it through a closed door. It's portable and easy to travel with, but I wouldn't say it's totally discreet--if your luggage was searched, I'm sure they'd know what it was.
While you can boil and sanitize the sleeve, the bullet should be cleaned with toy cleaner or soap and water, and probably not submerged. Disconnect the bullet from the control box when cleaning.
You definitely can't use this toy in the tub or shower. I would say that is the only drawback, other than batteries!
This product was provided at a discounted price in exchange for an unbiased review. This review is in compliance with the FTC guidelines.

Thank you for viewing
Gyrating wave teaser
– sex toy review page!