The hammering alien head
A powerful rumbly vibrator with a very pleasant sleeve that, especially because of its power is significantly handicapped by an inability to go seamlessly from low, to medium to high.
Published:
Pros:
powerful rumbly vibrations, great materials
Cons:
WRONG CYCLE DIRECTION, very powerful, even on low.
This is an interesting one.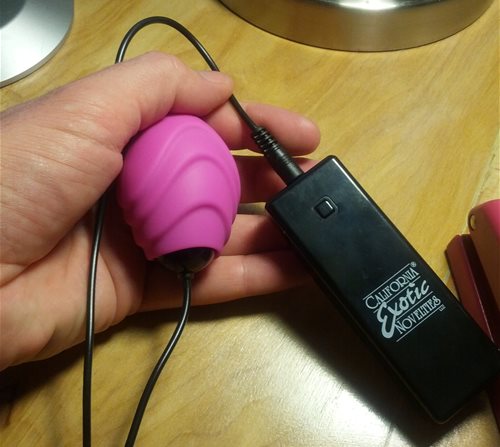 The vibrations are as rumbly as I've ever experienced. The strange looking silicone sleeve (that looks a little like an alien head or an ancient sea creature)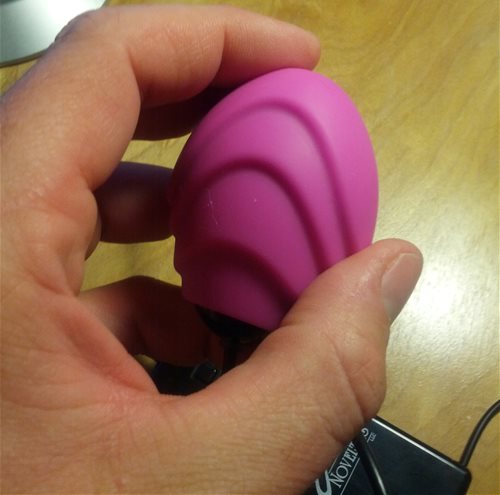 is nice, soft, flat and soothing. The controller build is not awesome (it's kind of plasticy and the buttons click cheaply) but it works well.
The egg appears to be waterproof. It also detaches from the power unit so you can clean it very easily (even if you're paranoid about dunking the non-waterproof part). The sleeve is silicone so if you slip it off it can go through the dishwasher or be sterilized for sharing (nice feature).
The vibrations are intense and deep. You turn the toy on with the square button and cycle through the patterns with the trigger. You can only cycle in one direction. And, like with a bunch of toys from this manufacturer, it's the WRONG DIRECTION! The three solid vibration settings are arranged so they go High, Medium, Low. I hate that with a burning passion. It's particularly bad with this toy because it's so intense. On low it's intense, higher definitely gets into crazytown levels, and when you're getting into that range you can't just start on high, you need to ramp up, but when you have to cycle through all the patterns to go from low to medium you can't ramp up in the middle of a session with your partner. It's a problem, but it's so widespread I assume I must be missing something, some reason this is a better idea than going low, medium, high, then patterns. Let me know in the comments if you've got an idea.
A downside of this toy is that it's too large to insert comfortably, at least with the sleeve attached. The deep, rumbly vibrations are a natural for insertion while another vibe handles the clit, but it's definitely a bit too big.
I encountered no strange or off smells, it doesn't seem to attract lint or fuzz and is just generally a well finished toy.
Experience
This thing is POWERFUL. I had to be SUPER aware of where it was at all times and it was always on the edge of being too much for my wife (who is a bit of a power queen). And this is on low. I want to give it some more chances, especially because I was trying to use it lightly and then the wife pointed out that firm pressure might make it less intense because with firm pressure it's bouncing around less. Interesting idea, we'll see if it carries through to reality. But basically it worked, and worked well.
This product was provided at a discounted price in exchange for an unbiased review. This review is in compliance with the FTC guidelines.

Thank you for viewing
Gyrating wave teaser
– clitoral vibrator review page!