Starry, Starry Frustration
If you are looking for something cute to excite your lover, these may be for you...As long as you are thin and realize you may only ever get one use out of them.
Published:
Pros:
Cute
Cons:
A one-use item; did not wear well on my larger body
Let me just say this straight out of the gate: I am a big person. I have curves and rolls and bulges. And, if you are the same, this may not be the product for you. But, before I get too ahead of myself, let me get the facts out of the way.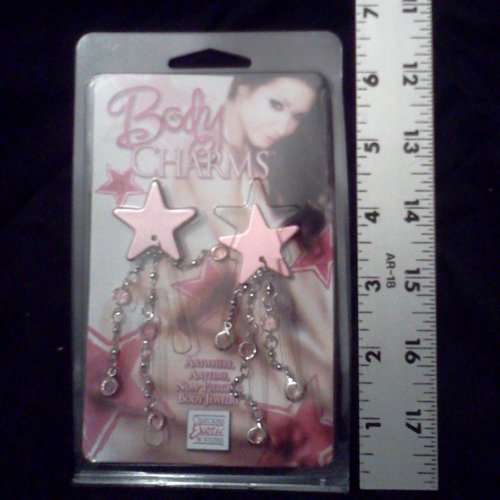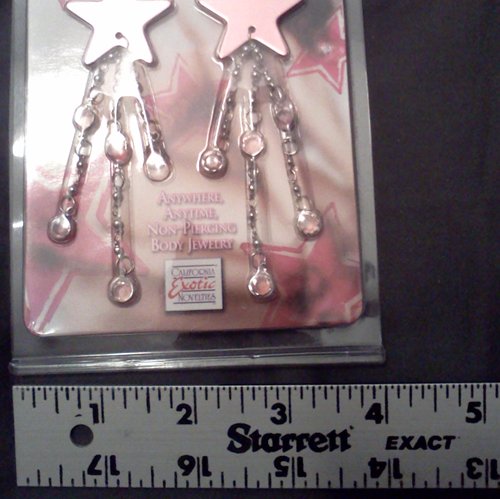 This product was packaged nicely in a plastic clamshell-type package that is 6.5 inches long by 4 inches wide. The packaging is not very discreet, as it has pictures of models in bras and panties with the stars on various parts of their bodies. The packaging opens by simply pulling the edges apart and, while it can be preserved for storage, it is really not necessary. I would recommend recycling it!
While Eden's only has "plastic" listed under materials, the
California Exotics Website
states that the charms are made of antimony, the beads are made of ABS plastic, and the adhesive tape is made of ethylene styrofoam. Eden's only has safety information for plastic, which is that it is food-grade material, hypo-allergenic, latex free, phthalates free and non-porous.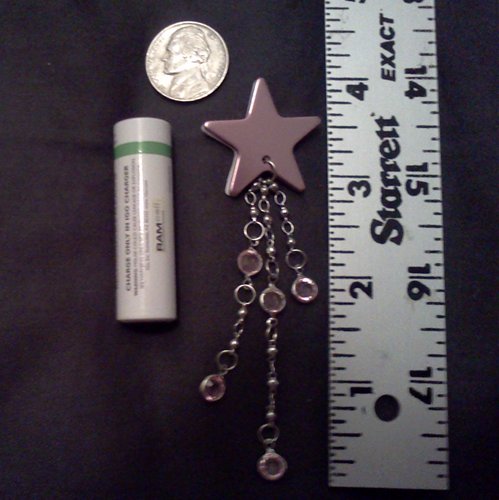 (Stars shown next to a nickel and AA battery for comparison)
The charms themselves are a nice size. The stars are a baby pink color, and are approximately 1.25 inches in both length and width. Attached to the bottom middle of the stars are three silver chains with pink plastic beads. The chains are (from shortest to longest) 1.5 inches, 2.25 inches and 3 inches. Overall, from the top of the star to the bottom of the longest chain, the charm measures approximately 4 inches.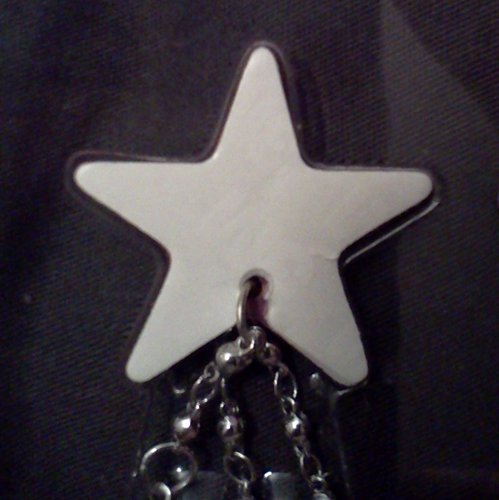 (Adhesive back)
To use the charms, peel the paper backing off of the adhesive affixed to the back of the charm and press it to where you want it to stick. It can be used either on bare skin, or on clothing.
Experience
As I said above, I am a big person. No shame there! But I found that to use these stars, you need a relatively flat surface, lest they fall off. For example, it had no problems sticking to hand or arm where the skin is relatively taught and smooth, but getting them to stick to my belly or breasts (where there are rolls and bulges) was difficult.

Another thing I found frustrating was that after it peeled off, it was very difficult to get it to stick again, as the adhesive had worn off. I'm sure you could buy more adhesive, but that's more money out of your pocket and time out of your day.
This product was provided free of charge to the reviewer. This review is in compliance with the FTC guidelines.

Thank you for viewing
Body charms stars
– body jewelry review page!