Surprisingly nice flexy vibe
This thing feels nice, vibrates beautifully, goes anywhere you want it to, is made of the best of materials, it's not terribly loud and feels great when you squeeze it. Too bad the motor cycle is backwards and you can't push a button and go directly from low to medium to high. Who wants to start on high, go down to medium, then to low and then go to patterns?
Published:
Pros:
Rumbly vibrations, flexible, nice feeling surface
Cons:
Cycle of patterns goes the wrong direction.
This is an interesting creature. I was a bit surprised at how big it was when I first opened the box. As you can see from the picture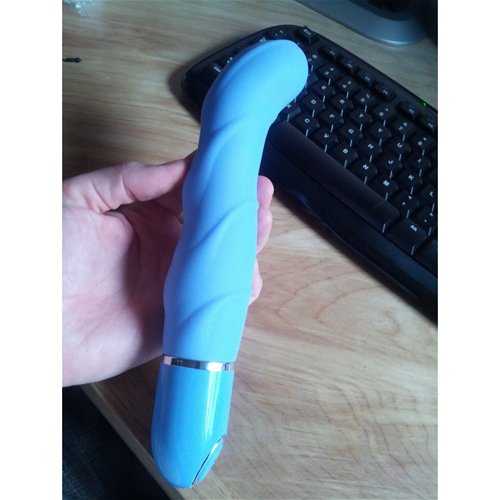 it is easily larger then my medium sized male hand and wider then two fingers. It's very soft and the top hooks sharply up to get into your g spot. It takes its name from the fact that it's very flexible. The center two inches of the insertable part are completely bendy. Not bendy like Gumby as in you can bend it and it will stay, but bendy like medium soft rubber where you can bend it and it will bounce back. This makes it very forgiving and when inserted it feels smaller then it seems like it should. You can also compress that bendy middle segment so when your muscles clamp down on it you can feel the give. Interesting sensation. The cover is soft, velvet silicone, pleasant to touch, but very draggy. Use plenty of water based lube. On the plus side cleanup is really easy because of that non-porous material, and the fact that the toy is waterproof.
It's powered by three AAA batteries (thank goodness for using normal batteries). The only downside to that is that it's darn difficult to figure out which way the batteries should go in. I looked for a label or something, but it wasn't until I had fussed with it for five minutes that I realized that there were embossed + and - signs around the battery door. You can see them in the picture,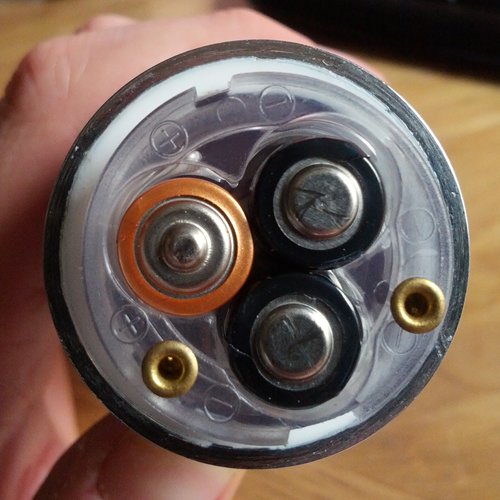 but if you're not looking for them there it can be confusing. Especially if it's a bit dark.
The vibration motor is about 3/4 of an inch back from the tip and it's a good one. Powerful, rumbly, not buzzy. The low is fairly low, while the high is quite high. Pattern fans will find a whole bunch of them accessible through the pattern button. The fact that the vibration motor is well back from the tip of the toy means that the tip is nice and soft, not poky at all. The firmness is somewhere between the tip of your nose and an erect penis. A good call on the part of Cal Exotics.
Which brings us to the controls. There is an on/off button and a pattern change button. Both are large, well labeled, and easy to get to. In addition, they're firm enough to prevent accidental presses while still being easy to push when you want them pushed. The problem comes when you're using the toy (especially when using it on your partner). The low setting is a nice, low frequency rumble and wonderful for starting out, but they reversed the normal direction of the patterns. When you're on low and push the pattern change button you have to go through all the patterns then high to get to medium. So rather then being able to start on low and seamlessly transition to medium then high you have to totally break the rhythm by running through the patterns. Totally unacceptable and makes the toy VERY hard to love. Basically, if you want a constant vibration you have to pick a speed and stick to it. Disappointing.
Other then that it's great. Strong, rumbly vibrations, easy to clean, lots of patterns to choose from and a pleasant, forgiving flex to the whole thing. Would have been 5 stars if the pattern cycle went low, medium, high. It might be a bit big if you're not into large toys, but because of the flexibility it's less of an issue then it seems when you pull it out of the package.
Experience
I was using this on the wife, set on low and she was clearly enjoying it, just lazily playing around the outside, (the pronounced hook to the tip means that this is more ergonomic for a solo lady then couples play, but still, not hard to work with.) and wanted to up the sensation a little. First, I tried to slip it inside, but it's a little too big and too draggy to do that without either lube or a bunch of warmup, so that failed, and then I hit the pattern button to up the intensity. Total fail, she dissolved into gales of laughter as it went into its library of patterns (vibration patterns make her giggle and not in a happy sexy way). I basically had to swap it for another toy and almost start over. Being aware of that now, I can work around it, but it wasn't a nice time.
Follow-up commentary
3 months after original review
This one is a standby in the toy drawer. It may be a bit big, but if she's ready to go and looking for a lot of stimulation this is definitely the toy to reach for. Feels nice to use, filling, but not painfully so and well shaped to push her buttons. Many a fine orgasm have come from this guy and I can't recommend it highly enough. (as long as you don't mind a fairly large toy).
This product was provided free of charge to the reviewer. This review is in compliance with the FTC guidelines.

Thank you for viewing
Pleasure bendie ridged G
– g-spot vibrator review page!