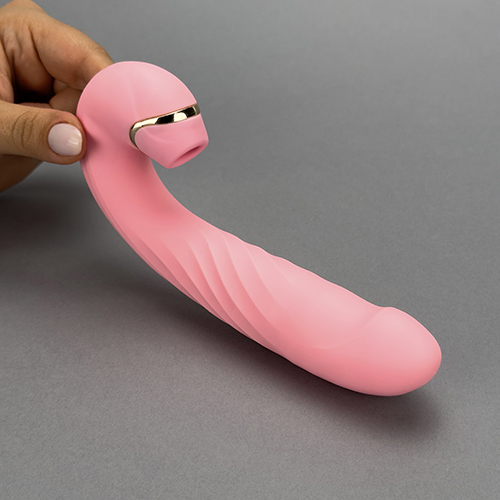 Swish
Air pulse and thrusting dual vibe
by EdenFantasys
The Combo hit me in both places at once and I came so embarrassing quickly
We feel that this is not only a solo but couple toy. It can be used for many things such as foreplay, sex to orgasm and even edging. We haven't tried double penetration but that is also an option. It is best used with lube to make insertion more comfortable. With either solo or couple play, positions are endless as well as scenarios. Your only limitation is your imagination.
Published:
Pros
-Steady and Strong Thrusting Throughout
-Air Pulse is Phenomenal
-Combo is explosive
Cons
-Remote would help
-As with thrusting toys variable feature of all different thrust should be added
Wife POV: I think I hit the wrong style review box that we used to do, however I am going to continue with how we have reviewed in the past. We got our package from EF in a plain brown box. Opened up the box together and we both like the box design by EH of the SWISH box. The color scheme also continues to be enjoyable and eye pleasing. Inside was the toy as well as a charger. We did not see a bag with it and continue to hope that EF sends bags to accompany the toys. We read the instructions and turned it on. The charging levels seemed to be high but we continued to watch and try it different modes. After a while we decided to re-charge the SWISH and talk about it.

The first visual impression is that we like the pulse part combined with the thrusting vibrator. The curve allows for hitting the G-spot as well if you aim it down could just be a simple thrusting vibrator for in-out action. The color is pretty in pink. The air pulse on our thumbs felt like there was power behind it so I knew that it would be more than pleasurable when I used it.

This toy has met expectations upon use as you will see below. For both solo and with spouse. It was nice to handle and easy to clean with soap and water.

In both cases of solo and with spouse while the controls are easy to reach you don't want to have to reach down while your hands are holding onto the sheets. A remote control would be nice addition as well. Also for power, the thrusting has it and it is steady!!! It held this way for a while as I used it by itself in different positions and it did not lose it abilities until right before the battery lost all power.

I have been thinking of other ways to use it and made some references below. I / we will continue to use the SWISH to the fullest and enjoy this product. If I came with this so quickly you can imagine that this can be used not only in the house but like the SECRET PLEASER in the car or possibly while walking around. It would be interesting to see if an outfit would be able to hide the fact while still holding the SWISH up in the correct position.

EF has come up with a real winner in our opinion with this toy.
Experience
Continued Wife POV: I wanted to "play" with it alone for our first reviews and then with follow-up with my husband. I was turned on while he watched and I started with a little lube. In past we have started without lube and then lube and in different positions. However, since this was me doing this to myself as with other toys I start with lube first and then without. I put the lube on and put it in. It took a little pressure to get everything in and then to adjust properly. However, once I did and started the SWISH, OOOHHHH MMMMYYYY. I kid you not if I say that I came in less than 30 seconds. I could not believe it I stopped the toy and took it out and just laughed and thought about it for a second. I came in 30 seconds. When has that happened in the past or ever? I calmed down from that high and thought ok that was a fluke let me go for it again. No disagreement from my husband. We were in awe. Again a little lube and a gentle push in and position both just right and turn on the machines.....I am coming again...Ooooohhhhhhhh.... It happened again!!!! I could not believe this. Again I stopped the machine to process. I discussed this with my husband, but it was just me talking because he says he was in a sense not here as this was my moment and my initial review of SWISH. I went for a third time, but this time I did NOT re-add lube. I started to put the SWISH inside me but it took longer and harder to do. Even though I was wet and excited I felt that without my husband stimulation orally or other means, or lubrication I was not wet enough and therefore would suggest a little dab will do ya with the lubrication. After time getting it in and positioned right, I came again in no time. So three times and orgasm achieved in record time. The air pulse was great, the thrusting hit the right spot and curved correctly. With the SWISH you can't "straighten" out the dildo part. However another experience later I have just used the dildo part by itself has felt great.
This product was provided free of charge to the reviewer. This review is in compliance with the FTC guidelines.
Thank you for viewing
Swish
– air pulse and thrusting dual vibe review page!