They Do The Job
These are good replacement straps for garments with detachable garters. They also work with a number of garments that weren't necessarily designed for garters, as long as you have somewhere to secure the hook. They are surprisingly sturdy and well-made. The only downsides are that they only come in black and they are a bit pricey.
Published:
Pros:
Versatile, sturdy construction, easy to use
Cons:
Only come in black, length is a bit difficult to adjust, high price
These removable garter straps were packaged in a plastic ziploc bag. There are 4 straps in the bag (one for the front and back of each thigh, respectively). They came with a cardboard backing with the SpareParts logo on it, but no instructions. Not that you really need instructions for garter straps, they're not terribly hard to figure out.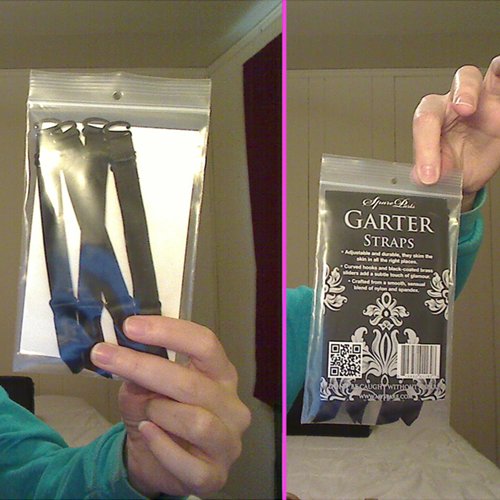 The straps are adjustable. At their shortest (which is how they come packaged), they are approximately 5.5" from the hook to the garter clip. At their longest, they are approximately 8.5" long. The fact that they are adjustable is very nice since many of my thigh highs, corsets, and harnesses sit at different heights.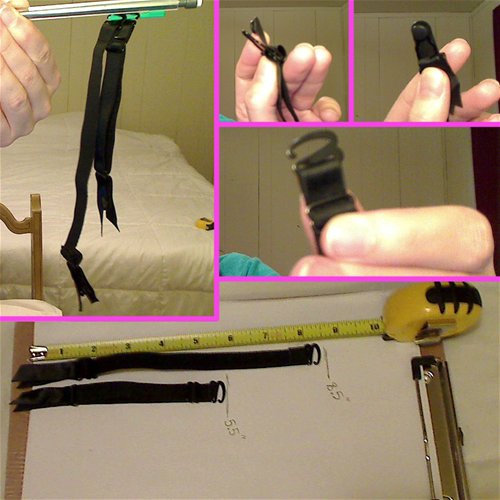 These garter straps are surprisingly sturdy. I've had some garter belts with pretty shoddy straps that didn't do much, didn't stay closed, or were just plain flimsy. That is not the case with these. They are made from a blend of nylon and spandex and are quite thick. They have enough give to allow them to move with you, but are tough enough to actually hold your stockings up. The hooks at the top are plastic, which I was a bit skeptical of, but for as thin as they are, it's solid plastic and doesn't feel like it's going to crack or break any time soon. The clips at the bottoms are sturdy button-style clips (not my favorite style, although they hold the most securely) and once I had attached them to my stockings, they weren't going anywhere.
Due to their solid construction, the straps are a bit "heavy". In addition, you'll need a piece of clothing that has something to actually attach the hooks to; so it either needs to have detachable garters in the first place or a sturdy area that you can work a hook through (the bottom of my corset wasn't designed for this, but it worked pretty well). In addition, the hooks work pretty well if you hook them to a harness; even one that's not necessarily designed for garters. So if you have a harness, you really like that you can't wear a garter belt with, but you would like some garters to hold your stockings up, you might like these.
They only seem to come in black. If you're using them for utilitarian purposes, that's probably fine. If you're using them for the "look" of having garters, it limits your wardrobe options somewhat.
Experience
When the package arrived, I took them out right away. They are initially a little bit difficult to adjust., like I said, they're pretty solidly built and that means that you really have to pull on the slider to adjust the length. That keeps them from slipping, once you've got the length you like, though.

They were easy to attach. and I found the hooks to be sturdy. Within 5 minutes of removing them from the package, I had them on and hooked up to one of my corsets. They didn't work with everything. There has to be something to attach them to and it has to be sturdy enough to withstand the drag of their weight. Garter belts designed for detachable garters obviously work great and I don't see these garters being incompatible with very many of them. They also work with a number of different clothing items, that weren't originally designed to use garters, which makes them quite versatile.

Although I like them, I don't think I would have paid full price for them. They add a bit more variety to my wardrobe and replace some straps I lost, but they also cost just as much as an actual garter belt.
This product was provided free of charge to the reviewer. This review is in compliance with the FTC guidelines.

Thank you for viewing
Removable garter straps
review page!