A New Ride!
I really like sleeves and this one is my new favorite. The ridges are great for the girls who like textures and the on off feature of the clitoral vibe is a nice new feature that I hadn't seen before this toy. I would suggest this one to all beginners to experienced sleeve user.
Published:
Pros:
Textures
Bullet has a contact setting
Quiet bullet
Cons:
Material
bullet not waterproof
Maximus Enhancer system By California Exotics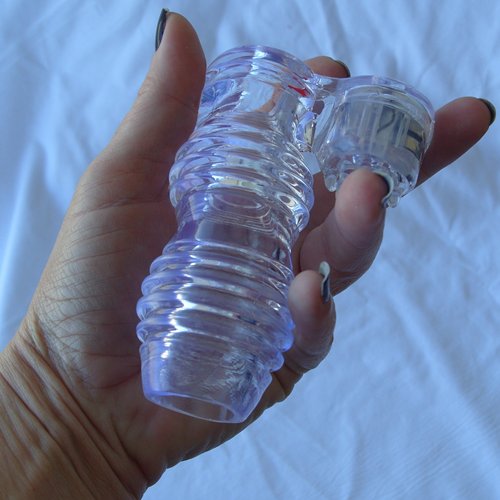 This sleeve has become my favorite. I have always liked them but this one has ridden to the top of my list. It's ridges add so much to the experience and it's clitoral attachment rocks!! It can be set to be vibrating all the time or only with contact.
This is made to be worn by a man to increase his penis girth, it has a clitoral attachment with adds for the female enjoyment and for females who like textures this one doesn't disappoint. The maximus can also be used on dildo's and vibrators for that little extra girth. I wouldn't suggest using this anally as it's materials aren't the best as far as porousness and I would worry about it's ability to be sucked into the anal canal.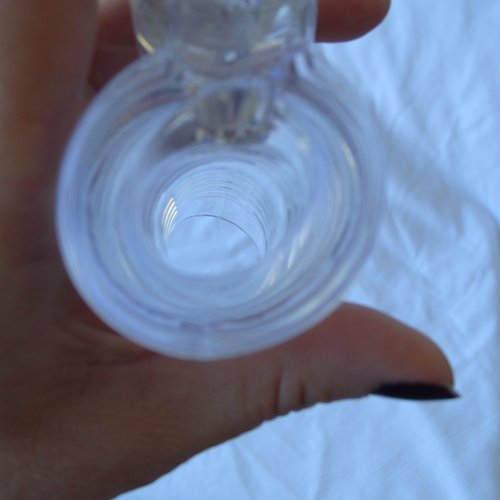 Material/Texture
The maximus is made from TPR, Thermoplastic Rubber, It rates a 7 on the Eden Safety scale. It is porous and not suggested to share between partners. It is latex and phthalates free. I would say with the design that you could possibly wear a condom and then place the rider over the top of the condom but I cannot sweat by this. More research would be needed. The packaging doesn't address this at all. Use only water based lubricants. The maximus is very pliable and flexible. The TPR feels squishy. When pinched together it does stick to itself. The clitoral attachment will jiggle if you swing the enhancer around. It's kind of floppy. Due to the material I wouldn't suggest sharing with multiple partners. It is clear and has no taste and I did not notice any odor to the toy. It does collect lint an hair.
The ridges are pronounced and they can be felt. They are more pronounced than the nubbed type of textures on other sleeves. The clitoral attachment has some nubs projecting from the front of it and these too can be felt and add to your experience.
Size/Shape/Design
The maximus has a total length of 4 inches, it has a diameter of 1 ½ inches at smallest and 2 inches at it's largest ridges. The ridges start at ½ inch from the tip and there are 3 sets of ridges. The largest ridge has a thickness of ¼ inch. The sleeve itself is ¼ of an inch thick so with the ridges there is a total of ½ inch thickness and increased girth. The clitoral attachment is 1 ¼ inch total length and is 1 inch deep. The numbs project 1/8 to ¼ of an inch off of the base. The base of the clitoral attachment has a diameter of 1 inch.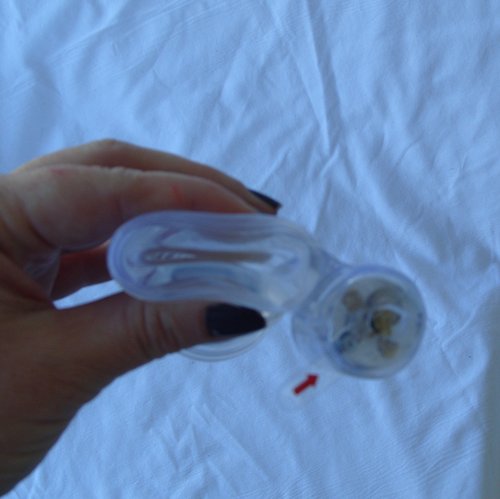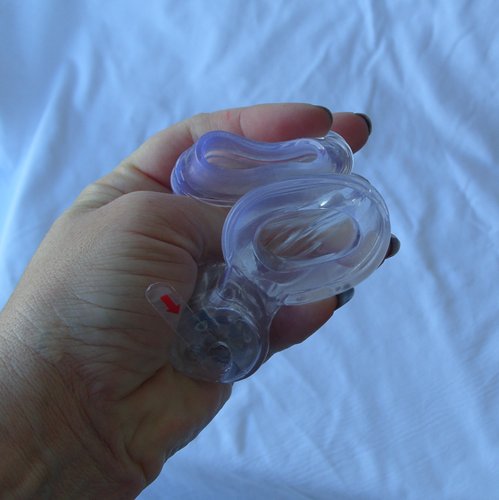 Since it is so stretchy it will fit penis's up to a girth of 3 inches. It is stretched around a bottle of before and after toy spray. It does seem to get quite thin with this amount of stretching.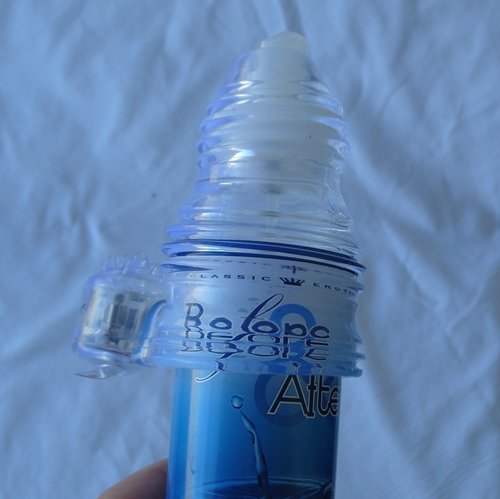 Functions
The maximus bullet has a neat feature that it can be turned on to constant vibrations or you can set it that it will only go on with pressure or contact. I haven't had a cock ring or any toy with that option before and it does work quite well. There is a button located on the back to switch the functions. I would rate this a 2 on the vroom scale. It is stronger than the bullets in some of the popular cock rings. It is very quiet and cannot be heard over the covers. There are no pulsations or patterns just the on and off. It runs on 2 watch batteries and Cal exotics gives you 2 extra batteries. The bullet is not water proof and should not be submerged.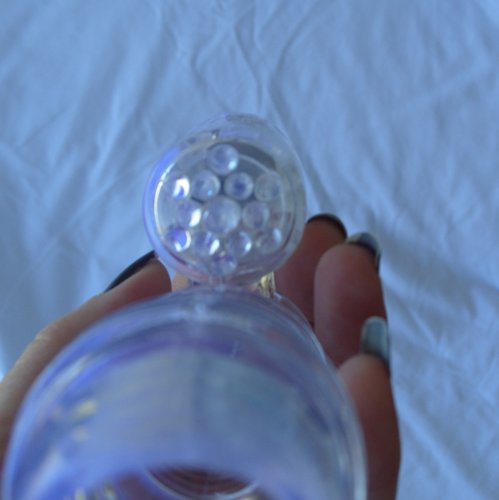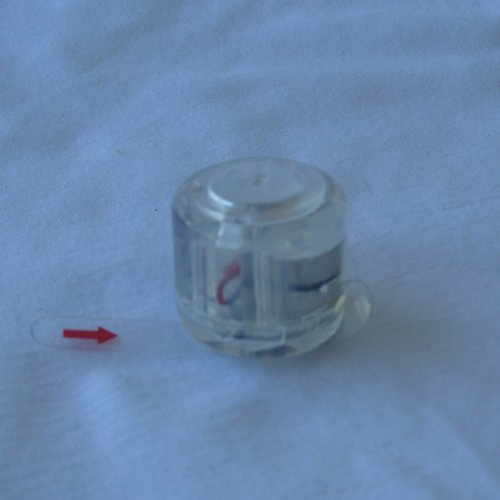 Care/Maintenance
This one can't be boiled or placed in the dishwasher. The clitoral motor is easily removed. I cleaned it with antibacterial soaps and water. You can use toy sprays and Eden Wipes to clean it. Again, I would not suggest sharing the maximus with multiple partners. Store this away from other toys as it will meld and I would say that it wouldn't stand up to high heat.
Packaging
The maximus enhancer comes in a box with product information on the box and a picture of the maximus on it. The toy is sealed in a bag that has the 2 extra bullets sealed in a separate compartment. The clitoral attachment bullet has a pull thread to activate the batteries.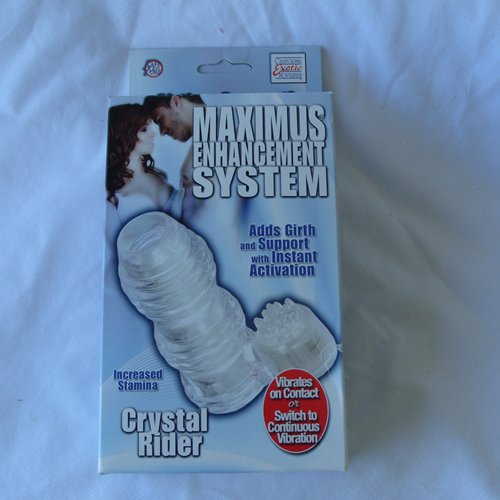 Experience
The box explains that the maximus should not be worn for periods of time over 30 minutes at a time. Allow 60 minutes in between uses. Do not fall asleep while wearing this product. Prolonged use may result in bruising at the base of the penis or can cause permanent damage. Consult a physician should any complications occur and discontinue use.


I really, really like the sleeves. They do cause decreased sensations for the wearer and can cause the male to maintain an erection longer. I being the female do not see a problem with this feature. I like the ridges more that the nubs that are present on some of our other sleeves. This sleeve is much thicker and sturdier than others that I have reviewed.

I would say that with my experience with this type of product and this type of material, this is not a long tern type of toy. They usually last a couple of months depending on the amount of use and the clear coloring will discolor. They tend to become a little "sticky" also. I store them in plastic baggies and they travel really well.

Don't be discouraged by the fact that they don't last. They are great toys and work well for increasing pleasure and maintaining erections. You can just grab a new one every couple of months.
Follow-up commentary
3 months after original review
This one is just ok, It likes to slip a little with lubricants. I love the vibrator that comes on and off with each hit to the clit. The textures do work well, I wish it were made from silicone and was a little tighter.
This product was provided free of charge to the reviewer. This review is in compliance with the FTC guidelines.

Thank you for viewing
Maximus rider
– penis girth extension review page!