A porn star in your (large) pocket
The Lily Labeau is a good masturbator for anyone that wants to better imagine they're having sex with a porn star. The material feels realistic, and the vagina is pretty detailed. The plain texture on the inside however, keeps this from being a great toy.
Published:
Pros:
Material feels realistic
Grips for easy handling
Cons:
Plain texture inside
While looking for something new to review I came across the Lily Labeau Pocket Pal from Doc Johnson. What interested me in this product was the fact that it didn't have any pictures of the actual product, just a picture of the box. I decided to get it and see what it looked like. What I got was something that looked like a squishy Fleshlight.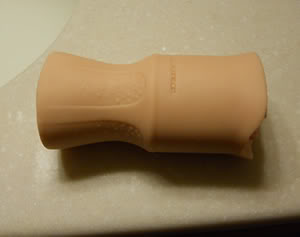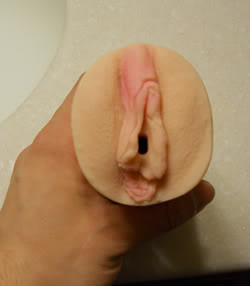 The Lily Labeau pocket pal is made from
ultra-realistic 3.0
, or UR3. The toy is pretty soft and squishy, which makes it feel more realistic than other toys. It is also made with
Sil-A-Gel
. The majority of the toy is flesh colored, with the vagina colored pink. It measures 5 ½" with a circumference of 8 ½" at the widest portion. The end half is modeled into a handle with grooves and raised bumps to make it easier to hold onto, especially if your hands are covered in lube. The inside of the toy can fit just about any size. Unstretched, the shaft is about half an inch across. From there, it's stretchy enough to fit just about anyone, but still stays tight. The material seems sturdy enough to get multiple uses out of this toy, though the chance of any kind of tearing may increase the larger you are.
The opening of the toy is modeled after porn star Lily Labeau's vagina. The detail on it is pretty good, and is even colored pink for some extra realism. Now, when it comes to masturbators, whether or not the vagina looks like an actual person's isn't really a big deal to me. What I care most about is the texture on the inside, which unfortunately is this toys weakest point. The inside texture has raised ribs evenly spaced the whole way down. This texture feels good and will probably get you off, but so can a simpler masturbator. I feel that any toy that is modeled after a porn star should go the extra mile and make the texture different than other toys out there. Maybe have two or three different textures.
The end of the toy is also open, and you can cover the hole with your finger to create a little suction.
To clean you can use soap and warm water or a toy cleaner. If you want, you can also dust the toy with cornstarch to keep it from getting sticky. The material page for UR3 says not to use silicone lubes with UR3 toys, but the clean and care guide that comes with says that silicone lube is OK to use. I used silicone lube with it, and it doesn't seem to have damaged it in any way. Anything oil based will cause damage. UR3 is porous, so a condom should be used if you plan to share. You'll also notice from the photo that the pink coloring came off after I washed it. I don't know if that's normal for these kinds of toys.
The toy comes wrapped in plastic inside a box. The box has Lily Labeau on the front, and the back has some material and product information. One side of the box features a picture of the toy. The box says that the toy is discreet, but I would disagree. I think it's a good size to be travel friendly, but if someone sees this, they're going to know what it is(unless they've never seen a vagina before).
This product was provided free of charge to the reviewer. This review is in compliance with the FTC guidelines.

Thank you for viewing
Lily LaBeau pocket pal
– masturbator review page!