All Hands on Dick
The Dragster is a neat idea from California Exotics, but I would caution anyone who is new to c-ring use to be very careful while using this ring. It takes patience, lube and an extra hand to get a secure and comfortable fit.
Published:
Pros:
Nice Color, Effective
Cons:
Difficult for Solo Use, Too Long, Too Tight
The Rally Ring Enhancers Dragster is a unique, odorless product from California Exotics. The Dragster is a
TPR
cock ring designed to enhance girth and increase stamina for solo play or intercourse. It is almost exactly 2" in length. The outer diameter is 2" across with the center being 1.25" across. It has a maximum diameter of 2" when stretched. I estimate its weight at around 2 ounces. The texture on the outside of the ring is designed to look and feel like your average, every day car tire. Except, it's blue and a gorgeous blue at that.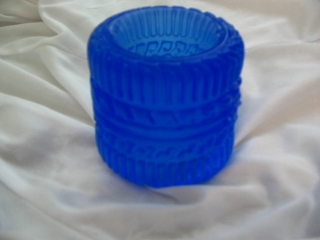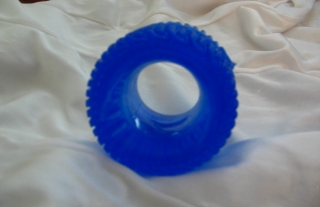 Though the TPR material is flexible, it takes some work to get it to become pliable for solo use. This c-ring is not a roll-on then roll-off operation like a rubber ring would be. This is a
stretch with all your might and mane then tug and pull
deal.
And that's why the manufacturer put this nifty disclaimer on the very bottom, right hand corner of the back of the plastic clamshell package:
This novelty product is intended solely for use as a sexual enhancing aid. Not intended for contraception/birth control or treatment of erection conditions. Use no more than 30 minutes at a time. Allow 60 minutes between additional uses. Do not fall asleep or be under the influence of alcohol or drugs while using this product. Prolonged use (without removal) may result in bruising at the base or permanent injury to the penis. Consult your physician should any complication occur and discontinue use immediately.
My, what a mouthful! I guess someone in the legal department has heard of party 'n play. I do so get a kick out of manufacturer warnings, however this is one that I think a consumer should pay heed to in the end. No one wants to mess up Mr. Happy.
As you can see below, the diameter is a mere two fingers thick and a very tight fit. This is where a partner comes in handy! It's much easier for one person to stretch the ring while the other feeds the member through. Just imagine you're threading the most erotic needle in the world. And this is where I stress LUBE! LUBE! LUBE! Use it. Make it your best friend. This material could easily drag against the skin causing microscopic tears (or worse) if you forget the lube.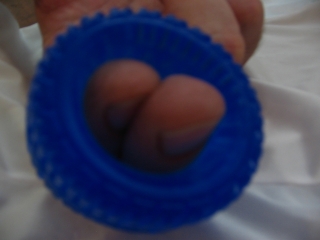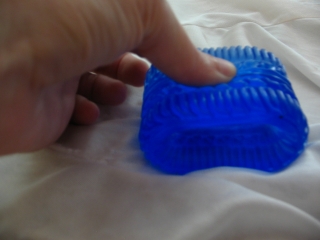 TPR is slightly porous---less than rubber, but more than silicone. It cannot be sterilized, but you can use a toy cleaner or soap of your choice to clean it. I highly recommend using a silicone based lubricant with this product. Water based lubricants dry too quickly and can become sticky. Both are fine to use, either way. Store it away from other materials, preferably in the case it arrived in. There is minimal collection of dirt/dust if left out in the open, but it could interact with other toy materials and become gummy.
Experience
Okay, so here's the skinny: It's TIGHT. Too tight, in fact. There were several moments of confusion and frustration when trying to get this ring situated at the base of the penis. It took several tries to finally get it on and the weight was noticeable. It caused the member to droop instead of stand proudly. The toy also knocks off two inches of insertable length.
However, if you're a guy who likes to use unique masturbation techniques while focusing on just the head this might very well be the ring for you. The constriction on the base makes for a very large erection on the other end, making the head and surrounding area very sensitive to touch.
I think this would be a fantastic intercourse ring if it was 1/3 of the size. This would make stretching the material much easier and the fear of not being able to get it off in an emergency situation would be much less.
Edit: September 9, 2011 - We took out the pocket knife and sliced it into three separate pieces. We have since used one of the smaller rings and it seems to be okay, but the wider piece will be more constricting. We are looking forward to testing that out and will report back on how all three pieces fared in the follow-up.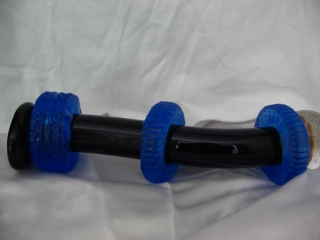 Dragster separated into three pieces and slid over the Icicles No. 17 glass dildo.
Follow-up commentary
2 months after original review
I sliced the ring into threes as you can see in the picture above and found that the middle ring, the thickest of the three, works quite well as a cock ring and is much easier to get on and off the penis than when the original product. As is, I still don't recommend a cock ring of this material and size for those of average length or girth.
This product was provided free of charge to the reviewer. This review is in compliance with the FTC guidelines.

Thank you for viewing
Rally ring enhancers dragster
– cock ring review page!