Anime? Whatever You Say.
If you and your partner are looking for a fun cock ring set, you may want to seek out one that vibrates or has raised nubs to provide some fun. If you're looking for a set that will help with erection duration, you will want something a bit sturdier if you intend for it to last.
Published:
Pros:
-I guess if you're into Anime, the package might be interesting to you
-Will Fit Anyone
Cons:
-Rings Don't Hold Up to Heavy Stretching
-Lack Additional Stimulation
Ok, so to address the obvious, these are marketed at those who enjoy anime.
I don't enjoy anime.
That being said, I don't really see what anime has to do with these two little red rings, and aside from the package there isn't anything that would relate them to anime. If you were handed just the rings, and never saw the package, you would never know they were once stored next to a very strange drawing of anime figures. So, if you are into that kind of thing you might like these a tiny bit more, but it isn't necessary to be an anime fan to use these rings.
The set includes 2 rings, designed to be worn as cock rings. They are different in texture and design, but are a similar size. The back of the package shows that the rings could be worn individually, or you could choose to wear them both at the same time. You could wear one or both of them on just the shaft, or you could opt for one on the shaft and one over your shaft and balls. One ring is a bit stretchier than the other, which gives you some flexibility of use. Of course, how you personally can use them will depend a bit on your anatomy and comfort. The material won't stretch indefinitely, so be aware that pulling these too far could result in them breaking. Also, when we used both of them on the shaft, it really limited how deep he could thrust, and was less than satisfying. These rings do provide some tension around the shaft, and will help restrict blood flow which could lead to a firmer, longer lasting erection.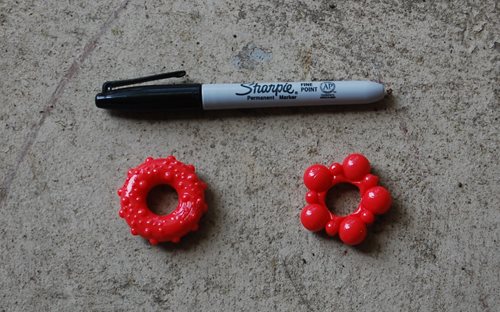 The slimmer ring consists of 5 larger balls and 5 smaller balls in an alternating pattern, which connect to form a ring. The outside diameter of the ring is 1 1/2", while the inner diameter is 5/8". This ring is fairly thin, so use caution when you stretch it to avoid breaking it. The larger balls are about 1/2" in diameter, and the smaller balls are about 1/4" in diameter.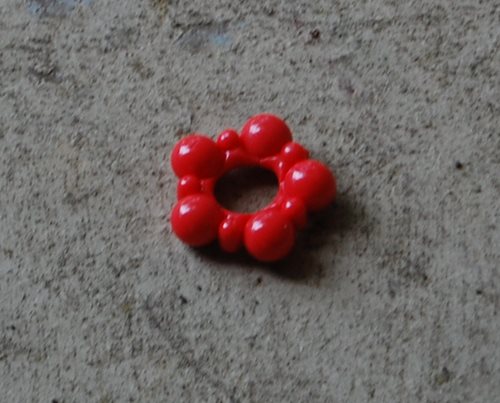 The thicker ring looks like a donut with small round sprinkles all over it. The raised nubs are tiny, and don't add any stimulation that I could feel. The outside diameter of this ring is 1 1/2", with an inside diameter of 5/8". This one can handle a bit more stretching, and seems a bit tougher.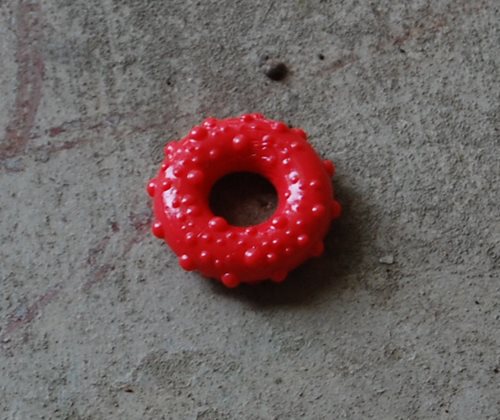 The set consists of two stretchy rings that are made of TPR, which ranks a 7 on the Eden Safety Scale. TPR is porous, so it can't be sterilized. The surface of the rings is red and shiny, with a sticky feeling to it. For basic cleaning, you can use soap and water or your favorite toy cleaner. Be aware that because they can't be sterilized and there is no good way to cover these rings with a condom, you might not want to share them. You can use water or silicone lubes with these rings, but stay away from oil based products. I would suggest storing these in a plastic bag, or the original packaging.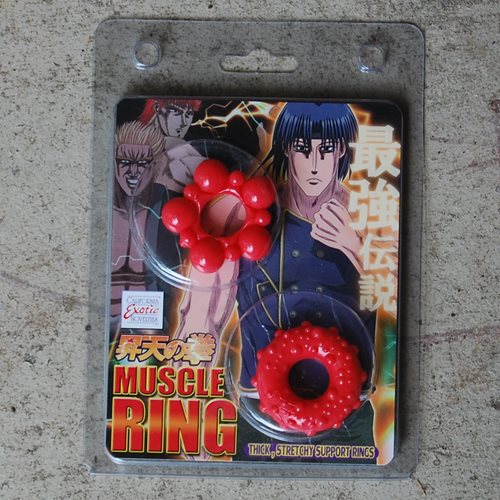 Experience
These rings are underwhelming at best. I don't know many women who ask for something that leads to less depth of penetration and no additional stimulation or vibrations. The rings do help to constrict blood flow and help keep an erection, but they aren't made to last. There are more exciting options out there.

After just two times stretching and playing with these rings, the ring with the balls snapped. We weren't being super rough with it, but admittedly I wanted to see if it could handle some play. There are so many cock ring options on the market, I'm sure that no matter why you want a cock ring, you could find one that will perform better than this set.

Admittedly, I did get a chuckle that they call these "muscle" rings. Combine that with the laughs I got over the Anime drawing, and this product may just be worth it after all.
Follow-up commentary
5 months after original review
Nope, these are no longer around. Poor construction, no stimulation and a strange back story worked against this toy. I can't recommend these.
This content is the opinion of the submitting contributor and is not endorsed by EdenFantasys.com

Thank you for viewing
Anime muscle ring
– cock ring review page!