Are YOU made from bamboo pulp? Are YOU as comfortable as the Bamboo boxers? I didn't think so.
Due to these not exceeding the comfort and fit of a cheap pair of boxers, we feel they're not worth the 17.99. They're slightly frustrating due to the legs riding up and the absent crotch hole. They do feel decent on and are sexy, but they're not much better than your $5 undies. These have nothing on the Bamboo Boxers! If you're looking for something you can wear for all activities, skip these and consider the Bamboo pair.
Published:
Pros:
Stretchy.
Revealing.
Sturdy.
Cons:
Legs ride up.
No crotch hole!
If you're looking for undies that show off your goods, but aren't exactly interested in a man-thong, these are a good choice. If you're simple desire is to reveal and have your lovie's eyes locked on your crotch, these are great! However, they're not ideal considering the Bamboo ones have so much going for them. If you can sacrifice a little snugness around the legs, butt and crotch though, I recommend the Bamboo ones instead of these. They definitely drew attention to my lovie's crotch, but these show every bit of your peter.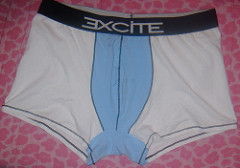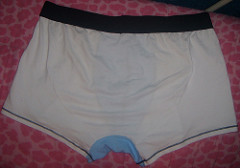 Design & Materials
The Excite Boxers are made of 95% cotton & 5% Spandex. The majority of the boxers are white and the crotch is pastel blue with black stitching. This blue panel is 5 7/16" wide. There is black stitching in the hem of the legs, on both sides of the blue crotch panel and right down the middle, where your peter is.
In the back of the waist band, right in the middle is a sturdy-looking zig zag stitch.
The waist black waist band measures almost 1 1/2" wide, and says "Excite" in white lettering. This may draw attention if your waist band shows, but they don't look like they came from a sexy store. Despite the almost stiff feeling of the band, it's comfortable and doesn't leave marks on his waist.
The waist band has a black tag with silver embroidering that says "Excite." There's also the typical "care" tag. My partner said the tags were extremely uncomfortable, so we cut them both out.
While the Bamboo Boxers are much softer, including their waist band, this one feels sturdier.
There back has what I call a "butt outline stitch." It's like a half circle stitch around the butt, which is similar to other boxers I've seen.
These are pretty basic, they look like your average boxers except for the very form fit in the crotch.
Measurements laid flat
Weight: 0.2 lbs.
Waist: right at 14 1/2"
Length: 11" long from top of waist band to leg hem.
7" of space between the legs.
Inseam: 9 1/2" from top of waist band to bottom of crotch.
Leg hole: 20"
My partner is around 6 1" and these boxers hit 7" above his knee caps! This was really short for what he's used to, but they look fine. They don't look like hot pants, but are made a bit shorter than the Bamboo Boxers and his regular boxers.
These are a size large, which are supposed to fit a 36-38, however, my partner normally wears a 34-36 and these were snug, not tight, but they're more form fitting that the Bamboo Boxers.
Caring for your Excite Undies
Unfortunately, the tag advises handwashing only. Fortunately, they did just fine in the washing machine. My partner had a remark about this hand wash only thing. He said "most men, like me don't even wash clothes until they're down to nothing, do they really think we'll bother to hand wash?" I have to agree. He's bad about not washing clothes until the very last second and having to wear them half wet. I'm the same way though. Most of my dresses and lingerie is handwash only, yet I've found ways around it. I own a pair of exercize shorts that are 95% cotton, 5% spandex and I wash them in the machine with no issue. However, we've decided we'll take the advice of a family member and put these in a pillow case next time they get washed.
Line dry. Do not wring or twist. We didn't follow the instructions to line dry either. We dried them on an air cycle, without heat and they're fine. Do so at your own risk though.
Made in China.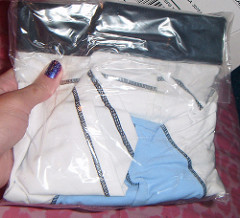 Packaging
These come packaged in a tacky tube-shaped paper box with photos of a male wearing them. A little too much in my opinion, but it can be discarded of immediately. Or you can blindfold yourself when opening. Inside the paper tube, the boxers are wrapped in plastic, as shown above. Since they have the plastic, you could ditch the icky container and gift them in another type of box/bag. It would be a much classier gift that way.
Since he already had the bamboo boxers, comparing these to a wonderfully comfortable, sexy pair of hypo-allergenic, sweat-wicking, ect. pair of boxers made from bamboo pulp, well, these then become about as equal as a pair of tighty whities. The Bamboo Pair are actually worth the price. They were made with quality in mind, these weren't made as nicely.
Experience
I expected these to be more comfortable than the Bamboo, but I'm glad I settled for the Bamboo ones first. They're better than these in both my opinion and my partner's. I'll explain his side.

First problem -- besides the easily removable tag, which I don't consider a "con" -- was after he got them on and we were admiring them, he said "crap. There's no crotch hole!" He never wears them without a pee-hole. That wasn't a huge issue after he learned that it was easy enough to stick it out the leg hole and pee that way. I offered to sew him a crotch hole. He says the leg hole will suffice since they are so short that you don't have to take them off.

We overcame that obstacle, and after an hour of play with my Sqweel 2, we got to put these to the test. They're a bad option if you wear boxers during sex! You have no crotch-hole, so you can't just pull it out. You either take them all the way off or make do and come out the leg hole. This squishes his testicles and made it tough to have sex. He said next time he won't be in such a hurry that he doesn't take them off first.

The last problem -- they ride up. Like I said, they rode up during sex. Doing vigorous moving such as exercise or a job that requires a lot of bending, they're bad about riding up the leg. I hoped these would be the opposite. He has the problem of boxers riding up with his shorts, and since these seemed more fitting, I thought they wouldn't do that, but they're actually worse about it.

Those few flaws are enough to make these not worth the price. When you can get a more comfortable pair of undies at Wal-Mart, these aren't worth it. However, if you want something comfortable on a light-work day or to sleep in, they're nice.

My partner says they're "breathable." We both loved the way they felt before putting them on, but once he got them on, since they're so tight in the crotch, I could feel a lot of heat from that area. I asked him if they were smothering him, he said no, and seemed pretty confident in his answer.

That brings me to something good about these. They show absolutely every part of his peter! I could actually see the shape and all. I said "if we look close enough, I bet we can even see your pee-hole!"

I have to admit, I like them on myself! I had to try them on for myself, as always. Besides it looking like I had a package due to the bulge in the front, they looked and felt great! They were really loose on me, but they fit enough to where they didn't fall off my hips. This brings me to the conclusion that some people, who are on the larger end of the size chart, should order up a size. I'm 90 pounds, these are size large and they fit me. When my partner first put them on, he was afraid they were too small, but they break in in only seconds, so take note!
Follow-up commentary
3 months after original review
Unfortunately, my lovie does not wear these -- at all. They were extremely uncomfortable, and after putting them on again a couple of days ago (when laundry day left him with no other choice) he was reminded (which means I was reminded) just how uncomfortable these are. Free-ballin' is a much more comfortable option, and despite the slinky material and pretty blue color, these aren't very realistic for everyday wear unless you were a guy who did prefer crotch squeezers, but I doubt any male will find these boxer briefs comfortable.
This content is the opinion of the submitting contributor and is not endorsed by EdenFantasys.com

Thank you for viewing
Classic cotton blend boxer brief
– briefs review page!