Doctor Get Me A Tourniquet
The material is good, since it is non-porous, latex free, and phthalates free. It can also be used for temperature play, and could make your erection last longer. The downsides are that this toy can be tight, kind of scary, and difficult to remove if your erection doesn't go away. I recommend it to someone that might be more experienced in rings, because you would need to know which one to buy to get the size right.
Published:
Pros:
Non-Porous, Latex Free, Phthalates Free, Temp Play
Cons:
Tight, Scary Since It's Metal and Doesn't Stretch, Difficult to Remove
Use
If you are new to cock rings, they are used to make erections last longer. This Titanmen cock ring is just your basic cock ring. It isn't going to vibrate, stretch, or stimulate your partner like some other rings do. This ring though, since it is metal, could be used for temperature play. There is a very important warning I am giving, and it is: make sure you measure yourself before ordering this ring. To me, I think metal rings are something you would have to know about. I don't think this would be a beginner ring, since it is very size particular, and if you get the wrong one it isn't going to work well like you want it to.
Material and Feel
This cock ring is made of metal. It rates a nine on the Eden scale of safety, which is very high on safety of the material. This brings up another good point: this material is latex free, non-porous, and phthalates free. As I mentioned before, this could be used for temperature play: when you heat this up it expands, then when it cools it comes back together. You're not going to notice the stretch, but it is something good to know if you do temp play.
It is very smooth all the way around and on the inside. The metal is very solid; it isn't going to dent or get crushed easily. It can be very tight, or not even fit on your penis, so make sure you measure before ordering.
Shape, Design, and Fit
This is shaped in the form of a circle. It isn't adjustable, so this isn't for all. Even if you are able to use this ring, I would say it is still going to be uncomfortable. I was able to get it on with lubricant, but it still felt uncomfortable. It is very tight; the package says it's 1.5 inches in diameter, and it's right. The only problem is, you would have to be less then 1.5 inches to use this ring without it being uncomfortable.
This ring didn't work well for me. The fit is tight around the sides, but maybe my penis is flat. It reminds me of a seal, but it doesn't completely seal. The ring is tight around most of my penis, but there is a gap at the top. I'm laughing trying to explain this, and I hope I am giving a good visual. It just doesn't suck onto my penis like a silicone toy does.
Care
It is very simple to take care of this ring, and you can do that by using a toy cleaner, wipes, or soap and water. Since it is non-porous, you don't have to worry about bacteria clinging to this ring. It can be stored in your toy box or in a bag. It just needs to be kept somewhere that it isn't going to rust, since it is metal.
Packaging
This comes in a plastic package. It isn't discreet, as the package says in bold green letters "Metal Cock Ring" on the front.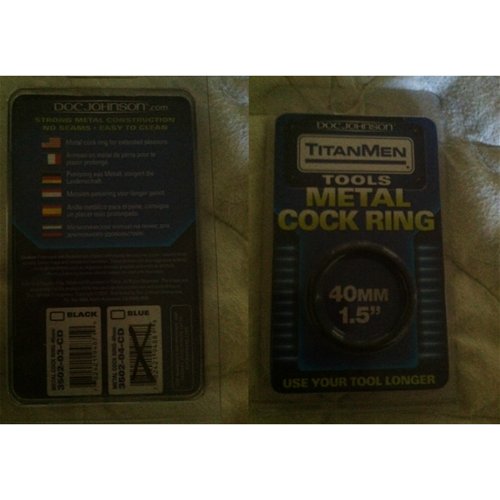 Experience
I figured I was just going to put the performance on this ring here, with the experience. I didn't have a good experience with this ring. I definitely enjoy the other rings that are made from silicone. They stretch and aren't so picky on who can use them. They also give a little, as if they have feelings about my penis. The metal in this just doesn't have any feelings. It was difficult to remove, even with my wife's juices on me and using lubricant. I was just too scared the entire time I used the ring that it was going to cut circulation off. I think metal rings are for some people, but not for me. I enjoy the more stretchable toys.
Follow-up commentary
3 months after original review
This still isn't our thing. We definitely prefer silicone. The fit on this ring is a little awkward and you must measure before ever buying. To me I just think it's easier and safer to go with something stretchy.
This product was provided free of charge to the reviewer. This review is in compliance with the FTC guidelines.

Thank you for viewing
Titanmen metal cock ring 1.5''
review page!