Enhancer is an understatement
Are you looking for a nice bulge enhancer? Well look no more, because the Bamboo Pouch Enhancer Short will definitely peak your interest. Made from 95% bamboo, this short will caress you and rub you all the right ways possible. You're going to want to collect all of the Male Power Products!
Published:
Pros:
Soft bamboo
Comfortable
Bulge enhancer
Cons:
Bulge enhancer
What is it?
This short is made by Male Power, a company that manufactures lingerie underwear. This product is advertised as a Pouch Enhancer Short. I personally wouldn't put it as a short, but more like a boxer brief lingerie piece. It's a nice snug fit all around except for the front where there's an "Enhancement Pouch" that is loose where you sit your staff member and his council in. There's no hole on the front of the short for easy access. In the end, that pouch draws the attention to your member, making it more lingerie than regular underwear. The stitching that makes up the pouch is inverted. Picture as shown: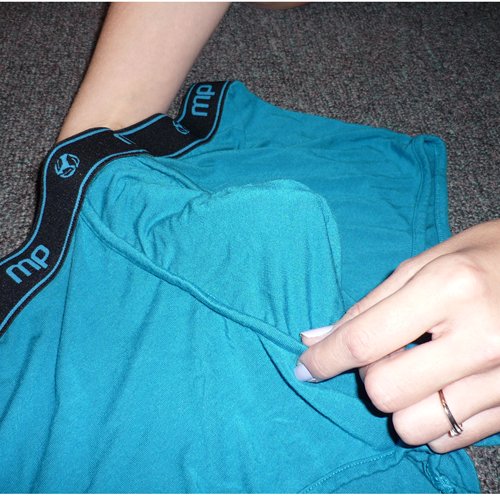 What's it made of?
The shorts are made of 95% Bamboo and 5% spandex. Bamboo is 100% naturally grown and 100% biodegradable for all you green people out there! You think bamboo, you don't really think clothes. Although bizarre, it's amazingly soft, smooth and luxurious. When I have them on, all I want to do is pet myself; the material is just that soft. It's a breathable material that'll keep you dry and comfortable. It's ideal for sensitive or allergy prone skin. I've never had a problem with itchiness or chaffing. Bamboo also has antibacterial properties. Cool, right?
How's the fit?
The sizes that are offered for these are as follow:
Sm = size 28-30
Med = size 32-34
Lg = size 36-38
XL = size 40-42
Mine are the extra large and the fit is perfect for me. I feel super comfortable in them. I've worn them all day and I never had a problem with them riding or bothering me otherwise. I normally wear size 38 pants. I ordered the XL size because I have a larger bum and I figured that I would need a bigger size to be able to fit in the short comfortably. This was a wise choice for me. The waist band doesn't cut me at all and the thigh bands does not cut me at all either. As my fit resolution may be confusing to others, I measured around my waist where the band sits. I measure 43 1/2" and I would say this is about the limit for the size XL. Anyone larger than that may feel like the waist band is a bit too tight.
Let it be known that the material shows everything - and I mean
everything
. It clings to every nook and crack, hinting at the goodies inside in great detail. This, without feeling like it's clinging to the skin. It clings in a good way.
What's the quality like?
Upon close inspection of the shorts, I didn't find any loose threads or seams. Everything seems to be well constructed and proportioned. The stitching is strong and sturdy. I've got a pretty big bum and they haven't ripped on me yet. With normal daily wear, my underwear doesn't usually last long before they rip. These seem to be holding up very well so far.
How do you take care of it?
This is an easy item to care of. You can simply store them in your underwear drawer as you would all your other underwear. You could also store them in the packaging it comes with but it could be inconvenient. To wash it; Machine Cold Wash, No Bleach, Tumble Dry Cold, Remove Promptly, Wash Dark Colors Separately. We all can admit it though, we don't always follows the instructions to a T. I tumble dried on high and washed them with my dark clothes and they're none the worse for the wear. I've washed them about 4-5 times and they're in the same condition as the day I got them.
What's it packaged in?
The shorts come packaged in a rectangular cardboard shaped box. On the front, there's a topless man wearing the shorts with Bamboo Pouch Enhancer Short written underneath. On the back we have another topless man wearing the
lounge pants
by Male Power. We can also find information on the bamboo, how to wash it and the advantages of bamboo. On the bottom of the box are listed all the sizes that are available for the shorts. I believe that this packaging can be considered as elegant. No one would feel awkward giving this as a gift.
Experience
What are my final thoughts on them?
I personally love these. I'm used to wearing looser boxers where I'm free to roam. When I first put the shorts on, I suddenly felt horny. I was more aware of my nether region and the soft bamboo on my skin felt great. I will definitely be buying more pairs of these (along with other products in the line.)
Their only downfall, in my opinion, is that I only feel comfortable wearing them around the house. I tried them on with shorts and pants but then I look down and my bulge is just out there for everyone to see. Maybe it's just me but I don't feel comfortable having it out there like that in public. So they will remain at home for my girl's eyes only.
The photo below shows me in my jeans with my old everyday boxers.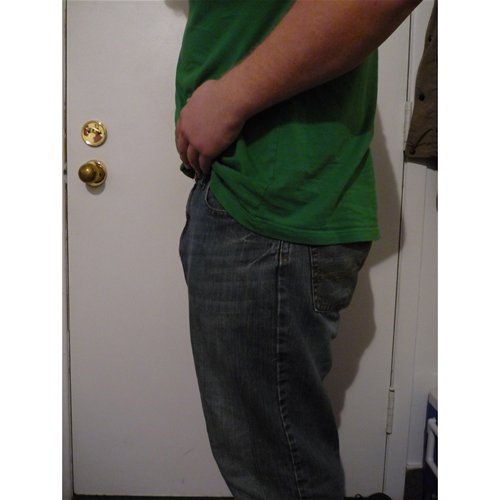 This next one is of me wearing the Male Power enhancer short under my jeans.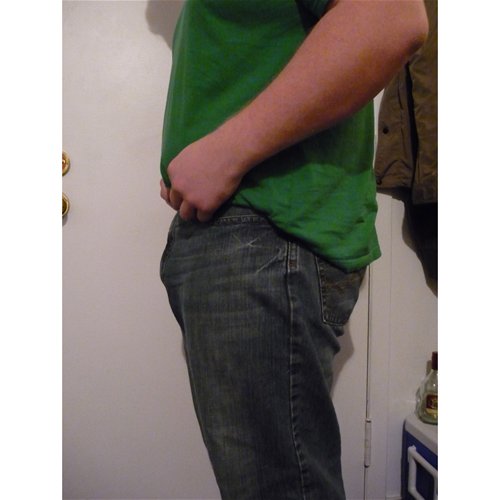 Definitely enhanced!
This product was provided free of charge to the reviewer. This review is in compliance with the FTC guidelines.

Thank you for viewing
Bamboo pouch enhancer short
– shorts review page!