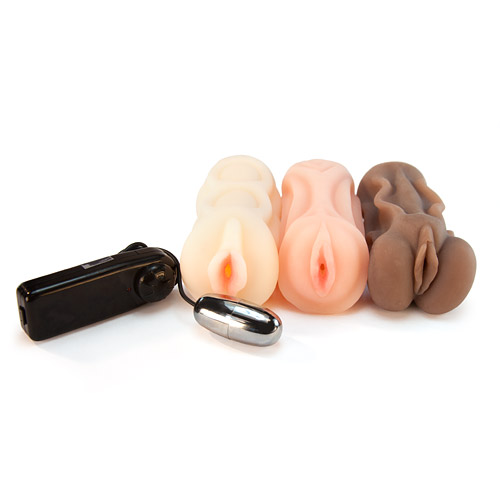 Trio masturbator kit
Vibrating pocket pussy
by EdenFantasys
Exotic Ladies
Three girls. Decisions decisions. Each girl has her own unique qualities. Yet in the end they all gave me a mind-blowing orgasm, with or without the vibrations of the egg. Toes curling, it was hard not to gasp out when it hit me. A 3D pussy is certainly better than anything 2D, and as far as my experience goes, these pussies are better than any masturbator I have yet to come across.
Published:
Pros
*Very lifelike and realistic to touch, feels great inside.
Cons
*Difficult to stick the egg in and remove
*Egg shifts the way you grasp the toy
My first thought of this toy was that it was angling for the fantasy of different women. In the upper left you can read "The United Nations Lover". That sums it up fairly well. One African girl, one Oriental girl, and one European girl. All at your pleasure.

Inside, the toys rest comfortably in a plastic shell. Each masturbator is in its own plastic bag, though the control and vibrating egg are merely stuffed above them. One important thing to note, the control knob is reversed. Before putting the batteries in (a pair of AA), make sure you turn the knob as far RIGHT as it will go. In this case, RIGHT is off, and LEFT turns up the intensity.

Sadly, the egg does not have any sort of vibrating patterns or things you see in most vibrators nowadays. Instead, you turn the dial to the left to increase the vibration power. It does get rather intense at the highest levels, however. So it's not a total loss.

So, you've picked out your exotic beauty for the evening, and it's time to play with her. If you like, you can stick the egg into an optional hole, near the breather hole at the back of the toy. It can be difficult to insert this egg into the tiny hole. Some lube may help, but you can get it in without that. Too much lube, on the other hand, and the egg might just pop out during your play. Total mood killer.

As for the type of lube you use, I highly recommend water-based. They aren't made of silicone, however if you do keep some silicone toys on hand, you might accidentally use the wrong lube. It's easier to stick to a single type. At least that is my preference.

Pleasantly, these masturbators don't have the strong smell some of the cheaper ones do. Which can really stink when they are kept in an enclosed space for too long. And they don't have any sort of taste that I can tell either, after licking across a part of it to help get it slippery.

A couple could find this set very worthwhile.

A woman can take control of the egg, teasing the strength of vibration up and down at random, while sliding the toy up and down her partner's shaft. If you are wondering, the control can be used with a single hand, though it will need to be braced against your leg or something suitable, while your fingers work the knob. This can even go into the range of threesome usages, with two partners working the toy and control, while the third lies back and tries to restrain himself.

One thing I disliked was the egg, having only a wire running in one end. I would have liked to see a thicker piece of rubber attached around the wire. To be yanking on the wire seems like eventually it will ruin the egg. One other caution I will give is about inserting the egg in yourself. It may be tempting, but don't do it. At least not by itself.

A bit of lube on a condom, stick the egg in, and you can pull it out easily while keeping fluids away from it. Then a couple could have one partner with the egg inside, stroking the other, who controlled the egg.

So now for a bit of cleaning and safety. The masturbators are made of TPR, which gets a 7/10 on the safety scale. Not bad, could be better. But certainly not as worse as some items you can get. If you are going to share, wear a condom when sliding into your girl.

To clean, use water and mild soap, or with toy cleaner. I like to stick mine up to a faucet first, and use the flow to flush out the fluids inside. Then a little soap on the finger to work it around inside. It is TPR, so don't even try boiling water. You are wasting your time.
Experience
My experience, well it has been a while since I used a masturbator. Yet I can never remember any of the ones I reviewed in the past knocking me on my ass like this one has. I'm very satisfied with it, apart from a few deficiencies. I tested each out over the course of a day and a half. With positive results.

Using the egg inside, you have to grip it lower on your shaft. The vibrations tended to numb around my cockhead. This had the effect of making the masturbation session last longer. At one point, with the brown one, I felt the head get extremely sensitive, as if I had orgasmed. Which I hadn't. This did lead to a bit of slowing down, to allow the very intense feelings to subside enough that I could amp things up again.

This may be a simple product of the egg. I left this out on the second test run, and I found that it was more pleasurable at the methods I was accustomed to. So it is really a matter of personal preference whether you use the egg or not.

If you enjoy anal, though I haven't tried it yet. Using a condom to protect the egg, you could insert it while you were using your masturbator. With the intensity of the vibrations, it should definitely increase the arousal factor. Of course you could always nestled it beneath your balls.

In all, my only disappointment with the toy was the insertion of the egg into the toy, as well as its retrieval. But still, I think this kit very must is worth a 5/5.
This product was provided free of charge to the reviewer. This review is in compliance with the FTC guidelines.
Thank you for viewing
Trio masturbator kit
– sex toy review page!