Fishnet? Well I was reeled in!
This is a great example of a product that looks nice in pictures but is really nothing special in real life. Save yourself the trouble (and expense) and buy a $5 pair of trunks from Wal-Mart or Target instead.
Published:
Pros:
Nice front & rear panel material; Fairly comfortable
Cons:
Sides are just string; Leaves marks on body; Poor Quality Control; Expensive
After the relative success of my last few male underwear reviews, I had pretty high hopes for Fantasy Lingerie's Fishnet Side Panel Brief. I'm sorry to say that this time I'm disappointed.
The shorts came in their standard packaging for the Excite line. As I've said in other reviews, it's nice enough and gives the outward impression that this is pretty good underwear. It's the same muscular guy as the other boxes only this time with the Side Panel Briefs Photoshopped onto him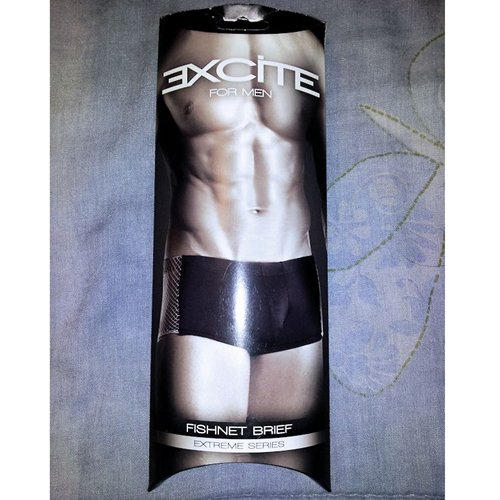 Unfortunately the packing is the most Exciting part of this underwear...
The labelling is a little more discreet than my previous pair, which had the logo emblazoned across the front of the waistband. I think I'd rather have it there again though, since the Excite label that's sewn into the back of these is extremely itchy. If it weren't for the fact that I almost certainly won't wear these again then I'd cut it out.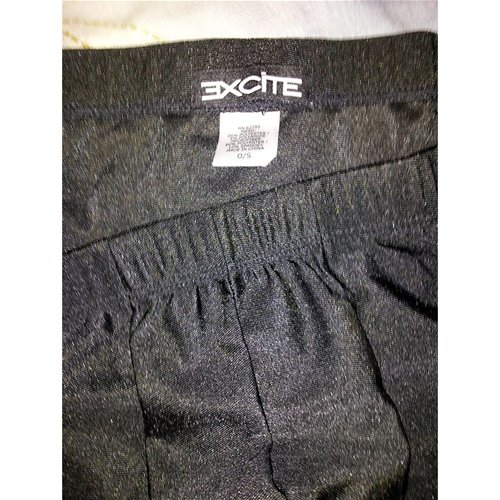 Get thee from behind me, Satanic label!
I realised as soon as I opened the package that this wasn't going to go well. I'll show you a pic and see if you can guess why before I tell you: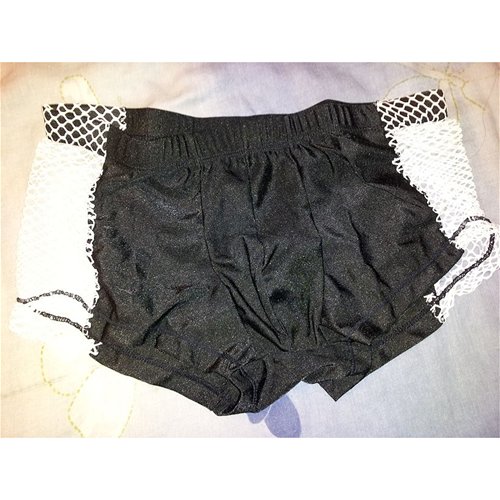 Well the front's great. Can we have some underwear using just that material please?
Actually the problem's not really obvious from the pic. What I don't like about these is the side panelling. I was expecting something soft. Something with a little stretch. Something a bit sexy. What I got was two panels cut out from somebody's Grandfather's string vest. This wasn't the fishnet I was expecting, this is white string, plain and simple. No elasticity, no give, not even particularly nice to look at. In fact at this moment in time, the only two good things I can think of about the side string are:
1. It holds the front and back panels together; and
2. It'd be great for Bear Grylls to wear if he needs to whip his underwear off to make a raft or a snare on a deserted island. Or even catch fish - but they'd have to be big ones or else they're going to get out of the badly stitched netting.
I don't want to be too harsh on these (don't you just know that someone's dying to be harsh when they say something like that?) but I can't help it. Again, the advertising led me to think that these would be nice and sexy when the reality is that they're nothing to write home about. Granted, the material in the two front panels is actually nice. The label says it's:
95% Polyester
5% Polyamide Microfiber
Rather than being plain black, the material has what can only be described as a sparkle to it. It's not garish or stage-worthy, instead it sort of reminds me of the way that beach sand has a sparkle to it. It looks nice, especially with these being black and feels quite nice too, with a soft & shiny quality. I have to be honest though and say that the product's picture made me think these were going to have more of a brushed cotton look and feel to them and that's not the case at all.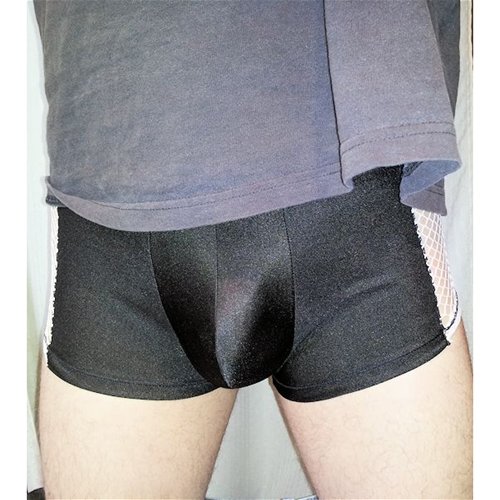 For those who are interested, the care label states that these should be Hand Washed Cold with other darks and to Line Dry/Do Not Wring. Personally I think your biggest worry when washing these is going to be getting the 'fishnet' string all soggy.
Speaking of the string, here's my quality control issue (at least, I hope it's a QC issue and not that these are all just made badly):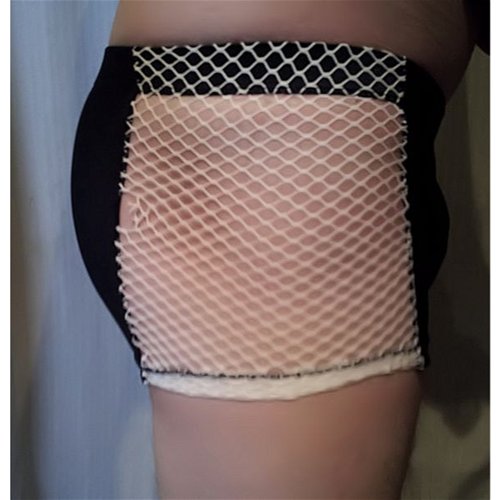 There's a hole in my boxers, Dear Liza, Dear Liza...
Note that this wasn't something that happened when I put the shorts on, they arrived that way. There are one or two other little spots like that, but this one's the worst of them. I really can't imagine these holding up to much wear at all, and I'm just glad I wasn't planning on wearing these for a night of fun with my wife since I'm sure her eyes would have been constantly looking at that hole in the string rather than anywhere else. It's a shame though, because rather than looking sexy, the combination of what I can only describe as camping string and the bad stitching makes the sides of this underwear look a little scruffy.
Experience
I'm a sucker for sexy underwear. I'm not averse to wearing sexy panties and have a reasonable collection of sexy male underwear too. But this could be the first time I've added some sexy undies to my top drawer with the knowledge that I'll probably never wear them again. They're a bit too nice to use as a duster but I've had sexier and cheaper underwear at a fraction of the price of these. I could possibly overlook the quality control issue if they were worth repairing, but even if I found a way of mending the sides I'd still be left with underwear that scratches my lower back and leaves diamond-shaped imprints on my body after just 10 minutes! Bear in mind that these are One Size fits all (which Fantasy Lingerie themselves say is 32"-36") and I definitely fit into the low end of that category, being a 32"-33" waist. For that reason, I really don't think I should have been getting marks like this.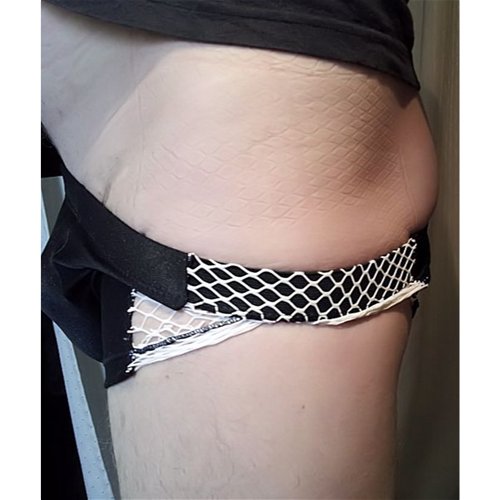 Diamonds are forever. Thankfully these disappeared after half an hour.
I've given these 2 stars since they're not horrible, they're just disappointing. In fact if it weren't for the sparkly front and rear material that does feel nice and clingy, this would be a 1 star review.
Follow-up commentary
2 months after original review
I think this is the only underwear I own that I've only worn once. I really can't see any particular use for them - if I'm rummaging through my top drawer looking for a comfortable pair these get pushed aside. If I'm looking for a sexy pair they get pushed aside too. These have really become the underwear equivalent of that really old tattered pair of jeans you wear when you want to work around the house and don't care if they get ruined more. The only problem is that you can't just wear underwear to work around the house. All in all I'd skip these and buy something either more practical or sexier, and thankfully EF are starting to offer more of both.
This product was provided free of charge to the reviewer. This review is in compliance with the FTC guidelines.

Thank you for viewing
Fishnet side panel brief
– briefs review page!