I Guess I'm Not Ticklish!
These French Ticklers are a waste of time and money. They are made from terrible materials that feel and smell horrible. That would be acceptable if it was at least stimulating, but it was uncomfortable and didn't do anything but rub me the wrong way. Thankfully it was inexpensive, otherwise I would be even more disappointed in this product.
Published:
Pros:
- Cheap
- Fun Colors
Cons:
- Poor Quality
- Porous Materials
- Horrible Smell
- Uncomfortable
Use
Assorted French Ticklers from Cal Exotics are thin, condom-like sleeves with textured tips that can be put on the penis or over toys to help add stimulation to the female during penetration. This toy isn't designed to stimulate the one wearing it, but might help eliminate premature ejaculation since it adds a layer over the penis that might decrease sensitivity.
This product is nearly useless for a man to use during solo sessions, but women can use use this toy without a partner by placing it over a dildo or vibrator. The tip of the sleeve adds extra texture and can be used internally, or rubbed against the clitoris and other erogenous areas of the body.
Though the sleeve resembles a condom, it should not replace one. The hanger on the packaging clearly states that it's recommended you use a condom along with this sleeve. Additionally, since the quality of this toy is so low, it shouldn't be used for anal sex since the tickler could become detached from sleeve, resulting in an embarrassing trip to the ER.
Material / Texture
This toy is made from two material types;
latex
and
rubber
. Both of these materials are rated below a 5 on the Eden Material Safety Scale and are both porous. Because of this, sharing is highly discouraged and those with latex allergies need to avoid this product.
Each of the assorted ticklers have the same latex sleeve, but all have different textures to the top. When you order your toy, they randomly select which one you'll receive. The one I received has five spiked pieces coming from the top of it; one in the center, and four around the edge. There are also eight little circular nubs around the circumference of the base. The material is soft toward the bottom of the tickler, but firm, and unforgiving in the 'spikes' themselves; making the texture quite uncomfortable. This texture is best used externally since it can feel a little like it's poking into your vaginal walls.

The sleeve itself has a weird texture to it. It's very stretchy and smooth, but has a lot of drag to it thanks to the powder that's coating it. It's difficult to unroll and put in place and feels like it skids against your skin rather than going over it smoothly. The drag doesn't pick up dust and lint, but it can cause discomfort. It's also a very thin material, similar to a condom, only doesn't feel as though it would be as durable as one; it doesn't seem like it would take much for this to tear.
When first opening the package, you're instantly overpowered by the scent of this item. Latex smells on its own, as does rubber, you add the two together and it's quite a potent combination.
Design / Shape / Size
These ticklers were available in a variety of colors, each having a different texture to them. There was no way of choosing which one you would receive. I received an attractive blue one, but lots of other colors were available including orange, yellow, pink, and green.
The 'tickler' is attached to the top of the closed ended sleeve and is rolled up like a condom when it arrives. It has a powder coating on it that feels horrible to the touch and lingers on your hands after you've touched it. While it's rolled up, you place the top on the end of an erect penis, vibrator, or dildo and roll the sleeve down.

Because the material is so stretchy, it should fit just about any penis size other than those that are considerably above average. The full length of the toy is 8 1/4" and the sleeve itself from the base of the tickler to the bottom is 6 1/2" long. Unstretched, it's 2 1/16" wide but should stretch to fit just about anyone.

This item is rather compact and easy to hide, but if someone were to find it and pick it up, it would be obvious what it is and what it's used for.
Care and Maintenance
Nothing is mentioned about this toy being reusable. If you're interested in using it more than once, I would carefully wash it with antibacterial soap and warm water or a sex toy cleaner, and allow it to dry well before storing it. I would imagine it's very difficult to clean out well if you or your partner had an orgasm while wearing it, so it might be best to say that this is a one time use item.
The materials are compatible with both water-based and silicone-based lubricants and there are no concerns about storing near other material types.
Experience
Packaging
This product arrives in a simple plastic bag that's attached to a cardboard hanger with staples. The bag is clear with the toy in full view, and the cardboard hanger has an image of a nude woman laying down with her breasts exposed, the back of the hanger has the same image and information, only a sticker with additional information is also found there. The image and text look severely outdated, making this feel like an even cheaper product. Nothing about the packaging is discreet and isn't tasteful in the slightest. This wouldn't make a nice gift unless you were looking for a gag to embarrass a friend of yours.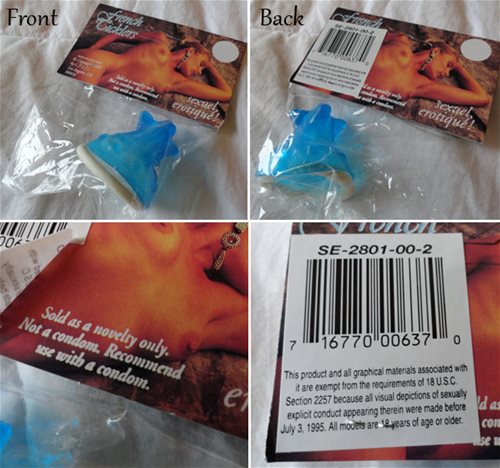 Experience
I bought this item on a whim when it was on a super sale. I figured that since it was so inexpensive it wouldn't be a big deal if it didn't work out for us. I opened it up and showed my husband, he took one look at it and said there was no way he was going to use it. I didn't blame him. The scent paired with the feel of it; I wasn't sure I wanted to or not. I gave it a shot anyway, put it on a dildo and gave it a go. I should have tossed it! It was uncomfortable, didn't stimulate anything, and was a horrible experience. This is probably the worst item I've received from Eden and I'm not surprised it was discontinued. Be glad you didn't snag this one, it wasn't worth it at all.
Follow-up commentary
2 months after original review
This was easily one of the worst items I have purchased from Eden! I'm glad to see they're no longer carried, 'cause I would hate for someone to have the horrible experience I did. This stupid thing was thrown away long ago. At least I know now that 'french ticklers' aren't for me.
This content is the opinion of the submitting contributor and is not endorsed by EdenFantasys.com

Thank you for viewing
Assorted french ticklers
review page!