I'm here to *clap* pump YOU up!
Simple, easy to use and very effective as a pump. The quality of the components is quite nice and if taken care of properly should last for a really long time. Ladies, if you're looking for a pussy pump this is definitely something you should add to your collection. Well-endowed men should skip this and stick to cock rings.
Published:
Pros:
Great pussy/nipple pump
Easy to Use
Love that its clear
Cons:
Not for well-endowed men.
The So Pumped with Sleeve cock pump is made by Doc Johnson and consists of three pieces - the pump chamber, an air hose, and a TPR sleeve with nodules inside. This product is designed to promote longer, stronger erections by increasing the blood flow to the penis. Cock pumps provide a few moments of increased girth or length to the member but it is only temporary and the effects disappear after twenty-four hours. The same rules apply with a cock pump as with cock rings - do not use for longer than twenty minutes at a time, do not over stimulate the area while engorged as you may create minute tears in the skin that are uncomfortable once the swelling goes down.
The pump arrives in a clamshell case, it is easy to open and there is an overwhelming chemical smell at first. This is coming from the hose itself and not from the plastic chamber or the TPR sleeve (though that kinda smells, too). It's not nearly as unpleasant (in my opinion) as the UR3 or cyberskin materials out there. The sleeve is inside the chamber and needs to be removed for the first cleaning. And this is where Stormy and her husband failed an IQ test - to get the sleeve back into the pump you
must
use cornstarch. Or else you will spend the entire day fumbling around trying to get the damn thing back into the pump, only to end up wanting to throw it off the roof instead due to to the sheer amount of frustration. If you don't use cornstarch, it just sticks to the inside of the tube and won't go any further up the chamber. Cornstarch. Don't forget the cornstarch. I'm going to say it one more time - if you buy this pump and want to use the sleeve, you must have cornstarch! That is all. (But don't go crazy with it, just a very very light dusting, like one would dust the bottom of a cake pan with flour prior to baking.)
No, that's not all, actually. The sleeve fits snugly around the opening of the chamber and provides texture for additional stimulation while you are pumping. The chamber is 7 3/4" deep and 2 1/4" wide. This cock pump is not meant for well-endowed men, anyone who is over 6.5 inches is going to have disappointing results.
Why is that?
Because, in order for a pump to do its job it needs space in the chamber to create the vacuum. If you're already taking up a lot of space in the chamber, with or without the sleeve, there isn't enough space to do that so it just feels like something is sucking on your penis but it isn't going to provide any of the touted benefits - enlargement, longer, stronger, harder...etc.
So, what's the good news? This is a
fantastic pussy pump
. Seriously. It's also a great nipple pump and can be used for those who are into cupping, but make sure you know what you're doing. There are many areas of the body that are sensitive to pressure and engorgement, don't go buck wild if you haven't any experience.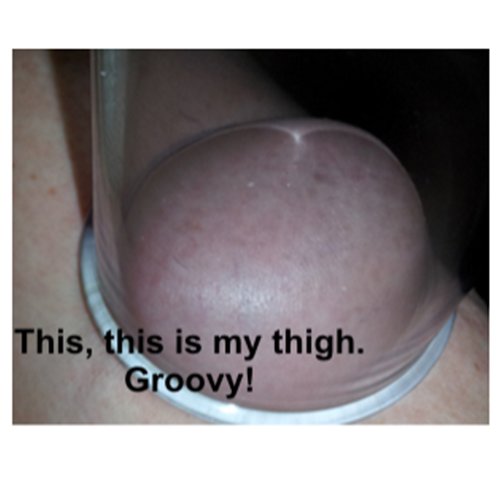 See? I'll let your imagination run wild on what it can do to vaginas and breasts. One thing you should be aware of, this is not a painless activity. The plastic chamber is very stiff and it is completely unforgiving; it's plastic you know? This will cause discomfort to the pubic bone and there is no way around it. I line the inside of the chamber with a little bit of lube and squeeze the bulb slowly to increase the vacuum. Doing it quickly will cause one of two things to happen - a bunch of pain or the skin will move so quickly that the suction is completely lost.
Ok so cleaning. The chamber itself is a breeze, the hose on the other hand is a bit trickier. Water down some isopropyl rubbing alcohol and let it run through the hose a few times in the event ejaculate or lube gets into it. You do not want this thing to mildew on you. After you've done that, let all of the pieces lie around in a place where they will get a lot of air flow and wait about 24 to 48 hours before you put them back together.
If you're using it as a pussy pump, you won't have to go through all of that and you can just wipe out the chamber and be done. The sleeve should be cleaned with s mild soap and water and then wiped down with a lint -free cloth.
Experience
Hubby: Not impressed with it as a cock pump, but I love the effects as a pussy pump.

Me: Oh my god, I fucking love this thing so much. The biggest problem with the traditional shallow oval style of pussy pumps is that it's really hard to get any kind of seal with them. You get a little bit of engorgement but not enough to really feel like it's a success. Always a disappointment, and the hole at the top allows for all of those womanly juices to flow into the air hose and it just makes a huge mess when trying to clean it and there's potential for mildew to form inside which is the most disgusting thing I've ever seen.

I can place this directly over my clit or a little lower and was even able to have an orgasm while using it. I just have to make sure I support the chamber with one hand while pumping with the other or else the weight gets to be a bit bothersome. I can keep it on there for about three or four minutes until I need to stop and then I go three or four more rounds to get my desired results. It lasts for about six to seven hours and I feel a little sore the next couple of days but nothing that would stop me from engaging in sex.
Follow-up commentary
2 months after original review
I tossed the sleeve. I use this maybe two or three times a week as described in the original review. Since there are no fluids entering the hose, I don't have to worry about cleaning it. Win!
This product was provided free of charge to the reviewer. This review is in compliance with the FTC guidelines.

Thank you for viewing
So Pumped with sleeve
– penis pump review page!