Is His Favorite Color Purple?
This cock ring may not be the kind of thing every man likes, because of its purple coloring and the heart attached (for clitoral stimulation). And he may be so frustrated trying to get it out of the box that he gives up. And that it's made of TPR may deter him, or that the ring for the penis looks like it will be too tight. But this cock ring duo is a great purchase and I do recommend trying it out. Its not too tight or uncomfortable, and I'm sure most users will like this as much as we do.
Published:
Pros:
-Tight-fitting but not uncomfortable, should fit most users and couples' needs
-I like the color
Cons:
-Purple may not be every man's favorite color
-Box is super hard to get open, minimal info
We were both nervous about using this cock ring, but after looking at it in its tiny clam shell box for a while, and horny already, we decided, what the heck? Let's try it out. He was unsure at first how to use it but luckily as I had done my research on things like this and on this product itself (its product page), I had a pretty good idea of what to do once we decided to give it a go. We were both anxious about it, but as he's becoming more and more open to my sex toy reviewing and the new accessories I try out on a regular basis, he took it out of the case as soon as I was able to cut around it. I had to cut around the case, meaning the edges of the entire case, thus removing the sealed ends of the clear plastic clam shell packaging, which took a while. The packaging was minimal, and very hard to get open (it took me a long time to cut around the edges and I almost cut myself doing it), but the cock ring did look nicely displayed inside the case, and the packaging also makes good storage if you can keep it intact enough in between uses and cleanings.
He asked me how he was supposed to wear this, since it has two rings, and I just repeated what I had seen on the product page. Thank goodness for the dildo displayed in the page's images that show how this double cock ring is supposed to be worn! When we had conferred a bit about how the smaller, thicker ring went around the base of his shaft and the larger, thinner ring wrapped underneath his balls, that's how he put it on. It was easier to slip on than we had thought, first assuming that the larger "ball(s)" ring went on first before the "shaft" ring, as both can go on simultaneously or the order that the wearer prefers. One doesn't necessarily have to go on before the other, and though this cock ring is meant to go on both the testicles and the shaft, you don't have to put it on one or the other if you aren't comfortable.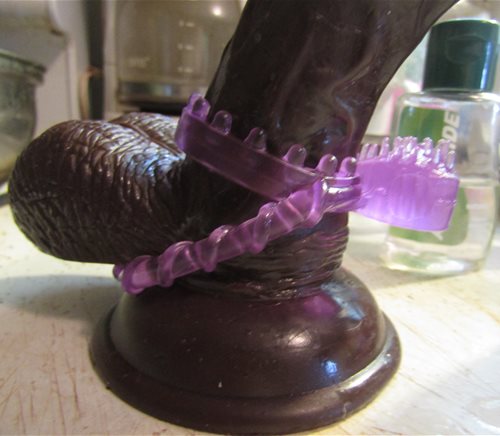 I wondered if maybe he felt a bit emasculated, the cock ring being a light stretchy purple, with a textured "heart" that ended up on the top side of the base of his penis (meant to stimulate my clitoris). He didn't seem to mind the color of this or the slightly feminine look of it, but instead commented on how much harder it made him and how prominent the veins were in his shaft. This man is so mature when it comes to sex toys, and I was glad that the whimsical look of this double cock ring did not deter him at all. And my, it was a sight to make me hot! His balls looked like they were snug and tight inside/through the larger twisted ring, and his shaft was hard as a rock, swollen and filled with blood that was prevented from escaping, leaving him more erect than usual. Though a simple accessory, a cock ring can certainly make things very intense. We found this to be proven true, and enjoyed every moment of our sexual experience together. He lasted slightly longer, felt slightly harder, and his balls, closer to the shaft of his penis (held up by the cock ring), hit nicely against my body during our sex together. I loved it, and so did he. If anything, instead of feeling emasculated, he felt exactly the opposite. I think the cock ring(s) boosted his confidence as he was able to see the effect it had on his body, and his sex appeal. And I must say, seeing him gain confidence because of this, turned me on even more.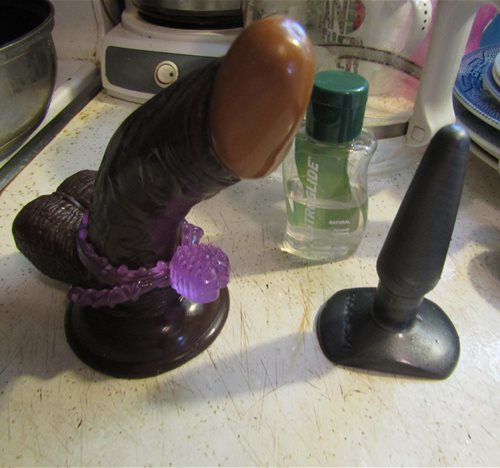 The Doo Double Loops cock ring is made of TPR (rubber/thermoplastic), a jelly-like material, which I always complain isn't the safest of sex toy materials, but the good thing is that for men, their sex organs are on the outside of their body, leaving them easier to take care of and less prone to infection from sex toys (at least from my personal experience). TPR may harbor bacteria in general (I will not buy a TPR or jelly dildo, though they are different materials, I prefer neither of them, but instead pure silicone or glass), but for men, there is less of a likelihood of an infection breaking out. Besides, if you ever fear something like that from a cock ring made of a material like this, it's always easy enough to simply throw it away.
Experience
I know that the cock ring here is purple, and it features a textured heart - both things that make it (again) a bit girly and feminine, but they arent so bad considering. Some men may not prefer a cock ring that has these features, and others may think them neat or really like them. It all depends on the user/couple I think.
As far as lubes, silicone and water-based lubricants are the safest to use with this toy. To be safe, my man and I always use water-based lubes on everything we own. Now if we felt like screwing in the shower, silicone may be the lube to choose because it won't wash off so easily, but we don't end up doing it in the shower too often, so we don't need to worry about that so much. It's easier to just use our same bottle of water-based lube for everything.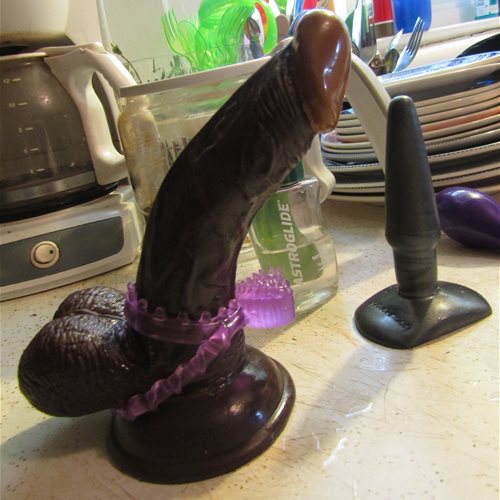 I am glad that we will never be able to say that we missed out on an experience like this. The cock ring was tight and it did its job. I was curious about whether it made him uncomfortable, considering how tight it was around the base of his shaft, but it didn't seem to bother him at all (no part of it did, I don't think). With an unstretched diameter of 1 3/4" (for the larger ring which goes around the balls) and 3/4" (for the smaller ring that goes around the shaft), this cock ring duo appears in the package to be smaller than it should be, making it look like it would be too tight to be a comfortable fit. I especially thought this of the ring that goes around the base of the shaft of the penis, especially with its added thickness. But nope! We had no problems. This easily stretches to fit around the penis, and no user should have a problem with it, no matter their cock's diameter or length. I would also think there shouldn't be any worries about the ring that goes around the testicles. My man seemed to have no problems with this set being comfortable at all, and for that I was glad.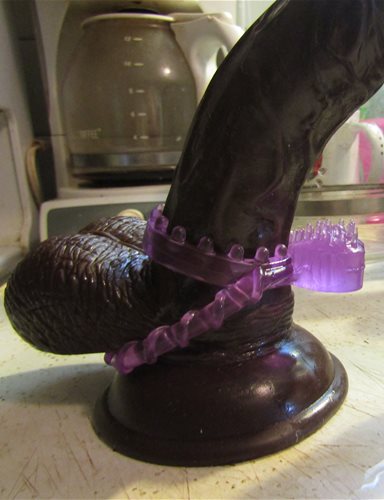 Note: I received this cock ring as part of a free gift promotion from EF. At the time, it was "Get 5 free gifts with any order," which was a great deal. I love free gifts! My 5 free gifts included this Doo Double Loops dual cock ring, the EF Warm Heart Massager, Eden Velvet G vibrator, Eden Love Dice, and a small pack of EF all-purpose wet wipes.
This content is the opinion of the submitting contributor and is not endorsed by EdenFantasys.com

Thank you for viewing
Doo double loops
– cock ring review page!