It Glows!!!
I like the sleeves with their textures and the decreased sensations for the wearer. It prolongs our love making sessions. This sleeve is sturdy and performs much better than most. The textures are an extra added bonus for me.
Published:
Pros:
Silicone
Decreases sensations
Glows in the Dark
Textures
Cons:
Attracts lots of lint and hair
Decreases sensations
Glow in the Dark Silicone Penis Extension from Pipedreams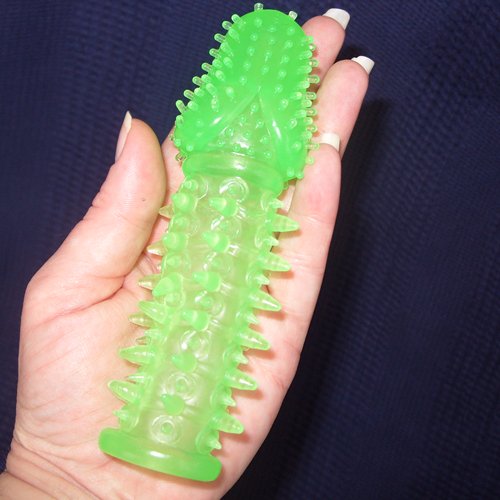 Uses
This little thing is a great penis extension/sleeve. It adds 1 ¼ inches to your man or your toys. So it can be used alone or while making love. I use it only vaginally. I have added this and other sleeves to glass toys to give them texture and it works very well. It adds an additional 1 ¼ inch to any toy or man. Sometimes, you just need an extra inch! This sleeve actually does glow in the dark after I exposed it to the bathroom lights for approximately ½ hour while I was in the shower.
Material/Texture
This baby has all kinds of nubs up the shaft and on the head. On the packaging they are called "Thrill nodules". They are soft and flexible but do add texture. I really like the textures. The Silicone sleeve has an Eden safety rating of 10. It is taste less and there is no scent to the toy. It does attract lint and hair. It is latex free, hypoallergenic and phthalates free.
Shape/Size
This sleeve is approximately 5 1/4 inches long, adds 1 1/4inches to what ever you put it on, it has a diameter of 2 inches. The material thickness is ¼ inch. It will fit penises and toys with a girth of up to 7 1/2inches. It does cause decreased sensations for the wearer because of the material thickness, but since this prolongs my love making sessions I don't have a problem with that.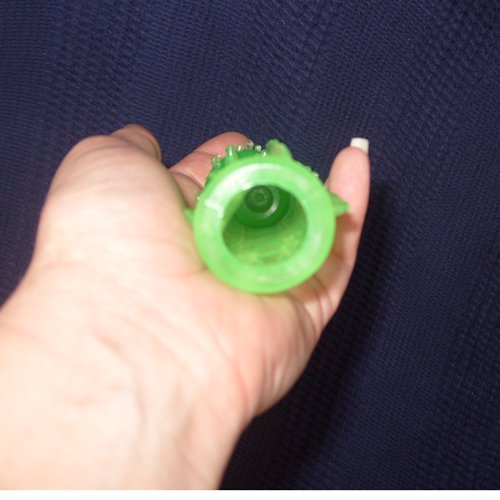 Performance
This sleeve takes some practice to get on. Do not use lube before placing it or there is no way that it will stay on. It is best to treat it like a sock, try to roll up the outer edges and stretch it with both hands, once you have it fully opened, place the extension portion right on the head and slowly release while moving in a down ward motion to the base. It can be painful for the wearer if you put fingernails under the ends trying to get it on better, it is just better to take it off and start over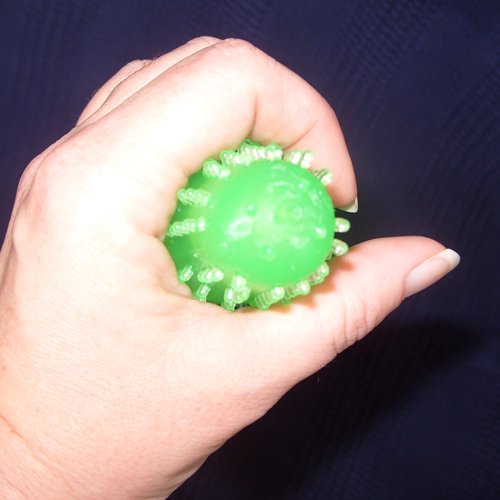 Care/Maintenance
This sleeve cleans easily with before and after toy spray, antibacterial soap and water. I rinse it thoroughly. I then lay it on a tower to dry. Be sure to store away form other silicones as to not ruin their finish. Only use water based lubes for this one and be sure to only use it on the outside of the sleeve not on the inside or it doesn't want to stay on then.
Packaging
It comes on a cardboard piece with clear plastic over the top. I has a picture of the extension glowing on it and general information.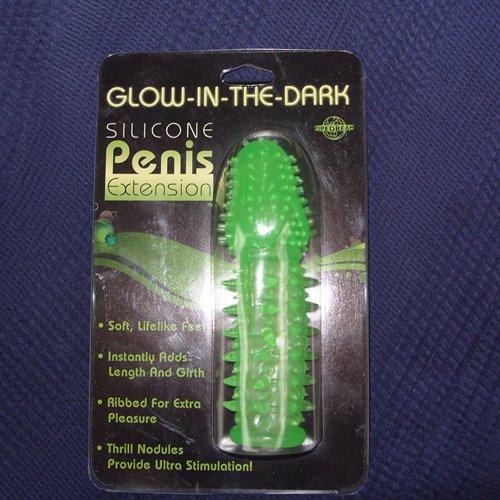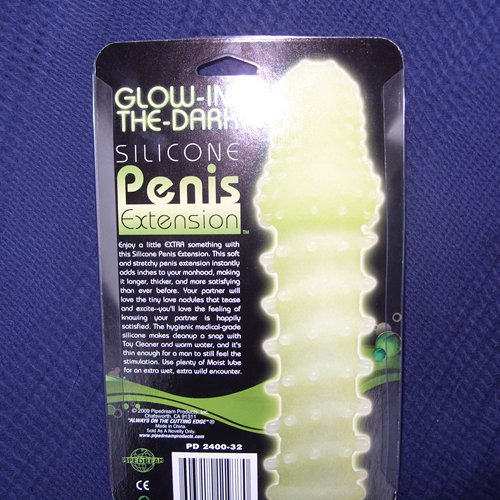 In comparing this sleeve with the clear plastic it does seem to be thicker but the dimensions are the same. I believe the silicone is probably a little more sturdy. It does decrease my husbands sensations but that it no problem since it prolongs our love making sessions. I like the glowing feature!!
I would have some concerns with travel with this sleeve and throwing it in a bag, it collect a lot of lint and hair and I believe that if it were compressed on itself for any period of time that it might stick to itself and get ruined.
Experience
I would suggest these sleeves to any couple who is having issues with staying power as it is a nice easy inexpensive fix until ED progresses to the point that you need to see a doctor. This can also be used as training for staying power. I love the textures and it enhances many of my toys as well.
Follow-up commentary
4 months after original review
I know it's not the best material but it helps my man stay harder longer and I get added textures, there is nothing not to love. When clean ed properly and stored away from toys this one has actually lasted us months.
This content is the opinion of the submitting contributor and is not endorsed by EdenFantasys.com

Thank you for viewing
Glow silicone penis extension
review page!